Housing
New York City housing advocates 'extremely disappointed' by Eric Adams' budget
Multiple advocacy groups said Adams' preliminary budget released Wednesday did not meet his housing campaign promises.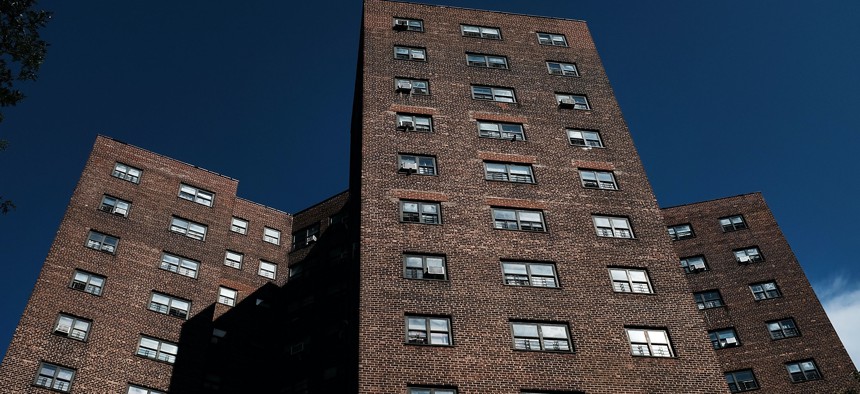 New York City housing advocates said they were 'extremely disappointed' by Mayor Eric Adams' preliminary budget released Wednesday, claiming the plan does not adhere to promises he made on the campaign trail. 
Multiple housing advocacy groups released statements lamenting Adams' failure to meet their demands for additional rental assistance and funding for capital projects, among other initiatives, in the hours after the plan was made public.
"As a candidate, Mayor Adams promised to spend $4 billion a year on housing because he knows that affordable housing significantly improves lives, creates jobs, and makes fiscal sense in the short and long-term. Unfortunately, he has failed to take action as mayor on a policy he called 'smart' as a candidate simply because of self-imposed budgetary constraints – and it is vulnerable New Yorkers who will suffer the consequences," the New York Housing Conference said in a statement. 
The Family Homelessness Coalition also took note that homelessness was not a central focus of Adams' budget proposal.
"Families with children continue to make up the largest share of New York's City's homeless population yet, Mayor Adams did not mention how he plans to address the City's family homelessness crisis or affordable housing shortage during his FY23 Preliminary Budget announcement," the group said in a statement.
The New York Housing Conference led a campaign, along with 80 other organizations, titled United for Housing during the mayoral race last year that advocated for candidates, if elected, to pledge $2.5 billion for capital projects for the Housing Preservation and Development Department. The group also sought $1.5 billion for New York Housing Authority Capital Projects and $200 million for rental assistance geared toward homeless prevention. Eight leading mayoral candidates, including Adams, agreed to the commitments, the New York Housing Conference said previously.
The HPD preliminary capital budget shows no increase from the $1.7 billion in spending projected for fiscal year 2023 by former Mayor Bill de Blasio's administration. The NYCHA capital budget is also identical to the previous mayor's, the documents show, and no additional money was allocated for rental assistance, according to New York Housing Conference Executive Director Rachel Fee.
"When de Blasio first came into office, his preliminary budget showed a significant increase in capital, which was aligned with what advocates were looking for," Fee told City & State. "He really made affordable housing one of his top campaign issues, and that was reflected in how they rolled out the budget priorities. This time we're seeing something different."
Adams' $98.5 billion plan calls for slashing spending on most agencies by 3% to 5%. The Department of Correction and health-related agencies are exempt from the cuts due to staffing shortages and other pandemic-related setbacks. Housing advocates are calling for HPD to be spared too.
"This decision is short-sighted and will ultimately exacerbate a housing emergency that is impacting millions of your constituents," the New York Housing Conference along with dozens of other advocacy groups, wrote in a letter to Adams on Jan. 27. 
The budget has a long way to go before it's approved by City Council and goes into effect on July 1, and advocates are hoping the early criticism pushes the mayor to increase funding before the spending plan is finalized. 
"Can we fix it? Absolutely. We can, we should and we'll be fighting for it. But this was the mayor's first chance to put out his vision for the city's spending plans. He laid out the kind of spending that he promised to do as a candidate. And this is not it," Community Service Society of New York's housing policy analyst Samuel Stein told City & State. "So I don't think it's too early to be disappointed. This is where he would make his first mark."
Adams' office did not respond to questions from City & State about the housing budget.
Powered By
NEXT STORY: Progressives want to invest in child care like it's Tesla