New York State
Progressives want to invest in child care like it's Tesla
Gov. Kathy Hochul is proposing to spend billions on economic development programs that critics want to allocate to social programs.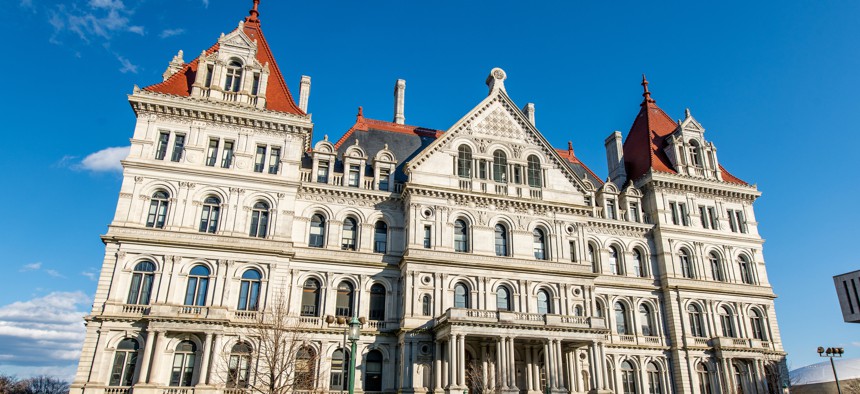 Progressives are targeting a key part of the state approach to economic development – billions of dollars in state subsidies and tax breaks – that they say could be better spent on social programs like universal child care. "Our current programs are broken or not working and there are a lot better ways to make inventive investments to benefit the entire public," state Sen. Jabari Brisport of Brooklyn said at a virtual press conference Wednesday. This puts lawmakers like him, and activists allies, at odds with Gov. Kathy Hochul.
The $216 billion state budget unveiled by the governor weeks ago includes a number of proposals that aim to help the state recover from the damage caused by COVID-19 by helping businesses first. Critics told lawmakers at a state budget hearing Wednesday that this represents a model of economic development that is increasingly at odds with the needs of ordinary New Yorkers more than the current state approach to catalyzing economic growth. "New York lawmakers have an opportunity to address several huge and urgent problems with a single step: direct a big chunk of current "economic development" spending away from ineffective corporate subsidies and toward investments in early childhood education," reads the budget testimony submitted by economist Art Rolnick, who has studied the efficacy of economic development programs of other states like Minnesota. "This bold investment would expand economic opportunity, help working parents, reduce crime and achieve a great return on public spending."
Hochul is proposing that the state spend $1.8 billion more on existing programs through agencies like Empire State Development and the Regional Economic Development Council that her predecessor tasked her with championing during her two terms as lieutenant governor, according to a budget briefing book. "Looking ahead, Gov. Hochul's Executive Budget will create economic growth, provide tax relief for the middle class, strengthen our infrastructure, confront the climate crisis, and reimagine a new American Dream – one that is more equitable and more inclusive," Hope Knight, acting commissioner of the New York State Department of Economic Development, told lawmakers in her budget testimony. Such efforts include maintaining current programs – like the tax credit for film and T.V. production that Hochul wants to extend for three more years. 
New York state economic development records have had a spotty record in recent years when it comes to funneling money to for-profit enterprises in hopes of creating jobs and economic growth. The so-called Buffalo Billion program, whose architect was eventually convicted of corruption, championed by former Gov. Andrew Cuomo has amounted to an economic "band-aid" for struggling areas of Western New York, despite massive infusions of taxpayer money. Big businesses like Amazon have even gotten waivers to state laws requiring the use of local labor in projects the company would've likely done with or without public support. The economic benefits of the film tax credit remains a matter of much dispute.  
Providing free child care to more New Yorkers is a better way to spend money, according to progressive groups that testified at the budget hearing. "Investing in childcare, higher education, mixed-income affordable and homeless housing, health care and climate justice will pay off now by making New York more affordable, creating tens of thousands of good-paying union jobs, and in the future with expanded economic opportunities and cost savings," Michael Kink, executive director of the Strong Economy for All Coalition supported by labor unions like SEIU 1199 and leftist advocacy groups, said in his budget testimony. He cited research from the nonpartisan Citizens Budget Commission, generally seen as a moderating influence in state politics, that found New Yorkers are getting mixed results with the approximately $10 billion spent annually on state economic development programs. Brisport and other lawmakers say that about $5 billion would be enough to fund universal child care. 
The Hochul administration is promising to spend public money more wisely than past administrations by establishing a proposed Office of Workforce and Economic
Development within Empire State Development. "The governor has called this a 'New Era' for New York. To that end, I am looking at ESD with fresh eyes and full transparency," Knight, who oversees the agency, told lawmakers. "This administration is also committed to ensuring that job and investment incentives are tied to accountability –  whether through pay-for-performance or clawbacks." The governor has until Feb. 17 to submit 30-day  amendments to the budget she officially proposed last month. Lawmakers will then approve their one-house budget proposals before negotiations with the executive branch leading up to an April 1 deadline.  
One side effect of the pandemic has been how it has changed political conversations surrounding what counts as legitimate public investments. The recent passage of the federal infrastructure bill highlighted ongoing debate about how things like broadband qualified to be included in the legislation. Now progressives are pushing for things like child care to be considered as valuable a part of New York's economic strategy as tax incentives and subsidies for big companies like Tesla that want to manufacture stuff like solar panels – sometimes with questionable returns for taxpayers. "We need to get better about how we subsidize and what we do with our economic development practices," state Sen. Sean Ryan of Buffalo said at the virtual press conference on Wednesday. "I'm very happy to start that process."
Powered By
NEXT STORY: Eric Adams presents his $98.5 billion budget