Criminal justice
Port Authority police will search passengers' luggage in gun crackdown
Mayor Eric Adams has repeatedly called for gun "spot checks" at entry points into the city – but experts question whether they're an efficient use of police resources.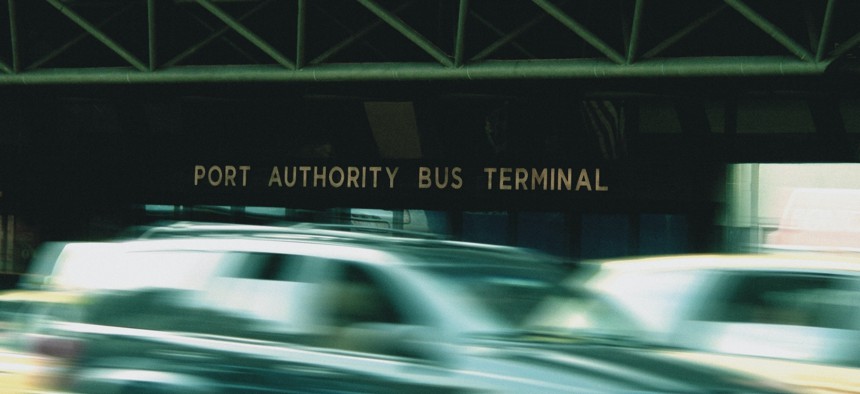 Travelers getting off of buses at the New York City Port Authority terminal will soon be subject to having their luggage searched by police looking for illegal guns – following repeated calls from Mayor Eric Adams to implement the measure at bus stations and other public spaces.
The Port Authority police will conduct the screenings in conjunction with the New York City Police Department and the state's Interstate Task Force on Illegal Guns, the agency said. "Part of our efforts will include checks of luggage that come into the Midtown Bus Terminal," Port Authority spokesperson Amber Greene told City & State, declining to provide details such as when the screenings will begin, citing their sensitive nature. 
Routine police screenings have emerged as a recurrent theme in Adams' plans to stop the influx of illegal guns from states with looser firearm regulations. Guns are often brought into New York from southern states via I-95, what's known as the "Iron Pipeline." 
Some high-profile gun trafficking cases in recent years have involved buses, and the mayor has specifically cited bus terminals as an area of interest.
"If we're doing that for a bomb, then we should be doing it for bullets and guns," he said on WNYC's Brian Lehrer show earlier this month. "And it's just a periodic check. We're not going to profile people, but it just sends a message that we're just not an open door to those southern states that are transporting guns to the city."
Adams also called for "spot checks" as part of his "Blueprint to End Gun Violence" plan that was unveiled following a wave of high-profile crimes during the first weeks of his tenure.
Experts have questioned the effectiveness of police searches to fight gun crime, along with the civil rights issues associated with the tactic. 
Daniel Webster, director of the Johns Hopkins Center for Gun Violence Prevention and Policy, said he is "skeptical" about whether the Port Authority screenings would be an efficient use of police resources, noting that targeted investigations are sometimes more effective than sweeping crackdowns. 
"I am skeptical that random screenings of travelers' luggage/bags in the hope of finding guns will be a useful tactic in the effort to curb gun trafficking to NYC. Will they find some guns? Probably, if they search enough bags. Will this serve as a deterrent to gun trafficking into NYC? I highly doubt it. It will inconvenience a lot of travelers," he wrote in an email to City & State. 
Some screening is already underway at the Port Authority, where police often conduct routine searches of bus passengers' personal items and use gun-sniffing dogs to scan buses. MTA passengers are also subject to random police searches. Police reportedly used the tactic to arrest a 20-year-old Atlanta man on felony gun possession charges in January when a dog sniffed out a handgun he had wedged under his seat on a bus at the Port Authority. Police told The Daily News similar searches are done periodically but were ramped up following Adams' directive. Luggage checks would be a wholly new measure, the Port Authority said. 
Some legal experts questioned whether random searches would be legally permissible.
"It's a basic principle of constitutional law that police can only search people if they have 'individualized suspicion' to think that the person is engaged in unlawful activity," New York Civil Liberties Union legal director Christopher Dunn told Gothamist, which first reported on the Port Authority luggage checks.