Transportation
Amid rising traffic deaths, NYC officials amplify 'home rule' push
Lawmakers and advocates say new data showing more traffic deaths last month than during any February since 2008 underscores the need for city control of traffic cameras.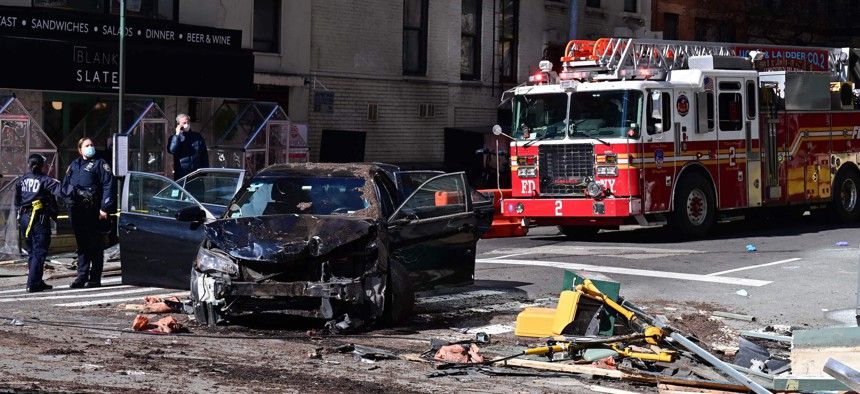 A new report showing a disturbing rise in both red-light violations and traffic deaths on New York City streets has become the latest ammo for local lawmakers in their push to wrestle control of the city's traffic enforcement cameras from Albany. The report,  released Friday by the street-safety advocacy group Transportation Alternatives, shows more traffic fatalities were recorded last month than in any February since at least 2008. Red-light violations also reached a seven-year high – trends the group said are directly tied to "the deadly impact of Albany's control over New York City streets."
City lawmakers for years have lamented the state government's heavy hand over New York City's rules and regulations regarding a whole host of issues, most recently in a debate over mayoral control of city schools. Currently, the city must seek permission from the state legislature to install red-light and speed cameras. In the final months of Mayor Bill de Blasio's tenure, he fought for more jurisdiction over traffic enforcement mechanisms, including permission to turn on speed cameras 24 hours a day. Mayor Eric Adams is also seeking permission to "manage the city's camera enforcement programs in addition to empowering cities to control speed limits on their streets" he said during his testimony on Gov. Kathy Hochul's budget proposal before the state legislature last month. In reaction to the Friday report Adams tweeted: "If our streets aren't safe, our city isn't safe. Period. Home Rule allows the people who know our city best to have the tools to keep our streets safe for every New Yorker."
The report is the latest data showing an alarming spike in traffic fatalities in New York City in 2021. Crashes killed 273 people in 2021, the highest death toll since 2013, according to Transportation Alternatives. Already, 42 people have died in traffic collisions in 2022, a 58% increase from this time last year. Twenty three of those deaths were recorded in February alone. 
Transportation Alternatives highlighted in its report the correlation between traffic deaths and disabled speed cameras. In 2020, "nearly 40 percent of victims died in speed safety camera zones during hours when Albany requires the City of New York to switch the cameras off," the report states. 
"It shows the importance of designing streets for safety and expanding automated enforcement tools that are frankly more effective than using individual armed police officers," Transportation Alternatives Director of Communications Cory Epstein told City & State. 
New York City Department of Transportation Commissioner Ydanis Rodriguez also emphasized the effectiveness of the city's speed camera program during a City Council hearing on Monday, pointing to stats that show a 72% decrease in speeding violations in areas where cameras are located during hours of operation since they were installed in 2014. More than 40% of violators have vehicles registered outside of New York City, Rodriguez said. He closed testimony to the Council Transportation and Infrastructure Committee by "joining the mayor in calling on the state to give the city the authority to manage our automatic enforcement program."
If the transfer of home rule is not part of the state budget due April 1, it will have to be taken up through legislation passed later in the session. To include the policy in the state budget, lawmakers would need to determine the parameters of the city's jurisdiction over red light cameras before the one-house budget proposals are due at the end of the month.
State Sen. Andrew Gounardes, who has sponsored legislation to expand the city's school-zone speed camera program, said "it seems more likely that it would be something that might happen outside of the budget," he told City & State. Gounardes, along with Assembly Member Deborah Glick, passed a bill that took effect in 2019 to expand the city's school-zone speed camera program. The bill is up for renewal this session, something Gounardes said may not be needed if home rule is transferred to the city first.
"I fully support that call," Gounardes said of the city's effort to gain control of traffic cameras. "If for some reason we are unsuccessful at home rule, we will certainly have the ability to authorize the successful programs that have already been in place and expand them, while we still continue to make the broader case for letting New York City control its own streets."
Transportation advocates are hopeful that Hochul's vow to collaborate with Adams – after a persistent power struggle between their predecessors – will help them move toward a "home rule" agreement this year. "She has a different legacy and history in local government, and we think that is very promising," Epstein said.
Hochul expressed openness to the idea in a previous interview with City & State in November, when she said, "Why does the state legislature and the governor have to weigh in on whether or not a school district in the city of New York has speed cameras in school zones? Tell me why that has to be relegated to an issue that becomes a political football at the end of a session in terms of extracting promises, concessions. I don't want to govern that way."
In addition to his call for home rule, Adams has also introduced plans to improve crosswalk safety by remodeling 1,000 intersections with "improved traffic signals, raised crosswalks, and other expanded pedestrian space and visibility measures," he said Jan. 19 in what was his first major street safety policy announcement since taking office. The DOT will also construct raised crosswalks at 100 intersections, and the NYPD will ramp up enforcement of failure-to-yield violations at crosswalks, Adams said.