Homelessness
Eric Adams insisted homeless shelters were 'good' alternative to encampments
The mayor responded to advocates who criticized him for directing city workers to clear makeshift campsites.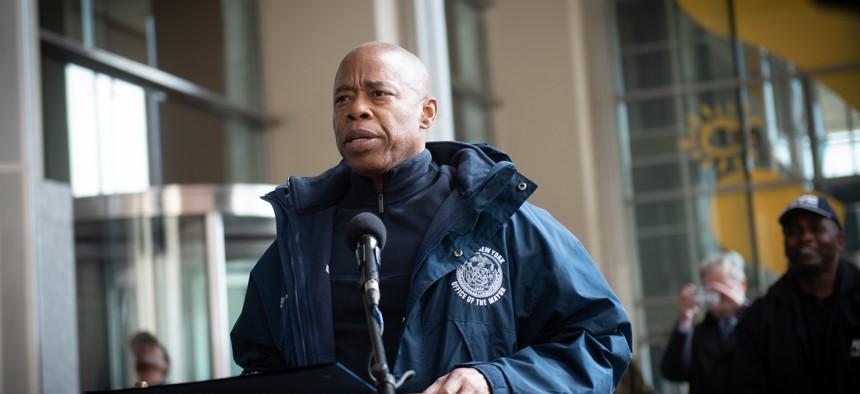 New York City Mayor Eric Adams defended the ongoing shuttering of roughly 180 homeless encampments across the city on Tuesday, declaring that "the safest place for people who are homeless right now … is a shelter."
Adams on Friday told The New York Times that the New York City Police Department began dismantling the encampments on March 18, and he expected them to be fully removed within two weeks. Advocates quickly seized on the move.
"Once again, Mayor Adams is demonstrating his lack of understanding of unsheltered homeless New Yorkers," Coalition for the Homeless Policy Director Jacquelyn Simone said in a statement on Saturday. "Like (Rudy) Giuliani, he will fail: Moving people to the outer boroughs will simply move them away from outreach workers, access to food, and the health and social services they need to survive. If the Mayor is serious about helping homeless people, he needs to open thousands of new Safe Haven and stabilization rooms and offer them to those in need, not take away what little protection they have from the elements and other dangers on the street."
Adams announced plans to meet some of those demands. Later on Tuesday, he was scheduled to attend a ribbon-cutting for a new Safe Haven shelter in the Bronx. The coalition applauded the opening of the low-barrier shelter option in a subsequent statement on Tuesday, but reiterated its demand for Adams to "immediately halt his aggressive sweeps campaign."
"We repeat that policing and sweeps are harmful, counterproductive strategies that can actually push unsheltered homeless people further away from services, and clearing encampments is in direct violation of CDC guidance," Simone said, referring to COVID-19 precautions laid out by the the Centers for Disease Control and Prevention that state "clearing encampments can cause people to disperse throughout the community and break connections with service providers. This increases the potential for infectious disease spread."
While Adams' plan relies on unhoused New Yorkers whose campsites are shut down to seek housing in congregate shelters, some homeless people have said they feel safer sleeping on the streets. Advocates have urged the city to open more single-room options as an alternative to the larger shelters.
According to a recent report by the coalition, Safe Haven and stabilization beds are at capacity. "There are currently approximately 1,000 stabilization beds and 1,500 Safe Haven beds – nearly all of them full every night, while thousands of individuals still bed down on the streets and in the subway," the nonprofit reported last week. The report also highlighted the decrepit conditions in many of the roughly 350 city buildings where there are shelter units, including vermin infestations, staffing shortages and maintenance issues.
"There are some facilities with adequate maintenance, where residents report few problems," the report stated. "But many shelters are in old buildings that are in dire need of capital improvements, with frequent elevator outages, faulty plumbing, and heating or cooling problems."
Adams, however, said Tuesday he believed they were a better alternative to "sleeping on the street with no bathroom, no shower, no conditions that are suitable." He said he visited a number of shelters, including a facility in the Bronx last week where he said "the housing is good."
The mayor said he will soon roll out a new plan to improve the environment in the city's shelter system and market the renewed conditions with brochures to homeless people who are hesitant to stay there.
"We're going to do something I'm really excited about as we go out to talk to those who are homeless," he said. "We are going to show them pictures – this is where you're going to, here's this clean, safe place. We're going to have wraparound services, medical professionals, the psychological help that they need."
Adams said he would soon provide more details on the scope of the sweeps, which in at least one case, have already been chaotic. On Monday, a homeless man who was living in a tree in Riverbank State Park was reportedly arrested for allegedly assaulting a New York Post reporter and photographer who were on hand as the NYPD removed him from the tree.
"It shocks me that we believe it's all right that someone should live in a tree in the parks," Adams said. "I looked at some of the encampments – you should see the number of hypodermic needles on the ground, human waste. People are not allowed to take showers. They're not allowed to take care of themselves. That is just so undignified."
Homelessness Case Studies
Powered By
NEXT STORY: Lawmakers to Hochul: Get that developer tax break out of our budget