Policy
Adams and Hochul have a new plan to reduce homelessness on NYC subways
Elected officials want to bring in more cops, social service outreach and legal pressure.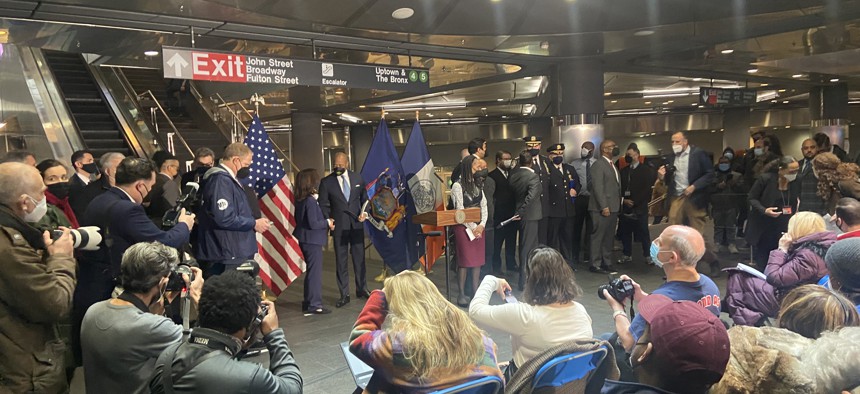 Gov. Kathy Hochul focused on subway homelessness the morning after getting the official backing of the Democratic Party in the gubernatorial primary.
Public safety has increasingly become a political liability for Democrats, but a new plan unveiled Friday by the governor and New York City Mayor Eric Adams could provide some relief while helping hundreds of people with mental illnesses access social services in the process. A lot comes down to how much Hochul and Adams might succeed where others have failed when it comes to dealing with the decades-long challenge of homelessness on city subways. 
The plan outlined by Adams and Hochul at a Friday press conference in Manhattan includes numerous tweaks to current strategies that have had a mixed record in the past at coaxing homeless people to accept services. Police will increase patrols with outreach workers who aim to place homeless people in transitional housing. A total of 600 new psychiatric beds and 500 new supportive housing slots will come online with the help of roughly $40 million in state funding, according to Hochul. "We need to talk about what's involved in removal and commitment for the highest need individuals," she added about seeking unspecified regulatory changes to Kendra's Law, a state law that provides a legal mechanism to force people with mental illness to receive treatment. Subway riders will also have to exit trains once they reach the end of the line.
A big question is whether the new plan will actually help homeless people while making the subways safer following recent headlines about attacks on public transit. "It will do nothing to get people with mental illness the help they need unless it also comes with increase in inpatient psych beds, appropriate outpatient treatment and supportive housing," a person involved in current outreach efforts told City & State on the condition of anonymity. A few thousand people typically sleep on city streets and the subway system on any given night, according to past city surveys, while the vast majority of homeless people live in emergency housing provided by the city as required by a 1979 court case. 
City officials are vowing to crack down on a range of behaviors in the subway system, including laying across multiple seats and bringing oversized shopping carts onto trains. "We're not going to be heavy handed," Adams told reporters. "We're not saying if you break a minor fracture that we're going to put handcuffs on. We're going to correct the conditions." Doing that without criminalizing homeless people in the process, however, will be a key challenge, he added. There is also the matter of ensuring that the housing and services offered to them are actually attractive, given dangerous conditions in city homeless shelters. "We need to look at how we're doing the housing because if a person has severe mental health issues, they shouldn't just be automatically placed in any shelter," Adams said. 
So-called safe haven and stabilization beds, which connect people with social services while giving them more flexibility than traditional shelters, would be respectively increased by 140 and 350 beds, according to the new plan. "It's significant," the person familiar with current efforts said of these proposed additions to the current stock of supportive housing available for people living on the streets and subways. Psychiatric facilities will also get a boost in state reimbursements to incentivize them to treat more people. Those who appear to present dangers to either themselves or others could be forced to accept treatment under Kendra's Law, which Adams wants the state to consider changing in a few different ways. Nurse practitioners could stand in for psychiatrists in court and more emphasis could be placed on how substance abuse and mental illness intersect, according to the new plan. 
The Friday press conference did give Hochul an opportunity to demonstrate how she is taking action against homelessness in partnership with local officials like Adams. A new plan against one of the most publicly visible social problems in the state might also protect her against ongoing attacks on her public safety record as the first female governor in state history runs for a full term in office. A key challenge though will be proving that this new plan offers New Yorkers more than the political theater that helped define past efforts against homelessness. "This is just what every new mayor and governor does," the person involved with current outreach efforts said. "The optics are great. De Blasio gave us a gabillion dollars to increase outreach teams and add safe haven beds, and here we are."