Health Care
How does at-home testing impact COVID-19 data in New York?
While at-home tests can detect variants of the coronavirus, health officials are not officially tracking their results.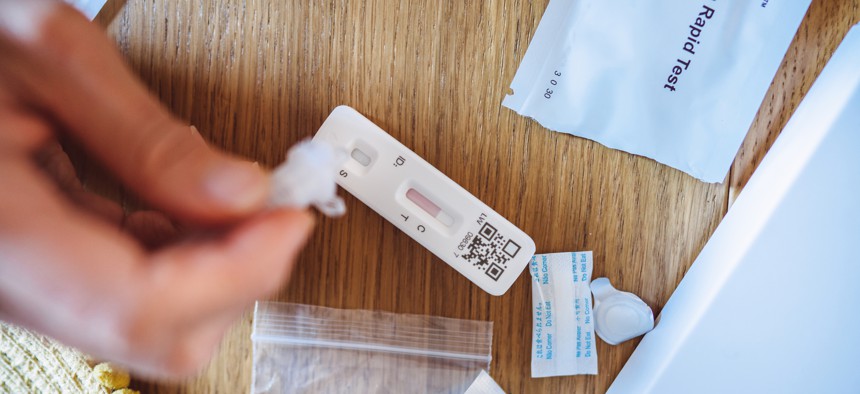 The BA.2 subvariant started to spread in New York over the past several weeks, with community transmission steadily increasing throughout the city and state. It now accounts for almost a third of all positive cases of the coronavirus in the United States, with a higher concentration of positivity in the northeast. 
The rapid tests that New Yorkers can keep in their home are good for fast results and prevention of immediate spread if they are positive, but the results are invisible to state- and city-run laboratories and hospitals. 
"Today, we haven't seen at-home tests providing any meaningful value, predictive value in providing us with a more sensitive, early warning capability," said New York City Health Commissioner Dr. Ashwin Vasan during a Friday press conference on the new subvariant. 
The state Department of Health confirmed that its counts come from laboratory testing only, noting that labs are required to report both positive and negative results, not just confirmed cases.
"Reporting of at-home tests would likely only result in a portion of positive results being reported, with few negatives being reported," Department of Health spokesperson Erin Silk said in an email. Vasan and Dr. Ted Long, a senior vice president at New York City Health + Hospitals, noted similar challenges with collecting data from at-home tests. 
A PCR test can measure how much of the coronavirus is living in the throat or saliva, and takes longer to process compared to rapid at-home tests. While PCRs have a turnaround of about 48 hours, a rapid test can return a result within minutes. But the PCR tests given by hospitals, laboratories and other medical institutions are more sensitive to the coronavirus' load in a person's saliva or throat, whereas a home test is easy to use incorrectly and produce a false result, according to the Yale Medicine's explanation of the differences between all tests for the coronavirus.
But research shows that at-home tests are an important tool in curbing the spread because they make relatively accurate COVID-19 testing more accessible.  According to a study pending from Yale, rapid tests like those in at-home kits are effective at detecting variants of the coronavirus, including the omicron variant from which BA.2 derives. The study has yet to be peer-reviewed, but it shows how at-home tests could help to curtail a wave of new BA.2 infections, by alerting people if they are positive. 
Gov. Kathy Hochul said in a press conference on Monday that testing is crucial to the state's COVID-19 response, including at-home tests.
"The number one basic way to deal with this, if you feel symptoms at all…just get tested immediately. That's how we can stop it from spreading. That's why we've been so aggressive about getting testing kits out there. They're readily available, no excuses," said Hochul. 
Health commissioner Mary Bassett acknowledged that there have been "small, relative upticks" in cases with the emergence of the BA.2 subvariant in positive cases, but she said that the department does not anticipate a surge in cases. 
"We are not worried in the state at this time about access to treatment…if you have COVID symptoms, you should not ignore them. Go get tested. Don't wonder about them," said Bassett.
In addition to testing, boosters have become even more important in the effort to maintain a flat transmission rate in New York. Just over a third of New York City residents have gotten a booster, and 38% of New Yorkers have gotten an extra dose of the vaccine statewide. 
Though the data won't go toward state counts, Long of New York City Health + Hospitals encouraged residents to use at-home tests if a PCR test is not readily available. 
"If you have a home test, and you aren't feeling well in the morning, use that home test. Know if you have COVID before you go to work, before you go anywhere," Long said. "It's a new tool we have now that we didn't have before."