New York State
Lawmakers want to suspend gas taxes for drivers by having other taxpayers foot the bill
With surging prices due to inflation and the Russian invasion of Ukraine, Gov. Kathy Hochul is resisting calls from legislators in both parties to give motorists a tax break.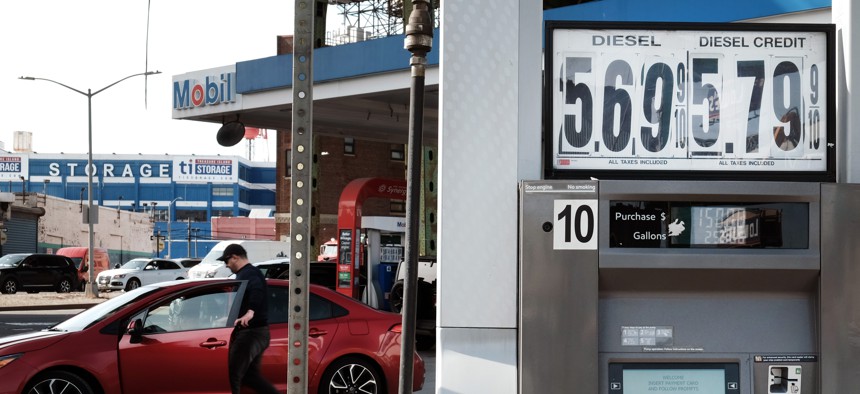 Gas prices have reached record levels in the Empire state with inflation and the Russian invasion of Ukraine. Nearly a half-dozen bills have been introduced before the state Legislature in recent weeks to offer some financial relief to motorists by suspending state gas taxes. The only problem is that the tax funds mass transit, repairing roadways and even servicing current debt held by the state for past projects.
There is no single gas tax in New York – but four separate state taxes add up to 33.35 cents per gallon this year. That amounts to one of the largest tax bills in the nation, especially when local taxes that typically amount to about 15 cents per gallon get added.
"We have a crisis on our hands," said Democratic Assembly Member Angelo Santabarbara of the Capital Region, who is sponsoring legislation to suspend state gas taxes (local taxes would be unaffected) for one year. "It may look like a small amount, so you may say: 'OK, it's only going to save this much' ... but that small amount adds up." 
The governor is resisting calls to suspend state gas taxes by arguing that the potential costs outweigh any benefits to New Yorkers affected by inflation. Experts say suspending the gas tax would provide little financial relief to motorists while still leaving taxpayers as a whole responsible for potentially more than $1 billion in related costs. "It's gimmicky," Peter Warren, director of research at the Empire Center for Public Policy told City & State about suspending state gas taxes. "It's a very dangerous precedent. Once you do something like this, it can be pretty hard to go back."
While New Yorkers typically pay about 48 cents in local and state taxes at the pump, state legislators are only taking aim at the 33.35 cents per gallon under their control, according to the Office of the State Comptroller. This includes the 8 cents from the motor fuel tax, 17.3 cents from the petroleum business tax, 8 cents from a state sales tax on gas and a half penny more from a fee on gas testing. 
The state Dedicated Highway and Bridge Trust Fund received more than $1 billion in revenue last year from such taxes to help support construction projects, bond payments and downstate transit agencies like the MTA, according to the Office of the New York State Comptroller. That money would have to be replaced if any taxes got suspended. 
Three bills before the Legislature – sponsored by Santabarbara, Democratic state Sen. Kevin Parker of Brooklyn and Republican state Sen. Fred Akshar of the Southern Tier – would cover revenue losses by tapping into the state General Fund supported by income taxes. "It's really not the right instrument to provide relief to people," Andrew Rein, president of the Citizens Budget Commission, told City & State. "It costs the state money and it's got to come from somewhere." In other words, income taxpayers would be footing the bill for transit costs that are currently levied on motorists. 
Federal stimulus funding approved during the pandemic means New York has a multibillion-dollar budget surplus. "New York State government has been robbing the taxpayers for years," Akshar, who is sponsoring a bill that would cover suspended gas taxes through the General Fund, said in a statement. "The state finally has a surplus and they should be passing that savings on to the taxpayers, not coming up with new ways to spend their hard earned tax dollars through an endlessly expanding budget." His bill would also allow county governments to suspend their sales taxes on gas. 
Democrats, including President Joe Biden, have faced criticism for supporting efforts to increase fossil fuel production as the world faces a climate crisis. "The state will need to rely on gas as a bridge fuel," reads the legislative memo of a bill aiming to suspend gas taxes, which was introduced by Parker, who has also previously sponsored a controversial bill aiming to tax carbon emissions. While Republicans have lamented how policy moves like the 2014 statewide ban on fracking has affected supply, experts say climate-friendly policies have had a minimal role in rising energy prices compared to disruptions caused by the pandemic.
A January report by state Comptroller Thomas DiNapoli highlights how New York has diverted money away from maintaining roads and bridges in recent decades. "These taxes are supposed to fix the roads and the bridges," Robert Sinclair, Jr., a spokesperson for AAA Northeast told City & State. "We know that's been usurped already (so) we need to spend a lot more money on roads, to get them in good shape." Any money diverted to roads to make up for revenue lost because of a tax holiday would limit what legislators could spend elsewhere. 
The introduction of two bills by Democratic state Sens. James Skoufis of the Hudson Valley and John Mannion of Central New York shortly before publication time suggests the push for a gas tax holiday is only getting stronger. The Skoufis bill is similar to those already proposed by having the general fund cover any revenue gaps. The Mannion bill would cap sales taxes – county and state – at 25 cents per gallon. Legislators like Santabarbara are hopeful that the upcoming state budget could pave the way to suspend state gas taxes.
Legislative leaders and Hochul will have the final say on whether the state will suspend state gas taxes. Representatives of state Senate Majority Leader Andrea Stewart-Cousins and Assembly Speaker Carl Heastie did not respond to requests for comment by publication time. But the governor has made it clear in recent days that she is in no hurry to divert money away from roads and bridges at a time when she has invested political capital in that very idea in the ongoing state budget process. "It's going to keep going up," she told reporters this week about gas prices. "I want to make sure that if we do something, it's actually going to have an impact."