New York State
New York lawmakers call for gas tax hold as Biden bans Russian oil
Republican state lawmakers previously called for a suspension of the gas tax to alleviate the effects of inflation.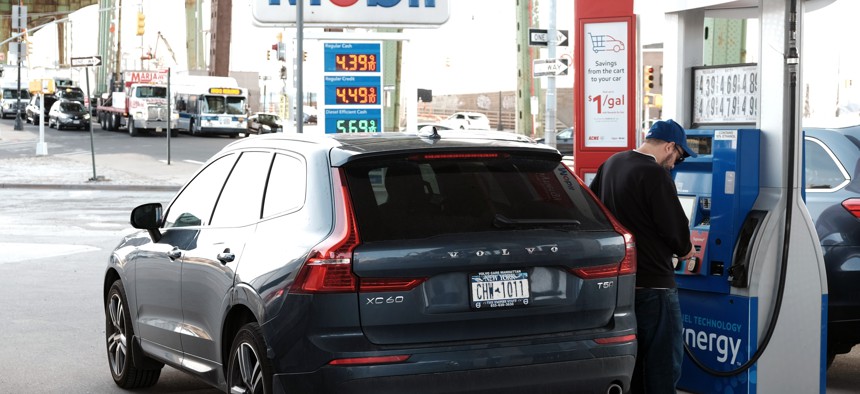 New York lawmakers are calling on Gov. Kathy Hochul to suspend the state's gas tax, as prices are expected to continue increasing under the newly announced federal ban on Russian oil imports. 
Biden announced Tuesday that the U.S. would no longer import oil, natural gas or coal from Russia, fulfilling calls from a bipartisan group of Congress members to ban the imports amid Russia's war on Ukraine. The move was a reversal after days of hesitancy by the White House about prohibiting Russian oil imports, fearing drastic economic impacts.
"This is a step that we're taking to inflict further pain on Putin.  But there will be costs as well here in the United States," Biden said Tuesday. "I said I would level with the American people from the beginning. And when I first spoke to this, I said defending freedom is going to cost – it's going to cost us as well in the United States."
While less than 10% of U.S. oil imports come from Russia, the country is one of the biggest oil producers in the world. Even before Biden's announcement, global supply chain operators ceased business with Russia, causing gas prices to surge. On Tuesday, gas prices reached a record high of $4.17 on average per gallon nationwide, according to AAA. In New York, prices outpaced the national average by 20 cents per gallon, also a record. 
Democratic Assembly Member Angelo Santabarbara introduced a bill on Friday that would suspend the state's 48-cents-per-gallon tax for at least a year. Republican state Sens. Fred Akshar and Peter Oberacker introduced a companion bill on Monday titled the New York Gas Tax Relief Act. While the legislation is being introduced amid the record-high gas prices, Republicans previously proposed a suspension of the gas tax in January to help alleviate the effects of inflation.
"Inflation is at a 40-year high, and action is needed to help businesses and consumers alike as we work to recover from the COVID pandemic," Oberacker said in a statement issued Monday announcing the legislation.
At the federal level, Rep. Tom Suozzi is reportedly advocating for the temporary rescission of state and federal gas taxes. Hochul said Monday she is considering the proposals. "I want to make sure that if we do something, it's actually going to have an impact," she said, according to NY1.
Suozzi, along with Reps. Tom Reed and John Katko, also co-sponsored bipartisan legislation introduced Monday that could have banned Russian energy imports if Biden chose not to. A similar bill was introduced in the Senate on Friday. Suozzi told The New York Post following Biden's Tuesday announcement that banning Russian oil imports was "the right thing to do . . . We all have to pull together to stop this madman," he said, referring to Putin.