Policy
Trading Tesla for child care: New York progressives take aim at wasteful 'economic development'
Pointing to a series of boondoggles, legislators are pushing for more transparency on economic development programs to fund a social spending wishlist.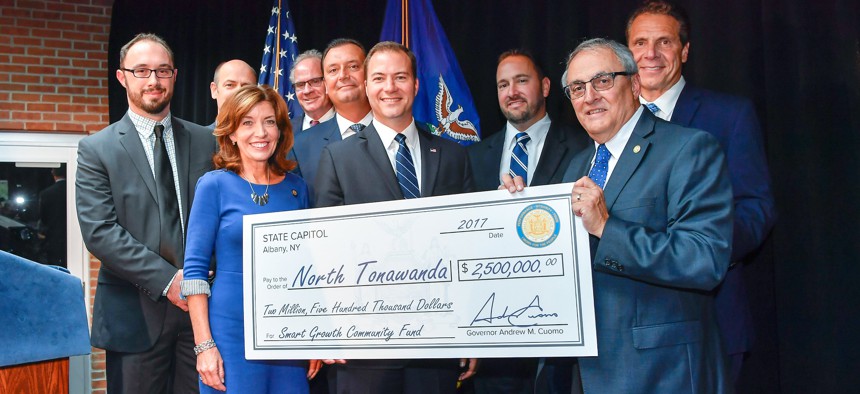 Progressives say they want to take billions in annual tax breaks and subsidies for private businesses like Tesla and divert those funds toward fiscal priorities like child care. State lawmakers say first things first: figuring out the price tag of the state's sprawling economic development programs. 
"We don't even know how much money is going out in economic development deals in the state of New York," state Senate Finance Committee Chair Liz Krueger said at a virtual press conference about the wastefulness of economic development in the state on Wednesday. "So much of it is done through our tax process, where we pass some kind of law or deal and then people simply file their taxes, subtracting out everything they believe they no longer have to pay."
There is a history of arguable failure and scandal in state efforts to catalyze economic activity through tax breaks, incentives and money, and progressives are pushing to divert approximately $10 billion in state support to social causes in the upcoming years. There is momentum in the state Senate and Assembly to move toward that goal through the upcoming budget by increasing transparency into existing programs. "That is what we think is possible this year," Charles Khan, organizing director at the progressive Strong Economy For All Coalition, told City & State Thursday. 
Both chambers of the state Legislature backed expanding a "database of deals" in their one-house state budget proposals while pushing for the state comptroller to regain oversight of state contracts. State Senate Democrats, who held a December hearing on current programs, are also talking about banning nondisclosure agreements that prevent participants from publicly revealing the terms of deals between private businesses, state agencies and quasi-public Industrial Development Agencies.
New York has spent billions of dollars on a dozen deals featured in a report released Wednesday by the left-leaning think tank American Economic Liberties Project. Just 68 jobs came out of $270 million in subsidies given to the clean energy company Plug Power for a facility in Western New York, according to the report. The state is now selling off $200 million in equipment following a $950 million boondoggle involving the Tesla subsidiary SolarCity. "No major films were ever shot at the studio," the report notes about the Central New York Film Hub built with $15 million in public funds. 
A spokesperson for Empire State Development, which is charged by the state with overseeing many such projects, disputed how the report characterized its track record. "ESD will continue to make smart, strategic investments – with built-in mechanisms for transparency and accountability," spokesperson Kristin Devoe said in an email, citing the organization's existing database of economic incentives. Local and state governments outside New York pursue similar approaches to creating jobs and stimulating their own economies, according to ESD.
The exact cost of current economic development programs remains unclear, but a 2019 report by the nonpartisan Citizens Budget Commission found the state was reaching the level of about $10 billion each year with suspect returns on investment or job growth. "(New York) fails to rigorously evaluate the effectiveness of its economic development spending and does not demonstrate that this spending is producing sufficient results," reads the testimony of Patrick Orecki, director of state studies, at a January legislative hearing on economic development programs. The Partnership for New York City – whose members include the biggest companies in the state – similarly urged policymakers to rethink their approach. 
Since taking office last summer, Gov. Kathy Hochul has talked a lot about making state government more transparent, but her position remains unclear on legislative efforts to increase disclosures about economic development in the upcoming budget. "We look forward to continuing to work with the legislature to finalize a budget that serves all New Yorkers," spokesperson Avi Small said in an email when asked for a response to the legislative push for more transparency. Her proposed spending plan does include proposals aimed at giving local communities more control over how money gets spent. "Don't just keep it going because it's there," she told business leaders in September about the state approach to stimulating growth. "And we don't always have to burn it down and start over. Let's take the best." Her general policy of avoiding red lines in budget talks – outside of taxes – suggests she and legislators might strike some type of deal before the April 1 deadline. 
An influx of federal stimulus money gives Albany Democrats an ability to expand social spending this year without having to raise revenues or cut other programs, but they will have to find funding in the future to make big expansions of the social safety net permanent. The billions of dollars apparently wasted on resuscitating struggling areas of the state offer a tempting target. "It ends up being just a windfall for entities that don't really need it," state Senate Deputy Majority Leader Michael Gianaris said at the Wednesday press conference. "And unfortunately, because a lot of this occurs under a cloak of darkness, we don't even have the ability as a public to oversee it and raise objections to these things as they come."