Ethics
What about those JCOPE reforms?
After the governor promised bold reform of the state's ethics watchdog in the budget, the proposal may have sputtered.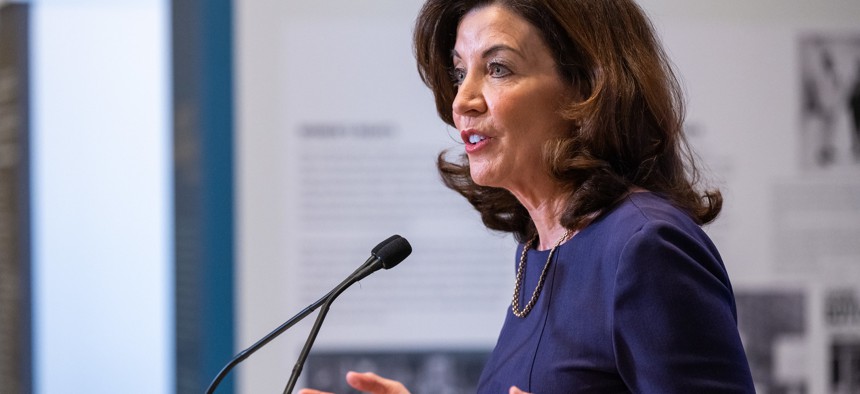 When Gov. Kathy Hochul first took office last year, she said she had three major priorities for the start of her tenure. One of those was ethics reform, promising a more transparent government with better oversight protections. Hochul reportedly said she wanted to "blow up JCOPE" – or the Joint Commission on Public Ethics, the state's government watchdog agency – when speaking with good government groups not long after she was sworn in. 
Hochul made good on the promise with a proposal, first included in her State of the State address in Albany and soon after wrapped into her executive budget, the abolish JCOPE as the state knows it and replace it with a new agency without political appointees. Law school deans, rather than politicians, would choose commissioners in an effort to make the agency more independent. The idea drew support from ethics reform advocates and government watchdog groups as a positive step away from the flawed JCOPE structure. 
But with the budget due in less than two weeks, Hochul's plan to "blow up JCOPE" may have fizzled. Neither chamber of the state Legislature included her proposal in their nonbinding budget resolutions, and a number of hot button issues like bail have sucked up public attention. Good government advocates hold out hope state leaders haven't thrown ethics to the wayside, but if serious talks are still happening, they're ironically happening behind closed doors.
Since Hochul's grand unveiling of her plan to replace JCOPE, the issue has taken something of a backseat compared to other budget priorities. "We're nowhere," Blair Horner, executive director of the good government group New York Public Interest Research Group, told City & State. He called the apparent lack of appetite "astonishing" given the past two decades of high-profile scandals that have rocked the state's highest offices. "Yet in Albany, it's like they continue to whistle past the graveyard," Horner said. "I think that the political calculus is no penalty to pay if they don't do anything."
Although neither chamber in the state Legislature included the governor's or any other specific ethics proposals – state Sens. Liz Krueger and Alessandra Biaggi both have their own proposals – the state Senate included a passing reference in their one-house budget that the Assembly didn't have. It left the door open to the prospect of dealing with such reforms through the budget process.
And unlike Assembly Speaker Carl Heastie, who has remained adamant in his position to exclude most policy items from the budget, state Senate Majority Leader Andrea Stewart-Cousins publicly expressed an openness to working with Hochul to get some of her policy back into the final document. "We've been talking about ethics reform. Again, this is something that our conference has been extremely strong on," she told reporters at the Capitol on Wednesday. "And I've heard people say we said that we wouldn't do policy. My house has never said that we don't do policy in the budget."
A spokesperson for Heastie did not directly address whether his chamber would be willing to include ethics reforms in the final budget. "As we have always said, we are always willing to look at ways to improve transparency and give people confidence in their government," Heastie spokesperson Mike Whyland said in an email to City & State. A spokesperson for the governor did not respond to a request for comment before publication time.
The comparative willingness from the state Senate to at least consider the ethics reforms comes as welcome news to some advocates pushing for change. Evan Davis, head of the Committee to Reform the State Constitution and former counsel to former Gov. Mario Cuomo, said that top state Senate staff requested information to conference the issue, something he called "a very good sign." He expressed a greater degree of optimism than Horner. "It's by no means dead," Davis told City & State. "It can happen with the budget… It's still within a reasonable prospect for it to occur."
While possible to revisit the issue after the budget, good government reform advocates stressed the importance of getting it done now to appropriate the necessary funds for the new agency, and to prevent more state dollars from going to the current JCOPE. "There needs to be more robust, meaningful funding for any type of new entity, new truly independent ethics entity, that would replace JCOPE," Erica Vladimer, a co-founder of the Sexual Harassment Working Group, told City & State. She questioned what failure to address the issue now would mean for its future prospects, including improving how the the ethics agency handles sexual harassment allegations. "This conversation has been happening, frankly, for years now," Vladimer said.
Advocates for ethics reform contend that with a new governor and recent scandals, now is the best time in years to get independent voices into government oversight. Despite this, conversations on the issue, despite the focus on ethics, seem to be happening behind closed doors. Horner called it "muscle memory" in Albany to negotiate this way. "They should use that as an example in Websters of irony," he said.