Ethics
JCOPE action on Cuomo book deal seen as 'small' step toward righting marred history
Despite the popular decision, calls for the commission's dissolution remain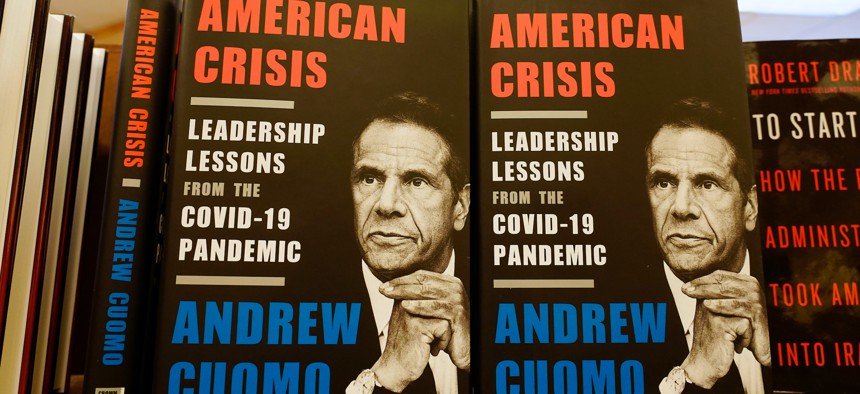 For years, the Joint Commission on Public Ethics, created and controlled by former Gov. Andrew Cuomo to be a government watchdog, was accused of doing little more than serving as his "political appendage."
Now, with Cuomo gone and new members appointed by Gov. Kathy Hochul in place, the commission took a step this week toward repairing its image and distancing itself from the ex-governor. After two previous attempts, on Tuesday it passed a resolution to rescind its controversial approval of Cuomo's coronavirus pandemic memoir, accusing him of using state resources to produce the book and mischaracterizing its contents.
The rescission is arguably the most popular decision the commission has made since Cuomo created the body 10 years ago. And while it's being seen as a sign of improvement by some of the commission's critics, questions remain about whether it will have a real impact on Cuomo – and the future of the body itself. 
"This deal was corrupt to the core from the start. Profiting off of taxpayer resources and time during the pandemic," tweeted Rep. Elise Stefanik, a Republican who represents North Country. "While this is the right decision finally, New York needs to abolish JCOPE to actually have meaningful ethics reform in Albany."
"American Crisis: Leadership Lessons from the Covid-19 Pandemic" netted $5.1 million for Cuomo under his contract with Crown Publishing, money legal experts say he could have to forfeit if he is not granted renewed, retroactive approval from the commission.
Assembly Member Ron Kim, a Democrat from Flushing who chairs the committee on aging, called for Cuomo to donate the money to elder-care advocates. 
"I'd argue let the United Way keep $500k, claw back $1.45 million and donate the rest of the contract toward @Voices4Seniors," he tweeted.
As for JCOPE's part, Kim, who has publicly sparred with Cuomo over the state's handling of nursing homes during the pandemic, called it "a small step in holding Andrew Cuomo accountable."
"One does not need a background in law or ethics to understand how brokering a $5.1 million book deal based on (falsified) data and misused public resources is patently illegal," Kim said in a statement.
Referred to as J-JOKE in Albany political circles, the commission has had a fraught history with Cuomo at the helm. Members have been accused of leaking information to Cuomo about an investigation into his own staff, being blindly allegiant to the lawmakers who appointed them, systemic secrecy, and inaction on high-profile probes.
Now it's Cuomo's team who is using the unflattering nickname to describe the commission he established. The former governor's spokesperson blasted JCOPE's decision following the board's 12-1 vote and claimed state staffers were "volunteering" when they worked on Cuomo's book. 
"This is the 3rd time JCOPE has attempted to rescind their own approval, and this amounts to nothing more than Albany political corruption at its worst," Rich Azzopardi said. "They truly are a J-JOKE."
JCOPE for years has faced calls for reforms and for it to be disbanded. State Sen. Liz Krueger has been pushing for a constitutional amendment that would replace JCOPE. Earlier this year, the state Senate also passed a package of bills that give more lawmakers power to appoint commissioners and broaden voting requirements for the commission to investigate state officials or find them guilty.
"I want to blow up JCOPE," Hochul reportedly told good-government advocates in October.
Hochul replaced the former commission acting chair appointed by Cuomo, James Dering, with Jose Nieves, a criminal defense attorney from Queens. She also appointed Buffalo lawyer Sharon Stern Gerstman in place of commissioner Robert Cohen. Both Cohen and Dering resigned.
Already, the commission has shown willingness to recommit to its core mission of public accountability and right some of the wrongs it was accused of under Cuomo, even before Tuesday's vote.
Weeks after Cuomo resigned, the commission voted to investigate an alleged leak of a commissioner's voting record regarding the body's investigation into former Cuomo aide Joe Percoco, who was convicted of federal bribery charges in 2018.
On Tuesday, the only dissenting commission vote on the book came from Cuomo holdout, William Fisher.