News & Politics
Letitia James and the great non-campaign, campaign speech
The state attorney general won't say if she's running for governor, but a speech to business leaders sure sounded like she might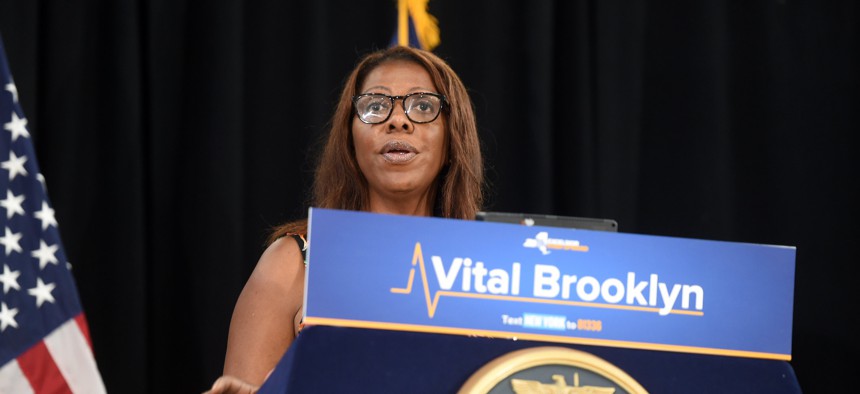 Will she or won't she? State Attorney General Letitia James is engaged in the classic pre-campaign tango as speculations fly about her interest in running for governor and she weighs her own options. James has remained diplomatically noncommittal, but a speech given to business leaders in New York City sure sounded like the precursor to an announcement. 
James spoke on Wednesday morning at an Association for a Better New York breakfast, a common exercise for New York's biggest movers and shakers – and for politicians eyeing higher office. Asked directly at the very end of her address if she plans to run for governor, James cracked a joke. "So it was great, it was a wonderful breakfast," she said to laughs as she pretended not to hear the question. Becoming more serious, James touted her usual line about focusing on being attorney general and "putting my head down" to get that work done without actually denying that she would run. The rest of the speech, though, seemed to belay that idea. 
James began her address talking about former Gov. Andrew Cuomo, who has consistently criticized the report from her office into claims of sexual harassment made against him, calling into question the independence and veracity of that report. "Until now, I've chosen to take the high road. I've chosen not to respond in detail," James said. "That changes today." She compared her office's investigation with Cuomo's own into then-Gov. Elliot Spitzer when he was attorney general. James pointed out that unlike her, Cuomo did not wait for an official referral from the executive and used his own staff rather than hiring outside investigators, and completed his investigation in 20 days whereas hers took five months. "He's never taken responsibility for his own conduct," James said in a marked change in tone. "He's never held himself accountable for how his behavior affected our state government." Cuomo spokesperson Rich Azzopardi fired back on Twitter. "The public deserves specific answers from the AG as to the credibility of her report  – especially as she mulls a run for Governor," he wrote.
With that, James segued into what felt like a stump speech about how to improve governance at the state level. She spoke about the need for transparency and accessibility and called for the abolition of the state's ethics agency – which she said is known across the state as "J-Joke" rather than JCOPE – in favor of a more independent panel. "We also need to change how the state executive branches run," James said. "Total power and decision making cannot be solely in the hands of the executive."
James touted her track record of "standing up for those who have been attacked, disenfranchised, marginalized (and) left out," starting with her time as an attorney in the state Legislature to her time in the New York City Council, on to the city's public advocate and finally most recently as attorney general. She mentioned headline-making lawsuits against Donald Trump and his associates, the National Rifle Association and the Catholic Archdiocese of Buffalo. James didn't mention Gov. Kathy Hochul at any point, but keen observers might have picked up on a subtle dig at the new governor. "We have fought for the rights of New Yorkers, regardless of immigration status, to ensure all people living in the state have access to driver's licenses, public benefits and all the resources they deserve," she said. Hochul actively campaigned against giving driver's licenses to undocumented immigrants when she was Erie County Clerk in 2007, even threatening to jail them, but has more recently said her views have evolved since then and supported the idea in 2018.
James is far from the only name floated as a potential challenger to Hochul in 2022. In fact, New York City Public Advocate Jumaane Williams, a fellow Brooklynite who competed against Hochul for lieutenant governor in 2018, has announced the formation of an exploratory committee for governor. He is the first of the major potential contenders to explicitly express his interest in the seat. Other people said to be eyeing the Executive Mansion include Rep. Tom Suozzi, New York City Mayor Bill de Blasio and Suffolk County Executive Steve Bellone. Tough competition both in New York City and in suburban parts of the state – not to mention from the sitting incumbent – are all factors James is likely weighing as she continues to play coy in public.
"There is no upstate or downstate way to make government work," James said at the close of her speech, a common refrain from those seeking statewide office. "So let us agree that you will not return to business as usual." The idea of new approaches to governance in the wake of the pandemic is certainly not unique to James, but given the tenor of her speech and speculation around her interest in the governorship, the words seemed to take on a dual meaning for herself as well. "We are at the edge of a new era in the state," she said. And that new era just might include Gov. Letitia James in her vision.