Campaigns & Elections
Socialist Alana Sivin plans to challenge Brian Kavanagh for state Senate
She's one of many progressive challengers expected in the 2022 cycle.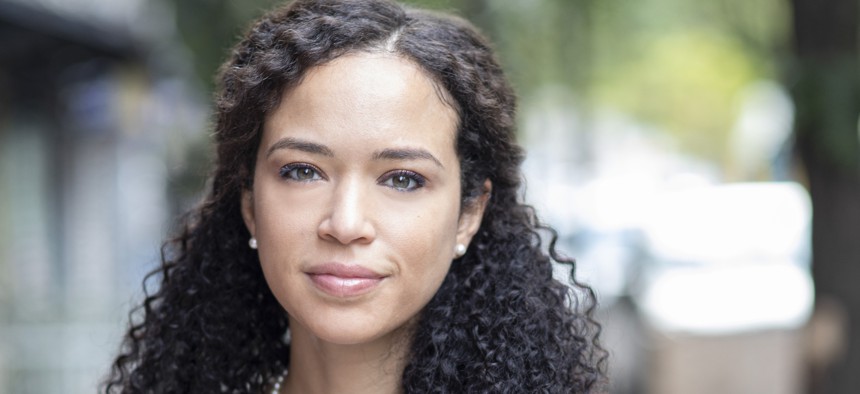 Alana Sivin, a socialist lawyer and advocate for criminal justice reform, is planning to challenge Democratic state Sen. Brian Kavanagh for reelection in 2022 – a year that could once again see many New York City incumbents in the state Legislature facing opponents from the left. 
Sivin lives on Manhattan's Lower East Side. She is senior adviser at the Independent Commission on New York City Criminal Justice and Incarceration Reform – known to many as the Lippman Commission. She talked to City & State exclusively about launching her campaign for District 26, which currently includes Lower Manhattan below Houston and parts of Brooklyn waterfront neighborhoods including Greenpoint, Williamsburg and Brooklyn Heights. The redistricting process could change those boundaries significantly – the draft map presented by Democratic appointees this month had the new district losing swaths of Lower Manhattan and Brooklyn Heights in favor of portions of Williamsburg and Bushwick that lean more to the left. But the maps are just drafts, and are expected to look quite different by the time they're finalized, likely in January. That's an issue that could harm the chances of insurgent candidates, who may have just five months to introduce themselves to voters in newly drawn districts. 
No matter what happens, Sivin has her sights set on Kavanagh, who lives just blocks away from her Lower East Side home in Alphabet City. "I'm ultimately running because it's important that we have state senators who see the urgency of this time," she said. Sivin plans to launch her campaign Wednesday in Foley Square in Lower Manhattan. She says Zephyr Teachout, the progressive activist and former attorney general candidate, and Janos Marton, the criminal justice activist and former Manhattan district attorney candidate, are endorsing her run. 
Kavanagh, a lawyer, was elected to the state Senate in a special election in 2017 to replace Daniel Squadron, who retired, and before that represented parts of the east side of Manhattan in the Assembly. He chairs the Committee on Housing, Construction and Community Development, and was lead sponsor of a bill to extend the state's moratorium on evictions and foreclosures, but was seen by some as a moderating force amid some tenant advocates' calls to cancel rent.
Sivin argued that Kavanagh doesn't do enough to fight for marginalized people, pointing to his 2020 vote to roll back bail reform. "We're seeing the crisis that's happening on Rikers right now. People are dying every day," Sivin said. "We need people who have this moral clarity to say, even if it's unpopular, even if people are going to fearmonger, we really need to stay the course when it comes to decarceration. When it comes to getting people out of jails."
A law that increased the number of charges on which judges could set bail, resulting in more people being held in jail, was included in the state budget last year. Just five of the 40 Senate Democrats at the time voted against that specific budget bill, citing the rollback of bail reform, which had passed the year before. Kavanagh was not among them. But Kavanagh also wasn't in the group of Democrats actively working on the bail reform rollback, and unlike many of his colleagues, had never received campaign donations from law enforcement unions.  
Sivin also said that Kavanagh doesn't support legislation to increase taxes on the wealthy. He is a co-sponsor of just one of the six bills that progressives are pushing as part of the Invest in Our New York legislative package. 
Asked about the challenge, Kavanagh said he looked forward to discussing his work with the Democratic Senate majority with voters and any candidates who might run in 2022. "I'm proud of what we've accomplished: relief and services in response to COVID-19, the strongest tenant protections in half a century and steps toward ensuring that everyone has access to good quality affordable housing, the nation's most ambitious legislation to address climate change, voter-friendly election laws, unprecedented investments in our schools and other public services funded by more progressive taxation, laws and community interventions to stop gun violence, justice system and policing reforms, and progress on so many other issues that are important to New Yorkers," he wrote in a statement provided to City & State.
Sivin was born in Brooklyn to a Puerto Rican mother and Ashkenazi Jewish father. She was raised in New Jersey, and moved to New York to attend Columbia University and Brooklyn Law School. She's lived on the east side of Manhattan for the last five years. She taught at Success Academy for one year where she says she learned that "charter schools aren't the answer," then became a lawyer, working as a public defender in Manhattan before joining the New York City Council to work as legislative counsel for the Criminal Justice Committee. A close friend of Democratic City Council nominee Tiffany Cabán, Sivin encouraged Cabán to run for Queens district attorney in 2019, and advised her campaign where she learned that "people like candidates who are unafraid." Like Cabán, Sivin is a member of the New York City chapter of the Democratic Socialists of America, and identifies as a socialist. "Part of the mission of this campaign is to create a world where nobody struggles to put food on the table," she said. "And that's a lot of what DSA is about."
Sivin will be seeking NYC-DSA's endorsement in the race, but she won't be alone. Illapa Sairitupac, a mental health social worker and organizer with DSA's ecosocialist working group, also tells City & State that he's planning to run for state Senate District 26. DSA expects to hear from both of them at a forum on Oct. 7 as the organization considers its endorsements.
If DSA chooses to endorse, it would be the organization's first time in modern years to back a candidate running in Manhattan. DSA has started its 2022 endorsement process, and a source with knowledge of the organization tells City & State they are, among other races, considering backing a candidate in southern Brooklyn neighborhoods like Bay Ridge, depending on how redistricting goes, and are also considering targeting state Sen. Kevin Parker, who represents Central Brooklyn.
With nine months to go until the expected June 2022 Democratic primaries, relatively few legislative candidates have announced plans to run. But many challenges are expected this year. The past two cycles have seen at least a dozen legislative incumbents unseated by insurgents with more progressive politics.
Among those who have formed campaign committees are Kaegan Mays-Williams, policy counsel at Everytown for Gun Safety and a former assistant district attorney in Manhattan who has filed to run in state Senate District 17 in Central Brooklyn, currently represented by state Sen. Simcha Felder, a Democrat who used to caucus with Republicans. Also in Central Brooklyn, Samantha Adler, program manager at a restorative justice nonprofit, has filed to run in District 21, now held by Parker. In the Bronx, the Rev. Ian Harris, a software developer, has filed to run in Senate District 32, held by state Sen. Luis Sepúlveda, who was arrested and charged in January with strangling his wife. Sepúlveda denies wrongdoing and has stayed in office. 
On the Assembly side, Shaniyat Chowdhury, who ran against Rep. Greg Meeks in 2020, is actively raising money to run in Assembly District 24 in eastern Queens, currently held by David Weprin. Mary Jobaida, who challenged Assembly Member Catherine Nolan in 2020, is planning to run in District 37 in western Queens once again. And in the central Bronx, Shanequa Charles is planning to run in District 78, a seat now held by José Rivera.