New York State
How Letitia James' star is rising
Like her predecessors who went on to become governor, the New York attorney general's newest investigation could help launch her into the limelight.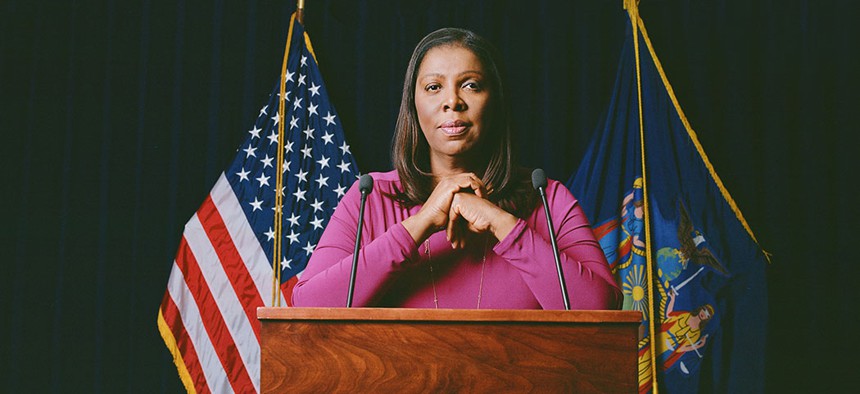 Gov. Andrew Cuomo's star has fallen. 
The governor, who just last year stepped into the national spotlight for his handling of the COVID-19 crisis, is facing two major scandals: his administration's reported cover-up of nursing home resident deaths caused by the coronavirus and a growing number of sexual harassment allegations being levied against him. 
While Cuomo will undoubtedly see his stature diminished by the controversies, even if he hangs on to complete his term and run for reelection, another statewide elected official will see her star rise: state Attorney General Letitia James. Although she had responsibility dropped in her lap for investigating both issues, technically at the governor's request, James has already demonstrated independence by taking on the governor with a stinging report on nursing homes. Now, it's possible James could follow Cuomo's path to becoming New York's top executive: a high-profile look into the governor's alleged misdeeds.
On Jan. 28, James published a report indicating that the number of nursing home deaths disclosed by the state may have undercounted by as much as 50%. Her findings ultimately led to the revelation that the Cuomo administration had delayed releasing information about the actual death toll out of fear of politically motivated punishment from the Trump administration. 
"In terms of contenders to be governor of the state, attorney general is the best position you can have." – Robert Spitzer, a political science professor at SUNY Cortland
In the wake of the nursing home scandal, James began overseeing an investigation into the sexual harassment allegations made against Cuomo, after the governor decided to cede control over the probe. He drew sharp criticism of his initial efforts to delegate authority to an ally, former U.S. District Judge Barbara Jones, instead of James. He also attempted to refer the investigation to both James and his appointee, Chief Judge Janet DiFiore, another bid for control that James rejected. On March 8, James announced she would be appointing Joon Kim, a former U.S. attorney for the Southern District of New York, and Anne Clark, an employment discrimination lawyer, to lead the investigation. 
While James has given no indication of any future ambitions for higher office, her recent investigations are reminiscent of her predecessors, Cuomo included, who used the attorney general's office as a gubernatorial springboard. In February, James even joked that "AG" stands for "aspiring governor" during a press event – a joke well known to New York politicos. However, she also said that her office is "not focusing on the politics but focusing on the law," during this time. James' office declined to comment for this story.
Political experts familiar with Albany politics also view the office as the go-to role for aspiring governors and say she's in a position to make a name for herself. "She's in a launchpad job, early innings, she would usually be expected to gather more experience before she was a competitive (contender) for governor," Gerald Benjamin, a retired political science professor at SUNY New Paltz told City & State. "But it's not only the job she's in – she's the direct player in the situation. So (her probe) does have a chance to build her a reputation."
However, those who have worked with James in the past say she isn't positioning herself to run for governor, but just doing her job. It just so happens that the job has become one that places its incumbent at the center of the state's biggest controversies. "I think it's very interesting that there's this expectation that Tish is just like the rest of (the former attorney generals), that Tish is just going to use this as some sort of path to something else," Assembly Member Catalina Cruz, who has worked in the state attorney general's office under Cuomo and has worked closely with James, told City & State.
"I think people need to focus on the fact that we elected an extremely qualified attorney who just happens to be a Black woman," Cruz continued. "If she were a white man no one would be ... thinking about what her ambitions are and what they're not."
The shifting role of the AG's office
The state attorney general's office wasn't always known for taking on high-profile cases, but since former Gov. Eliot Spitzer held the office between 1999 and 2007, taking on major power players has become expected of whoever serves in the role. New York's constitution says little about what is expected of the role. Its power is mostly defined through state statutes. The governor can also imbue the attorney general with more power, as Cuomo did with former state Attorney General Eric Schneiderman. In 2016, Cuomo signed an executive order to give the attorney general prosecutorial power to investigate police misconduct. It was mainly through close examination of statutes that Spitzer was able to reshape the role of the attorney general. He used the Martin Act, a statute from 1921, which gives the attorney general the ability to prosecute financial crimes, to go after Wall Street. "He identified some statutes about regulating economic activity and exploited – exploited sounds bad – but he used those powers fully to take on financial interests on Wall Street and became nationally recognized for that," Benjamin said. 
During Spitzer's two terms serving as attorney general, he became known as the "Sheriff of Wall Street," who made a name for himself by aggressively investigating the state's financial and securities industries. In 2002, Spitzer discovered conflicts of interest involving stock analysts at Merrill Lynch, which led to his office charging the wealth management company a fine of $100 million. It also led to 10 of the biggest securities firms in the country collectively paying $1.4 billion in settlements over a conflict of interest case that was also launched by Spitzer.
By 2004, Spitzer had become such a hero to liberals nationwide that Martin Peretz, then the editor-in-chief of The New Republic, suggested that then-U.S. Sen. John Kerry should choose Spitzer as his running mate on the Democratic presidential ticket. 
"This investigation, whatever it finds, will be only one part of the record that would be the basis of her rationale for election." – Robert J. Bellafiore, a former senior aide to Gov. George Pataki
Following his second term as attorney general, Spitzer launched a successful campaign for governor and was elected to the office in 2006. However, halfway through his first term, he became embroiled in a scandal of his own, which led to his speedy resignation under threat of impeachment in 2008.
Who was state attorney general under Spitzer? You guessed it: future Gov. Andrew Cuomo. Prior to Spitzer's resignation, Cuomo launched a high-profile and forceful investigation into Spitzer's office's use of state police for political purposes, in what was known as "Troopergate." As a result of Cuomo's investigation, four of Spitzer's aides were charged with ethics violations. Cuomo then launched a successful campaign for governor in 2010 and has remained in office since then.
Schneiderman, who helmed the office from 2011 to 2018, until allegations of physical and sexual abuse of ex-girlfriends forced him to resign, had also built a strong reputation with the Democratic base. Schneiderman grew to prominence for suing Trump University, which led to further legal inquiries into Donald Trump's business dealings after he was elected president. Schneiderman also put pressure on President Barack Obama's administration to deal with Wall Street more forcefully following the financial crisis of 2008.
Had Schneiderman not been accused of violence, he would have been the odds-on favorite to succeed Cuomo. Within just a couple of decades, the attorney general's office has become the place to be if your goal is to rule the state.
Is James following in her predecessors' footsteps?
James and Cuomo ran on a ticket together, after the governor endorsed the then-New York City public advocate for attorney general in 2018. While James' nursing home report shocked some who were surprised to see her act as an adversary toward her former political ally, Cuomo is hardly the only powerful person or entity that she has positioned herself against throughout her relatively short time in the office. Since James was elected in 2018, her office has led investigations and filed suits against Amazon, Facebook, the National Rifle Association, the New York City Police Department and the Trump family.
If Cuomo is impeached, resigns or doesn't run for reelection, James would be well positioned to run for his office next year, especially if she is perceived as having demonstrated independence from him. "In terms of contenders to be governor of the state, attorney general is the best position you can have. At least in this modern era," Robert Spitzer (no relation to the former governor), a political science professor at SUNY Cortland, told City & State.
As the first Black woman to win statewide office, James' journey to attorney general, however, has been much different than that of her predecessors. "James overcame racial and gender barriers in winning statewide elected office, a descendant of Southern sharecroppers and graduate of a HBCU (historically black college or university)," Luke Perry, a professor of government at Utica College, told City & State in an email.
Some political analysts argue that the attorney-general-to-governor pipeline is a bad trend in New York politics, worrying that being a prosecutor isn't the only, or even necessarily best, experience to train someone to do what the governor does: negotiate the budget with the Legislature, oversee bureaucratic agencies such as the Department of Transportation and grant the occasional commutation.
"Please keep in mind that this investigation, whatever it finds, will be only one part of the record that would be the basis of her rationale for election," Robert Bellafiore, a former Associated Press Capitol reporter and senior aide to former Gov. George Pataki, told City & State in an email. "New Yorkers already had one governor whose sole claim to fame was investigative chops and look how he turned out. To be a serious candidate for the highest office in this state, one should be able to demonstrate capacity to address a huge range of policy areas integral to New York's future."
James could still benefit from the investigation, even if Cuomo somehow manages to hang on and run for reelection in 2022, and she chooses not to challenge him. The attorney general's enhanced stature could help her win a seat in the Senate for example – which is what Jacob Javits did – or she could land a job in a Democratic administration.
James is carefully navigating the current probe, but it's unclear if she'll face sexist criticism as it plays out. For instance, New York Republicans, including state party Chair Nick Langworthy and Rep. Tom Reed, have attacked Lt. Gov. Kathy Hochul for not having publicly discussed whether she had known about Cuomo's alleged behavior before it was reported. (Neither man lodged any criticism against former Vice President Mike Pence over allegations of sexual assault by President Donald Trump from 26 women.) Throughout her career, James has avoided the confrontational approach of some men in similar positions, such as Cuomo and Spitzer."If she were to act like them and be that aggressive, then she'd be a 'bitch' right?" Lupe Todd-Medina, a political consultant and friend to James, told Politico. "So she's not doing that and she's soft? She's damned if she do and she's damned if she don't. But what I will say: She's always been driven, and I haven't seen much difference from her (since becoming attorney general)."
Cruz believes that James' sole objective in overseeing the investigation into Cuomo's allegations derives from her own interest in seeking the truth and providing it to the people who elected her to office. "I routinely say Tish can do this job and sit and think about the fact that she's actually said, 'Whether he stays in office or not, I'm still going to go get to the bottom of this, I'm going to continue my investigation and get to the bottom of this,'" she said. "She's not saying, 'If he steps down, this is going away.' She's saying, 'The people deserve the truth and I'm going to find this for them.'"
James has also stated many times that it is not her goal to replicate the models set forth by past attorneys general or dedicate her office to pursuing cases that are likely to gain statewide or national attention for her own personal advancement. "First and foremost, I'm a public servant. Less a politician, more of a public servant," James told City & State in a 2019 interview. "I am an attorney. And I work with a talented pool of attorneys and nonattorneys and we're here to administer the law, and to protect the interest of New York state, a sovereign state. And so has the office changed? Has the direction changed? I would say no. We're continuing to uphold the law and continuing to serve as the people's lawyer."