New York State
Assembly member looks to change state law to get Brian Benjamin off the ballot
Amy Paulin says a candidate should be able to decline a ballot line if they resign from office.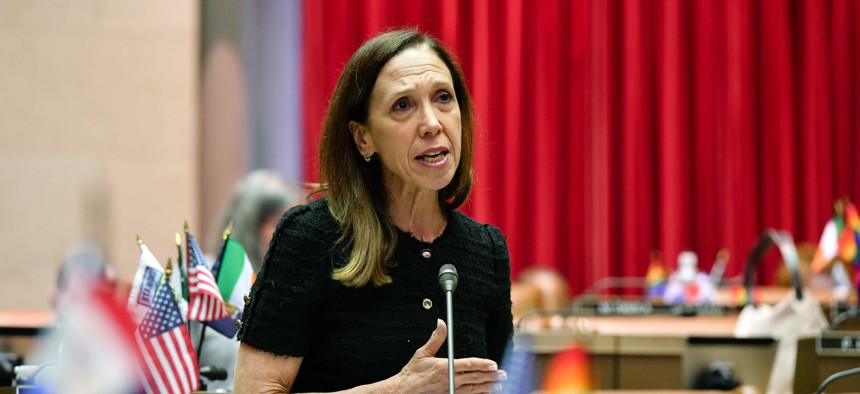 Under current election law, it may be too late to get former Lt. Gov. Brian Benjamin off the Democratic primary ballot, but Assembly Member Amy Paulin plans to introduce legislation that could change that. And with absentee ballots set to begin going out soon, lawmakers don't have much time to pass her bill. 
The proposed legislation, which has not yet been formally introduced in the Legislature, would expand the legal circumstances under which candidates could decline their place on the ballot.
Right now, a candidate who has petitioned onto the ballot has only a few days after filing to formally drop out voluntarily. For Benjamin, who received the Democratic Party's designation in February, he would have needed to decline months ago. Now, the only way off the ballot is to move out of state, die or get nominated for a different position. So Benjamin has little recourse now to remove himself from the ballot despite resigning as lieutenant governor and suspending his campaign.
Paulin's bill proposes new language to include if someone is indicted for a crime, has resigned from the office they are seeking or has a life-threatening illness. It would also permit a committee on vacancies – the political body formed under current law to replace candidates who drop out in time – to choose someone new to fill that person's place on the ballot. 
For Paulin, this change would be a long time coming. "Obviously, the Brian Benjamin situation makes you aware, but there is no person who's ever run that isn't aware that the rules are a little absurd to decline," Paulin told City & State. Draft bill language came from Common Cause New York, a good government organization that has long sought an overhaul of state election laws. "This is about a situation where the voters are going to be presented with a ballot that encourages them to waste their vote on a candidate who is not going to take office," Executive Director Susan Lerner told City & State. "That's simply unfair, it's simply wrong." She said that the fix her organization proposed is meant to fit into the current structure of the election law with regard to declinations and the filling of vacancies. "Whether that's the right procedure or not, is debatable," Lerner said. "But in terms of trying to craft a bill that has a better chance of being passed, we wanted to follow the procedures, to the extent reasonable, that are existing in the election law."
That means allowing the Democratic Party's committee on vacancies to pick a replacement if a candidate drops out under the proposed new provision, like Benjamin could. That has some on the right calling foul play by the Democrats. "This legislation is a gross abuse of power that is trying to rig the system and cheat their lawful opponents," state GOP Chair Nick Langworthy said in a statement. "Not only did they let another dirty politician escape impeachment, but they are now working to rewrite the law to try and save Kathy Hochul's political career, rather than face the consequences of their actions with the voters." Paulin denied that the proposed legislation came from Hochul's office, saying she has only reached out to state Democratic Party Chair Jay Jacobs regarding a technical question with the proposal. Jacobs did not immediately return a request for comment. Lerner also asserted that her organization drafted the proposed language independently. A spokesperson for the governor did not immediately return a request for comment.
The legislation would give candidates in a primary until May 1 to remove themselves from the ballot for one of the listed reasons in order to allow boards of elections to print updated absentee ballots. That doesn't give lawmakers, who are in the middle of spring recess, much time to approve the bill. They are scheduled to return April 25 and would need to vote that same week if they want to change the law in time for Benjamin to get off the ballot. 
Right now, no one in the state Senate has offered to carry the bill in their chamber, but Paulin said that both Sens. Liz Krueger and Brian Kavanagh expressed interest in sponsoring the legislation. Justin Flagg, a spokesperson for Krueger, said the senator is interested in legislation fixing the problem of getting off the ballot, "but wants to make sure we've got the right policy" and is discussing with leadership and experts before a bill's introduction. A spokesperson for Kavanagh did not immediately return a request for comment. Finding a bill sponsor is a crucial first step to getting it approved. When asked about state Senate Majority Leader Andrea Stewart-Cousins' thoughts on the proposal and whether she would support its quick passage, spokesperson Mike Murphy simply pointed out that there is no bill in the Senate. A spokesperson for Assembly Speaker Carl Heastie did not immediately return a request for comment. 
With the clock ticking for a law change that would affect Benjamin, Paulin said she plans to officially file the bill on Friday. "I've never had a bill go that quickly," Paulin said. "But if there's a will, it could."