Budget
Big Ugly release signals state budget season is (finally) ending
Albany Democrats are still voting on budget bills one week past the April 1 deadline.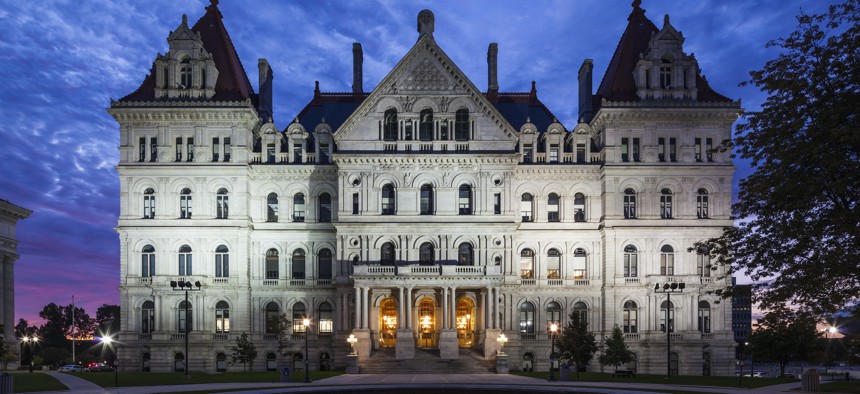 Albany Democrats are nearing the end of the state budget process following the introduction Friday afternoon of an omnibus budget packed with controversial changes to bail, ethics reform and more.
The release of the so-called "Big Ugly" –  Albany slang for omnibus bills passed with little notice – signals that Gov. Kathy Hochul and legislative leaders have finalized negotiations more than one week past an April 1 deadline. State lawmakers are expected to vote on it following a marathon debate session slated to begin Friday evening. 
"We know that now, more than ever, New Yorkers are struggling with the rising cost of groceries, housing, higher education, gas and childcare," Assembly Speaker Carl Heastie said in a press release on Friday afternoon. "We must seize this moment to deliver the economic relief that is so desperately needed."
A key stumbling block in budget talks were potential changes to bail and discovery reforms, which are detailed in the Education, Labor and Family Assistance Budget Bill that contains the Big Ugly. The final legislative language reflects reporting in recent days about an expanded list of bail eligible offenses, new ways to jail repeat offenders pre-trial and changes to Kendra's Law, which facilitates forcible treatment for people with mental illnesses, as well as a five-year extension of the expiring statute.
The Times Union reported Friday afternoon, prior to the official release of the Big Ugly, some significant changes to plans to create a new state ethics body to replace the much-criticized Joint Commission on Public Ethics. Current commissioners will be ineligible to serve in the new agency, which good government groups have criticized as overly beholden to the Albany leaders who will appoint them, with law school deans having some influence in vetting potential commissioners. 
Others controversial provisions in the Big Ugly include details on $600 million in state support to build a new stadium for the Buffalo Bills, new casinos downstate and an expansion of state-supported health care to undocumented people over age 65 despite calls to include a wider class of people. Final budgetary language on a $3 pay raise for home health workers were also included in the bill following a big push by workers and advocacy groups.
Legislators and activists on the political left have criticized the final budget deal for including changes to bail reform as well as what they say is a lack of funding for social services like health care for undocumented people, especially considering the money for the privately-owned Bills. Organized opposition to the Big Ugly, however, had yet to appear publicly by publication time as legislators get ready to approve it sometime tonight or early Saturday morning.