Policy
Can cryptocurrency actually help anyone?
Proponents said communities of color can benefit from a decentralized virtual banking system, despite concerns over volatility and scams.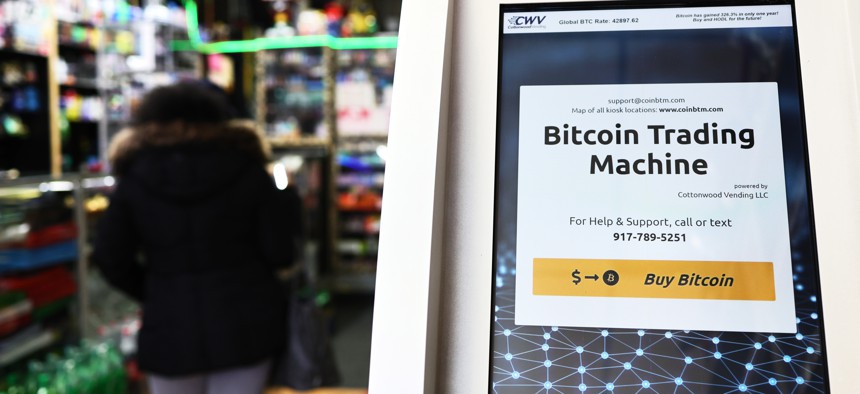 New York City Mayor Eric Adams may be the most recognizable champion of cryptocurrency in New York politics, but he's hardly the first elected official in the Empire State to extoll the potential benefits of the decentralized virtual banking system and the technology that powers it, blockchain.
Long before Adams started publicly beefing with Miami over which city loves bitcoin more, a handful of state legislators were talking up the technology's possibilities. In 2017, Assembly Member Clyde Vanel introduced a slate of cryptocurrency and blockchain-related bills, including a bill creating a task force to study how to regulate cryptocurrencies and their potential uses. Vanel, who then posted a video on YouTube touring Bitcoin ATMs at bodegas in his district, and other elected officials continue to tout the economic development benefits of welcoming a burgeoning tech industry. He's also among the crypto enthusiasts who see the technology as an economic equalizer – a tool not just for the rich to get richer, but for people who have been discriminated against by banking institutions or locked out of investment opportunities, including people of color and low-income communities. "In order to get an account with a traditional bank, you have to be a certain type of investor. You have to have certain kinds of funds," Vanel said. "With cryptocurrency, the bar to entry into the market is really low."
Though crypto has its rabid fans, it's a volatile, speculative phenomenon, and one that has seen a proliferation of scams and thefts as Congress considers how to regulate the industry. Plus, while virtual wallets may provide a way for people who are unbanked to access a system to exchange money, it doesn't do much to help people who don't have much excess cash to exchange in the first place.
Tonantzin Carmona, a fellow at the Brookings Institution, has urged mayors across the country to more carefully consider what problems they are attempting to solve with cryptocurrency before embracing it as a solution. "Contrary to what crypto proponents believe, cryptocurrency does not presently make for a good payment option," Carmona told City & State. "Cryptocurrencies are notoriously volatile, transactions can be slow, they can also be expensive. And unlike cash, cryptocurrencies are still not universally accepted."
Roughly 301,700 households in New York City are unbanked, according to a 2021 report from the city Department of Consumer and Worker Protection, meaning that they don't have traditional savings or checking accounts. Those households are concentrated in neighborhoods with higher rates of poverty and ones that are predominately Black and Latino. The unbanked and underbanked are who crypto enthusiasts often refer to when outlining the currency's benefits. Bitcoin and other virtual currencies can be exchanged through virtual wallets, forgoing the need for an individual to be approved to open a traditional account.
Those wallets have also been touted as a way for immigrant families to send money back to relatives in other countries, as an alternative to traditional money transfer services like Western Union. "To send $100 to Haiti, certain places charge us $10 to $11," said Vanel, whose parents immigrated from Haiti. "The transaction fees are fractions of what traditional money transfers are," he said of cryptocurrency. Transaction fees for cryptocurrency can be unpredictable though, with higher fees when the network is processing more transactions.
Cleve Mesidor, executive director of the Blockchain Foundation, said it wasn't just the unbanked or underbanked who could potentially benefit from cryptocurrency. "The Black community – yes, it's the unbanked people who never had a bank account. But it's also professionals like myself with advanced degrees, who are upper middle class, make six digits, but who never had the attention of wealth managers," Mesidor said. "They gave us high interest mortgages, while our white contemporaries got reasonable mortgages that would not put them in debt."
Mesidor, who also founded the National Policy Network of Women of Color in Blockchain, said this history of discrimination was part of why people of color were attracted to cryptocurrency.  Though most investors in cryptocurrency are white men, data from Morning Consult published last fall showed that 35% of Black and 37% of Hispanic adult respondents were likely to invest in crypto, compared to 30% of white adult respondents. A separate Morning Consult poll found that cryptocurrency ownership was disproportionately high among Hispanic adults in the United States. "There would not be a cryptocurrency industry without Black and Latino communities," Mesidor said.
Some state lawmakers see potential in cryptocurrency and blockchain – but not necessarily in the way it's being used now. Assembly Member Ron Kim and state Sen. Julia Salazar sponsored a bill that would create a public virtual banking system, also referred to as "public Venmo." The free, publicly run system would allow New Yorkers to exchange currency for goods and services, and also provide a way for the state to pay benefits and tax credits. The legislation has not advanced since it was introduced in 2019, but Kim pointed to a local currency initiative in the Hudson Valley aimed at encouraging buying within the community as an early template for how public Venmo and the idea of community currencies could work.
Still, Kim doesn't believe the social benefits of cryptocurrency will be automatically realized. His vision for embracing crypto technology involves the public sector creating free tools for citizens, rather than just encouraging private cryptocurrency exchanges to grow. "They're still extracting a fee, monetizing the technology," Kim said of the existing exchanges. "But if we create 100% free public Venmo, potentially low-income immigrants can exchange and they can transfer their monetary value without paying anything," he said.
While Adams has championed New York City as the next crypto hub, he hasn't spoken in detail about use cases for how cryptocurrency could work as an economic equalizer, though he has pointed to social equity as one of its key benefits. Teaching cryptocurrency in schools is one idea he's raised. 
"When we hear 'cryptocurrency,' we think of former Goldman Sachs people trading crypto on an exchange. And that's the stereotype," Kim said. "That's also, unfortunately, the type of image I think (Adams) is promoting, because he's not really deep-diving into how the technology behind crypto could be used to benefit the public sector. I look forward to having a conversation with him, because anyone that has an open mind, I'm willing to sit down with."