Policy
Can New York court and regulate the crypto industry at the same time?
Some state lawmakers are making enemies in the cryptocurrency industry as Eric Adams tries to woo it.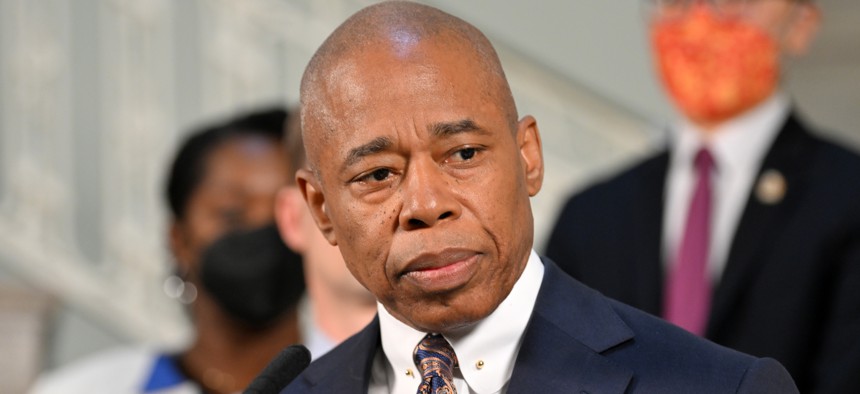 Mayor Eric Adams is still boosting cryptocurrency as a can't-miss opportunity for economic development, education and financial equity in New York City. Three paychecks deep in converting his salary to bitcoin and ethereum, who could blame him?
Adams appeared virtually at a cryptocurrency and digital asset summit hosted by the Financial Times, a London-based newspaper, on Wednesday and repeated the pitch he's made for months that New York City can be the world's cryptocurrency hub. "Crypto, and blockchain as well, are here to stay. We can't let this opportunity pass by," Adams said. "We can integrate these new technologies in a smart way, prioritizing equity and inclusion as we're building out blockchain (and) crypto campuses for our young people to have a real understanding of this new industry."
Just the day before, the state Assembly passed a bill that would place a two-year moratorium on any new or renewed permits for fossil fuel burning plants being used to power behind-the-meter proof-of-work mining. It would also require an environmental statement on the effects of proof-of-work mining. Environmental groups and community activists who live near bitcoin mining sites have been advocating for this moratorium, arguing that the emissions produced by proof-of-work mining will harm the state's climate goals. An earlier version of the bill – like this one, sponsored by Assembly Member Anna Kelles – failed to pass the Assembly last year, but it did pass the state Senate last year.
The proposed moratorium has produced an outcry from the crypto industry, and some sizable lobbying spending in Albany. Though the bill's sponsors and environmental advocates say that they're not against cryptocurrency trading or exploring new uses of blockchain – they're just against the energy-intensive proof-of-work authentication method – industry insiders have said that a moratorium would send a message that New York is unfriendly to crypto and blockchain companies. Such a message might make it difficult for Adams to continue his pitch for New York City as the crypto capital of the world, they said. "It's a bad signal," said John Olsen, New York state lead for the Blockchain Association, of the proposed moratorium. Asked whether he thought the move to regulate mining at the state level could harm Adams' pitch to court cryptocurrency companies to come to New York, Olsen said that he thinks it already has. "You have other states that are more or less rolling out the red carpet – whether it's miners, in states like Texas or Oklahoma, or just in general."
The argument that a two-year moratorium on proof-of-work mining at certain kinds of facilities will hamper New York's shot of attracting other kinds of crypto companies has yet to be proven. In a 15-minute virtual interview at Wednesday's event, Adams talked broadly about including cryptocurrency in expanded education on financial literacy for New York City students, and attracting new crypto and blockchain startups with the city's financial prowess, transportation network and diversity. The moratorium bill moving through the state Legislature wouldn't directly affect any of those pursuits, as Kelles has repeatedly pointed out. "It's so narrow in focus in terms of the moratorium portion. It doesn't even stop mining," said Liz Moran, a policy advocate for EarthJustice, one of the groups that is advocating for the moratorium. The bill, she notes, wouldn't stop all kinds of proof-of-work mining, just instances where that mining is being powered by re-fired fossil fuel power plants. "This is not a piece of legislation that's saying no to cryptocurrency. It's saying no to reopening fossil fuel power plants for a very energy-intensive process at a time when the state is trying to move off of fossil fuels entirely."
It's now up to the state Senate to take up and pass the revised bill this year, where state Sen. Kevin Parker carries it. A spokesperson for Parker did not immediately respond to a request for comment. The earlier version of the bill – which would have enacted a broader pause on bitcoin mining – passed the state Senate last year by a vote of 36 to 27. Lobbying for industry-friendly legislation and regulations has ramped up in the state Legislature since then. Gov. Kathy Hochul has stayed quiet on the proposed moratorium.
Though Adams hasn't weighed in in detail on the moratorium bill, he made brief comments at a February state budget hearing on the matter, saying he supported cryptocurrency but not cryptocurrency mining. In an email, a spokesperson later added, "Mayor Adams believes that the crypto industry can – and should – thrive without negative impact to the environment, and that New York can be a global center for the industry's innovation, financial products and services while still meeting its climate goals." But bitcoin, one of the digital currencies into which Adams converted his first three paychecks, currently relies on the energy-intensive mining technique known as proof-of-work that the moratorium targets. It's unclear whether bitcoin would ever transition to more environmentally friendly methods of authenticating crypto transactions, as ethereum, another digital currency, is doing. So as it stands now, it's difficult to support bitcoin but not proof-of-work mining.
But although some state lawmakers are taking steps to regulate mining, the crypto industry may in some ways be looking at a more friendly regulatory environment at the state level than it has in the past. In 2015, New York implemented the BitLicense – a required approval for virtual currency businesses operating in the state that the industry has long called overly stringent. Adrienne Harris, the new head of the state Department of Financial Services, has been welcomed as someone who might bring some friendly relief to the industry and has talked about speeding up the process of securing BitLicenses.
And in Adams, the crypto industry has an undeniable champion, even if he has to play the role of cheerleader from the sidelines. "I'm looking for the easing of the license restriction. Sometimes it's just too expensive or too bureaucratic. I'm hoping that adding my voice to this would add to it," he said of efforts to reform or do away with the BitLicense. "New York state is the only state to require a license for crypto companies. That's a high barrier and it just makes us less competitive. We have to continue to be competitive."