Budget
In closed door deal on child care, undocumented New York children are left out
The $5 billion child care expansion proposed in the state budget is historic, but the possible exclusion is a setback for the political left.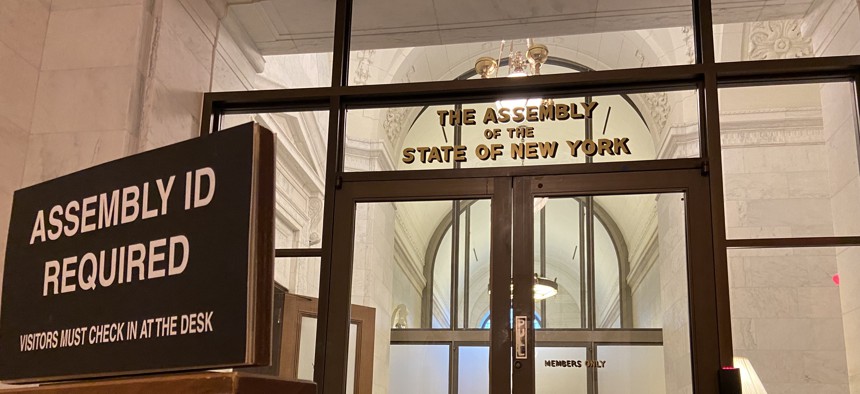 Immigration activists are seeing mixed results in a final state budget deal that could be announced as soon as today. A big victory appears at hand over expanding health care access for undocumented people, but a final spending plan isn't going to include more money for an Excluded Workers Fund, which benefits people who didn't qualify for other COVID-19 relief programs. 
Tens of thousands of undocumented children are similarly missing out. A $5 billion child care expansion expected to pass in the state budget will not cover services for undocumented children, according to multiple lawmakers in the Assembly and state Senate. The political fallout now appears to be landing on Gov. Kathy Hochul, who has tangled with legislators in budget negotiations on the potential costs of expanding social services to undocumented people. 
"Governor Hochul has broken her promise to support the working families of New York," wrote Jasmine Gripper, executive director of the Alliance for Quality Education. She released a statement on behalf of a coalition of advocacy groups that includes the Working Families Party and Housing Justice for All. "To add insult to injury, immigrant and undocumented communities that have been the backbone of New York's economy and society throughout the pandemic will continue to be excluded."
Spectrum News reported Thursday morning that the billions in new state money going into child care will fund vouchers over three years for families making up to 300% of the federal poverty level, which amounts to about $70,000 for a family of three. This marks a historic increase in state spending on child care, especially considering an earlier report of a deal that would only include $3 billion over two years. 
"It is historic nationally," Jason Cone, chief public policy officer for the anti-poverty Robin Hood foundation, said Thursday. "But a not insignificant footnote in that historic investment is the fact that the deal as it seems to be currently structured would leave out undocumented children." The familes of an estimated 30,000 undocumented children could potentially benefit from state supported child care, according to the liberal Schuyler Center for Analysis and Advocacy. 
A spokesperson for Gov. Kathy Hochul did not respond to a request for comment before publication to confirm whether she had pushed for the exclusion of coverage for undocumented children in a final deal on child care, which follows months of efforts by left-leaning legislators, activists and unions. Legislative language and details about the child care deal and its expected costs were not available by early Thursday afternoon. 
Hochul will likely get some praise from immigration advocates if a final state budget includes a "Coverage for All" proposal to expand health care for undocumented people. But potential allies on that effort are not saying nice things about her reported role in limiting the child care expansion. "An expansion of childcare coverage that excludes tens of thousands of kids because of their immigration status is both cruel and undercuts the entire effort to improve the lives of every New York family," Murad Awawdeh, executive director of the New York Immigation Coalition, who has personally met with Hochul over Coverage for All, said in a statement. 
Nothing is final in Albany until bills get printed and votes tallied, so a final spending plan could be friendlier to the interests of immigration advocates than they fear. But political rivals of the governor began converting fiscal disappointment into electoral energy for the June Democratic primaries soon after news broke Wednesday night that undocumented children would not be included in the historical expansion of state-supported child care. 
"This exclusion is absolutely unacceptable and is clearly the doing of Gov. Hochul," Ana Maria Archila, a candidate for lieutenant governor opposing incumbent Lt. Gov. Brian Benjamin, tweeted. "She is showing shameful disdain toward immigrant communities in final budget negotiations."