New York City
In the wake of a mass shooting, what are the gun detection systems Eric Adams is talking about?
Like other emerging surveillance technologies, weapon detection systems come with questions about effectiveness and privacy.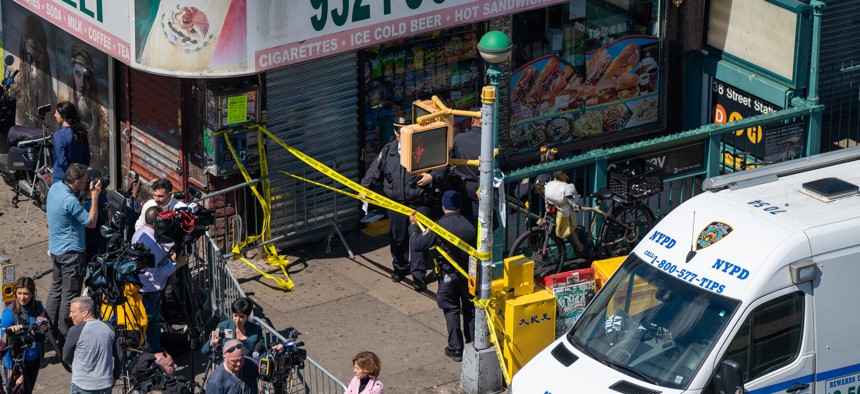 From the start of his term, New York City Mayor Eric Adams has talked about exploring "new technologies and software" to tackle gun violence, but in the wake of a mass shooting that injured 16 people on a Brooklyn subway train Tuesday morning, he made that possibility a promise. "We're going to be introducing some new technology that we believe could assist us," he said on Tuesday afternoon.
On Wednesday afternoon, more than 24 hours after the shooting, the suspect was apprehended. Police officials credited technology in the investigation, even though some of the Metropolitan Transportation Authority's cameras near where the shooting occured weren't working properly. "This case was quickly solved using technology, video canvassing and then getting that information out to the public," NYPD Chief of Detectives James Essig said at a press conference after the suspect was caught.
Though Adams has been vague on details about exactly what kinds of technology he's referring to when he talks about exploring new tools, gun detection systems seem to be one option. In several interviews on Wednesday, Adams described what sounds like gun detection systems, some examples of which have been described as an improvement on metal detectors. "There are new models that are being used at ball games, ballparks, hospitals, where you're not stopping to go through your belongings," Adams said in an interview on Morning Joe on Wednesday. "You're simply walking through a device." He added that he sent Deputy Mayor for Public Safety Philip Banks to several conventions to look at new technology.
And on WNYC, Adams said this: "We think there's some great promise in this technology. We are going to continue to explore that. We're not at the place of full implementation, but we are excited about what we have witnessed thus far. We are going to be looking to do a few pilot projects to see the full use of it."
Spokespeople for Adams did not comment on what exactly the technology they identified is, what kind of pilot programs they might deploy it in or on questions about these systems' accuracy and effectiveness. But it sure sounds like Adams is referring to gun detection systems.
Gun detection technology can be problematic, according to Albert Fox Cahn, executive director of the Surveillance Oversight Technology Project. He noted that the systems are vulnerable to false positives, though there isn't a wealth of independent studies about the accuracy of weapon detection systems in general. "There is no surveillance magic bullet to the gun threat," he said. "The technology simply cannot look at the hundreds of thousands of New Yorkers who ride the subway every day, see into every object they have, and know who is a threat. I wish it could. But that's the stuff of science fiction, not public safety."
As Adams continued to point to new technologies as tools to help prevent situations like Tuesday's shooting in the future, it wasn't lost on many that existing surveillance infrastructure fell short. Some Metropolitan Transportation Authority cameras at both the 36th Street station and the 25th Street station in Brooklyn didn't work properly on Tuesday. "The cameras worked, but because there was a server issue, the pictures were not reaching the police command center, were not reaching the MTA security center," MTA spokesperson Tim Minton told the New York Post.
The city would ultimately need to work with the Metropolitan Transportation Authority, which controls the subways, to roll out a new gun detection system. The MTA did not immediately respond to a request for comment about deploying gun detection systems. 
MTA Chair Janno Lieber said earlier on Wednesday, however, that he's open to working with the mayor on new technology solutions, but that traditional metal detectors are impractical. "There are millions of people riding the subway system. We're not going to run an airport metal detector operation every day, but I think we can make the system safer using technology," Lieber said in an interview with 1010 WINS. "I love that the mayor is pushing that as an idea."
There are a couple different kinds of gun detection systems. Some can function as enhanced security cameras, using artificial intelligence to visually identify someone carrying a gun. Others, like a product currently being piloted at a hospital in the Bronx, are freestanding scanners that resemble metal detectors but which allow multiple people to pass through at once without removing bags or coats, and claim to use artificial intelligence to detect weapons, not just any metal. The latter is among the forms of technology that the mayor's office is looking at.
When Adams released his Blueprint to End Gun Violence in February, he mentioned gun detection technology as something he planned to explore, but wasn't specific about what kind of systems the administration might consider.
Earlier this year, Jacobi Medical Center in the Bronx launched a pilot of an automated weapon detection system by Evolv Technology, a Massachusetts-based company. Adams has expressed an interest in expanding the use of the technology in schools. Gotham Gazette described the system as "touchless machines (that) scan and screen people as they walk past, throwing up visual alarms on connected monitors when it indicates a weapon may be located on a person."
Cahn, of the Surveillance Technology Oversight Project, predicted that deploying this kind of technology in the subway would be ineffective. "I think it's gonna mean people constantly being pulled aside to have officers rummage through their bag," Cahn said. "It's going to make every subway commute feel like you're just waiting to get through airport security." 
Cahn also pointed to research showing accuracy issues with this kind of technology. One report from IPVM, a surveillance-focused trade publication, showed that Evolv can mistake some Chromebooks for weapons. 
In an emailed statement, a spokesperson for Evolv declined to discuss progress on the pilot program at Jacobi Medical Center, but described its system as using artificial intelligence to detect weapons, or weapon parts. When asked about false positives, a spokesperson said the technology will continue to … evolve. "There are some chromebook models that alarm. The benefit of artificial intelligence is that the software will continue to learn and improve over time to distinguish between a weapon and non-threatening items," the emailed statement read.