New York City
Suspect in Brooklyn subway shooting taken into custody
Police arrested Frank James in the East Village Wednesday afternoon, more than 24 hours after he opened fire on a subway car, injuring at least 23 people.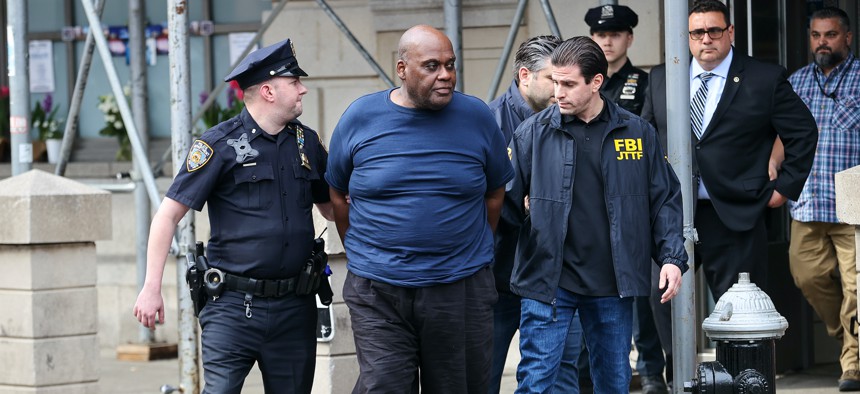 The suspect in the Brooklyn subway shooting that left 10 people shot, and at least a dozen more injured, has been taken into custody, authorities announced Wednesday.
"My fellow New Yorkers, we got him. We got him," Mayor Eric Adams said, speaking virtually from Gracie Mansion, where he is isolating after testing positive for COVID-19 on Sunday. "I can not thank the men and women of the New York City Police department enough, as well as our federal agents, our state police, our first responders, our 911 operators . . . the various medical professionals."
Frank James, 62, was taken into custody without incident at 1:42 p.m. at the corner of St. Mark's Place and First Avenue in the East Village, NYPD Commissioner Keechant Sewell said during the Wednesday briefing, less than an hour after James' arrest. 
"Literally hundreds of NYPD detectives worked doggedly during the last 30 hours to bring this together," Sewell said Wednesday. "We hope this arrest brings some solace to the victims and the people of the city of New York." 
James is accused of denoting a smoke device and opening fire on a Manhattan-bound N train during rush hour Tuesday morning. He was named as a person of interest on Tuesday afternoon, and a suspect earlier Wednesday after police said they recovered a gun and a U-Haul key at the scene, linking him to the violence. Police said James – wearing what appeared to be a gas mask, orange construction vest and green construction helmet – fired 33 rounds while traveling between the 59th Street and 36th Street stations in Sunset Park. He then exited the car, boarded an R train, traveled one stop and left the subway system at the 25th Street station, officials said.
At least 23 people were injured, including 10 from gunshot wounds, officials said Tuesday. Five victims were in critical but stable condition as of Tuesday afternoon, according to the New York City Fire Department, which transported the individuals to local hospitals. Others suffered panic attacks and were injured by flying shrapnel and from smoke inhalation. No one experienced life-threatening injuries, officials said. 
James was charged in Brooklyn federal court on Wednesday with counts related to acts of terrorism and violence on a transit system, U.S. Attorney for the Eastern District of New York Breon Peace said during the briefing. He will be formally arraigned on Wednesday afternoon. If convicted, he faces up to life in prison, Peace said. 
NYPD brass said Tuesday it had also discovered social media videos in which James ranted about "homelessness (and) complaints about New York," Commissioner Keechant Sewell said. Multiple media outlets reported that he also raged about the war in Ukraine, Black people, 9/11 conspiracies and his desire to "kill people." Sewell said Mayor Eric Adams' security detail would be temporarily bolstered as a precaution following the revelation. 
Police, laying out the evidence that aided the investigation, said Wednesday that video surveillance showed James entering Kings Highway subway station toting a black cart that was later recovered at the crime scene, along with a 9MM glock that police said was purchased in Ohio in 2011. His "distinctive orange jacket" – later matched to James via subway surveillance video that shows him entering a station earlier Tuesday – along with the construction helmet he was wearing, were also found at the scene, NYPD Chief of Detectives James Essig said.
The city temporarily doubled the number of transit cops on the subways in the wake of the shooting. But James continued to ride the trains throughout the day, according to unnamed law enforcement sources cited by NBC New York, which reported that he swiped a credit card at a Brooklyn subway station around 6 p.m. on Tuesday as the search for him was underway. 
James has ties to Wisconsin, Ohio, Pennsylvania, New Jersey and New York City, Essig said. He was arrested nine prior times in New York between 1990 and 1998, including for burglary and a criminal sex act, Essig said.
Powered By
NEXT STORY: Hochul addresses Benjamin resignation: "It was very unfortunate"