COVID-19 numbers ticking up in New York
The state's positivity rate has steadily climbed since early March, when the omicron BA.2 subvariant was detected.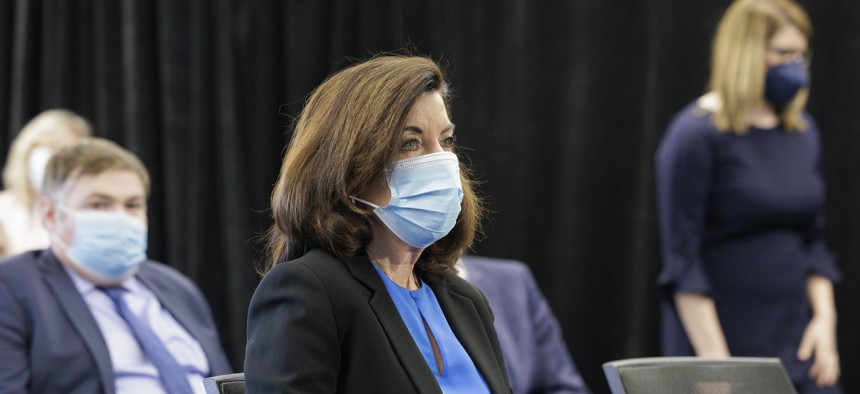 The state's COVID-19 positivity rate continued to tick up in the past 24-hours, driven by the rise of the BA.2 omicron subvariants, health officials said Friday. The number of cases per 100,000 residents rose to 44 on Thursday, from 39 two days earlier, with significant outbreaks in Western New York and the Finger Lakes regions. 
Currently, 2,187 COVID-19 patients across the state are hospitalized, Gov. Kathy Hochul's office said Friday – the highest number of patients since the last week in February, according to the state's COVID-19 dashboard. Twelve New Yorkers died of COVID-19 on Thursday, the state Department of Health reported. 
Western New York has the highest 7-day infection rate of any region, at more than 17% on each of the past three days. In the Finger Lakes region, the positivity rate stands at about 13%, according to the state Department of Health. Hochul said Friday that cases in the Finger Lakes, Central New York, Mohawk Valley, North Country and the Southern Tier are down compared to last week, while hospital admissions in Central New York, Finger Lakes and Mohawk Valley are also beginning to subside. 
As of Tuesday, New York City's 7-day average positivity rate was at 6.57%, according to city health department data, up from 6% a week earlier. On Thursday, the city raised its COVID-19 alert level to "medium," the second-lowest tier. 
Case counts across the state have been steadily rising since mid-March, weeks after the BA.2 omicron subvariant was detected. The omicron variant now accounts for 95% of all cases in New York, state health officials said Friday. The state reported a 6.9% 7-day rolling average positivity rate on Thursday, up from 1.6% on March 5.