New York State
Gov. Kathy Hochul's remaining legislative priorities: Bills on guns and abortion
With just five days left in the session, there's a lot of dealmaking left to be done by the governor and state lawmakers.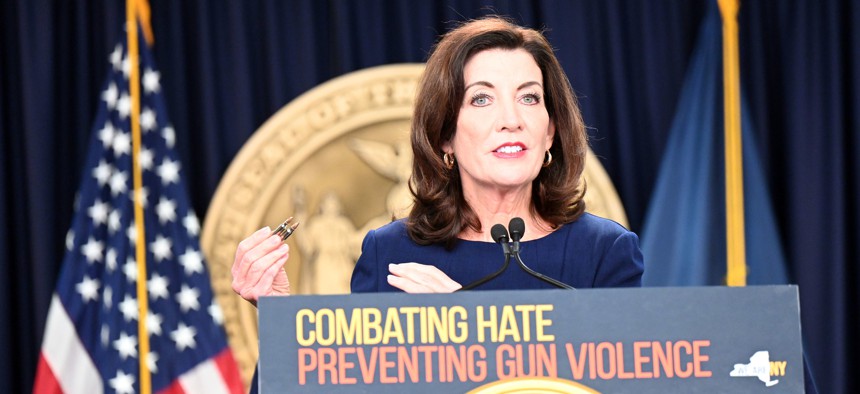 With just a few days scheduled for lawmakers to meet this year, Gov. Kathy Hochul said abortion rights and gun laws were at the top her list of priorities for the end of the session. At an unrelated press conference, the governor said she "anticipate(s)" getting a package of bills related to both issues done in the next few days, even expressing a willingness to stay late if needed. But final deals with lawmakers would still have to be worked out.
The bill sponsors of gun legislation that would require semiautomatic pistols to microstamp ammunition to make illegal firearms easier to track and gun crimes easier to solve said their bill has support among their colleagues. State Sen. Brad Hoylman said his chamber has conferenced the bill and said that it's "hopefully ready for passage," and that it would be included in whatever end-of-session gun package is proposed by legislative leaders. "We know that the gun lobby is out in force here in Albany today trying to kill this legislation," Hoylman told City & State. "We're taking on the NRA as we speak."
In the Assembly, the bill is already on the chamber calendar, meaning that the leadership could choose to bring it before the entire body for a vote at any time. Assembly Member Linda Rosenthal said her legislation has been amended while on the floor calendar, but that the right time to pass it had not come up yet. "I think the gun package is still being put together, so I'm hopeful that will be included," Rosenthal told City & State. She said her conference spoke briefly about what such a package may include in the immediate aftermath of the racist Buffalo mass shooting.
Hochul has already taken action on gun regulations and combating white supremecist domestic terrorism through executive orders, but she has also pushed for a series of legislative changes as well, including the microstamping bill. She proposed broadening the definition of a firearm to close a loophole that permits many dangerous weapons in New York, but it does not yet have legislative sponsors to formally introduce it, leaving its fate in limbo for now.
Less progress appears to have been made on new abortion legislation. Hochul has not gotten behind any specific bills related to abortion and reproductive rights after she used her executive authority to establish a fund for abortion services providers. Similar legislation that would create an abortion access fund that New Yorkers could donate directly to and another that would offer aid to nonprofits and providers to deal with an expected influx of out-of-state patients has not advanced in either chamber.
A legislative source familiar with the negotiations said legislation introduced by state Sen. Cordell Cleare and Assembly Member Jessica González-Rojas that would allow providers to receive additional grant funding has gained traction among members, but that an overarching abortion rights package is far from certain. The source expressed doubt that both guns and abortion rights could get done before the end of the legislative session and that the governor has pushed harder for a package of gun legislation. A spokesperson for the governor did not immediately return a request for comment.
Mike Murphy, a spokesperson for state Senate Majority Leader Andrea Stewart-Cousins, said gun legislation, combating white supremacy and abortion rights were each issues the conference planned to address before the end of the year, but he added that the "details are still being worked on." A spokesperson for Assembly Speaker Carl Heastie did not immediately return a request for comment on the status of legislation on these issues in his chamber.