Abortion
Letitia James backs proposed abortion care grant program
New legislation would enable the state to give more funds to abortion providers to expand access in the aftermath of the expected Roe v. Wade reversal.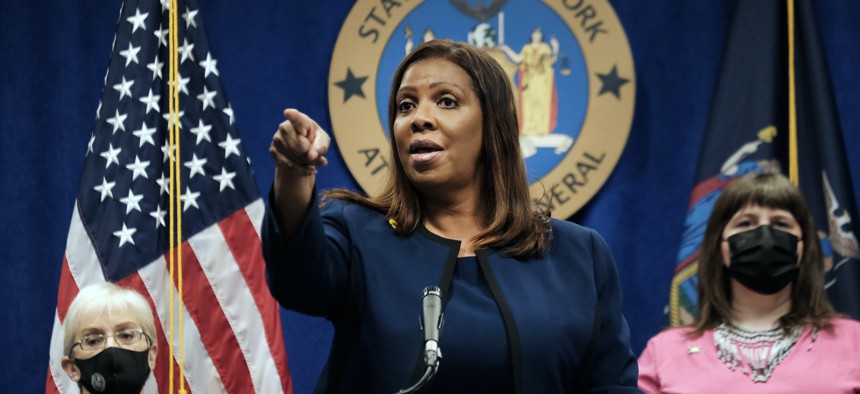 State Attorney General Letitia James and lawmakers announced new legislation aimed to help not only New Yorkers seeking abortions, but also those from other states where the procedure is poised to get banned if the U.S. Supreme Court overturns Roe v. Wade. With the expectation that the number of out-of-state abortion seekers will increase, the bill would enable the state to provide grants to abortion providers to accomodate the increased demand and strengthen New York as a "safe haven" for reproductive care.
The bill, introduced by Assembly Member Jessica González-Rojas and state Sen. Cordell Cleare about a week ago, would establish the Reproductive Freedom and Equity Program. Unlike similar legislation that would create an abortion access fund that would directly pay for the procedure, the proposed program would give money directly to abortion providers. Uses would include covering abortions for those lacking insurance coverage, operational costs for staff and training and for practical support offered to those who would come to the state for abortions. "The Supreme Court will not take New York, New Yorkers and anyone who enters our borders seeking refuge, comfort and empathy back to the stone age," Cleare said at a Monday press conference. 
James cited sobering statistics about what the state should expect in the event of Roe's overturning, and why New York needs to create the grant program. Per the Centers for Disease Control and Prevention, 9% of abortions in the state – about 7,000 in total – were performed on people from outside New York. According the to the pro-choice organization Guttmacher Insititute, that number could skyrocket to over 32,000 out-of-staters. And that number only takes into account nearby states of Ohio and Pennsylvania. "That is why we are pushing the boundary and stepping up to protect our freedoms, but also our lives," James said. 
The fight is also a personal one for James, who revealed at a rally in support of reproductive rights that she had an abortion before she entered the New York City Council. "I chose to have an abortion," she said at the time. "I walked proudly into Planned Parenthood. And I make no apologies to anyone." James had not previously publicly disclosed or spoke about that decision. 
But when she spoke on Monday, James did not focus on her own experience with abortion. "Everyone knows someone who has gone through or experienced abortion," James said. "I think less about myself. I think about the young girls who came to my office when I was a member of the City Council." She described low-income women who sought aid in receiving reproductive care, and in one case, an abortion. James said she helped direct those women to services through Planned Parenthood, and aims to continue offering similar assistance through the passage of the newly proposed legislation. 
From a statutory standpoint, James can do little more than offer her support and advocacy for the bill, though she represents a strong ally for lawmakers looking to get it approved. She said that for now, she and other state district attorneys have no joint legal action planned. James said they are awaiting the court to finalize its decision to overturn Roe v. Wade, but expressed her belief that they could mobilize quickly. "I'm confident that the attorneys general all across this nation who believe in similar the right to choose would join with me in defending our rights not only in New York, but in other states across this nation," James said.
Powered By
NEXT STORY: State's first chief disability officer tackles post-COVID-19 priorities