Health Care
New York City has struggled to get COVID-19 antiviral treatments to residents quickly
The treatments need to be taken soon after a positive test in order to be effective.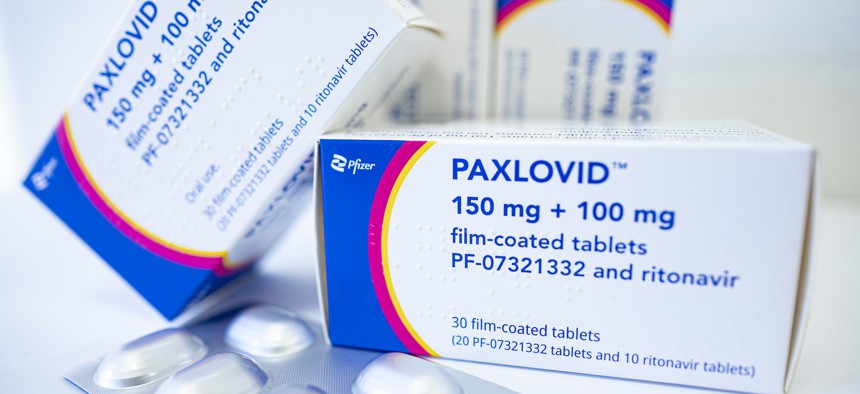 When Brooklyn resident Octavius Moore tested positive for COVID-19, confirmed by two at-home tests, his co-workers gave him advice about how to treat his symptoms.
"A team member who also tested positive after coming back from Caucus Weekend told me about the antiviral treatment and that I should try to reach out and get a prescription for it. So I decided to do that," said Moore, who said he called a number through New York City Health + Hospitals to get the pills.
"I called the 800 number, which was horrific. It took me three times calling the number to actually get it," he said.
It was so hard for Moore to stay awake on his three 30-minute calls to Health + Hospitals that when he finally did connect with an operator, they had to scream into the phone to wake him up from his virus-related fatigue.
In response to a question at an April 1 press conference, Dr. Ted Long, senior vice president of ambulatory care and population health at New York City Health + Hospitals, said: "Our experience has been that the wait time has been pretty good, but we always welcome more feedback."
Moore's experience – waiting a long time to get in touch with the hospital system to get a prescription and having a friend pick up the prescription because he was too sick to get it himself – has not been unique. Several other people in New York City have reported the same issue and the inability of Alto, the city's preferred delivery service, to get them medication in a timely fashion.
With COVID-19, treatment needs to start within five to seven days, depending on the drug, of testing positive. If antivirals are taken too late, a person's symptoms can continue to worsen, even for those who are vaccinated.
Antiviral treatments, which range from pills like Pfizer's Paxlovid to an intravenous infusion of antibodies, were initially available at the end of January to seniors in the city as well as to immunocompromised residents who tested positive. 
Though as of late March, treatments were available to anyone who tested positive, either through PCR testing or at-home testing, and wanted to ensure their symptoms would not worsen after a positive test.
Health + Hospitals has doled out over 3,500 prescriptions for Paxlovid, with 90% of those prescriptions being completed through their phone system, according to spokespeople Patrick Gallahue and Adam Shrier. The system has also delivered 22,000 courses of Paxlovid, with around 75% of those being placed through Alto.
I called the 800 number, which was horrific. It took me three times calling the number to actually get it.
– Octavius Moore, Brooklyn resident, on New York City Health + Hospitals' COVID-19 antiviral hotline
Moore heard about these treatments from someone who contracted the virus at his workplace and was able to get a prescription for the antiviral medication to quell his symptoms. While the treatments have been widely available for a couple months, public health experts said that antivirals haven't been widely publicized outside of social media and through word of mouth.
Miesha Marzell, a public health professor at Binghamton University, said high-profile politicians who tested positive for COVID-19 and immediately received the best treatments might be hesitant to speak about antivirals and their availability compared to the frustrations that residents have had in also getting them.
"It kind of exposes that disparity. … I don't think that they could advertise it because they know it's almost hypocritical," Marzell said.
She added: "In terms of advertising … this is speculation that public health officials, government officials are just a little reluctant to really say this is what you need to be doing when the drug might not have been readily available in their communities."
New York City Mayor Eric Adams tested positive for COVID-19 in April and started an antiviral regimen right away. "We've come so far in our fight against #COVID19 and make no mistake: we are winning. Vaccines and antiviral treatments are saving lives from this formidable foe," he tweeted.
The city has run public service announcements similar to those that became popular with former Health Commissioner Dr. Dave Chokshi on social media, and the city Department of Health and Mental Hygiene has been working with local media to get word out about these treatments in multiple languages. Plus, the city has begun a Test to Treat program, which allows certain pharmacies to test patients for COVID-19 and, if they test positive, can prescribe Paxlovid on the spot.
However, transmission rates are trending upward due to the spread of various omicron subvariants. The hospitalizations and deaths that result from this new surge, which has pushed the city back to "high" levels of transmission, could be mitigated with the widespread availability of antiviral treatments. 
According to the U.S. Department of Health and Human Services, New York City has more than 500 pharmacies where residents can get Paxlovid.
Some public health experts, while happy to hear about the availability of these treatments, felt like their availability in pharmacies might not be known by residents looking for a prescription after testing positive at home.
"Oftentimes folks who are older might not have access to the same information you have on social media. I do think that the city does need to do more, maybe more targeted outreach to community members who are in these different groups who would benefit the most from it," said Dr. Oni Blackstock, founder and executive director of Health Justice, a consulting group focused on anti-racism and equity in health care.
Blackstock said these advertising campaigns would need to be more focused on the audience that could benefit the most from these treatments.
Complaints about messaging and communication regarding these treatments are to be expected from residents like Moore who had firsthand experience dealing with the city's bureaucracy. He and experts like Marzell both felt that delivery and over-the-counter options should be better implemented to make sure New Yorkers can treat their symptoms in a timely, safe manner.
Marzell said: "So it's just like we have the tools in the state of New York. We have the tools in the country. We have the tools in the world, but who do the tools get to? Who do these efforts get to?"