New York City
Booster shot uptake lags amid COVID-19 wave
In New York City and beyond, booster shot rates are still a fraction of the vaccination rate.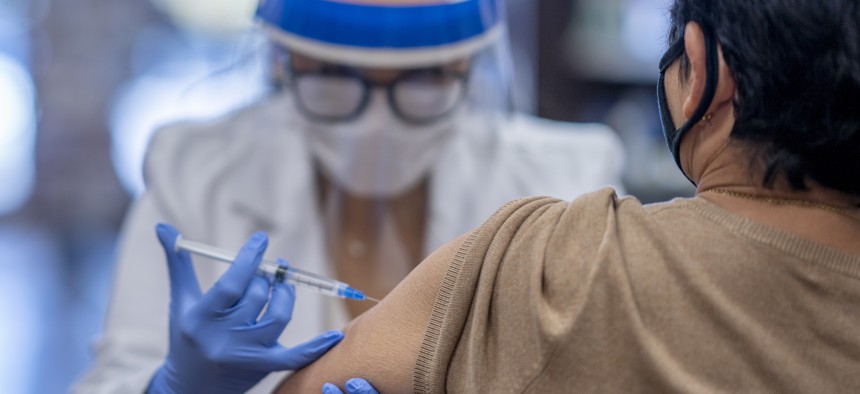 Six months after COVID-19 booster shots became available to all eligible New Yorkers who wanted one, uptake of the extra dose is still lagging the vaccination rate in New York City – and in the rest of the state and country. Like many other challenges in the nation's response to the pandemic, some experts think part of the reason for the gap could be due in part to poor messaging. 
"It starts very fundamentally with the term 'booster dose,'" said Dr. Jay Varma, an epidemiologist and former senior advisor for public health to former New York City Mayor Bill de Blasio. "Anytime we study a vaccine, it can take many years, sometimes even decades, to figure out what is the right number of doses and spacing of doses to get long term protection against the (virus). I think what public health officials should have done is basically said that based on all the evidence we have, we have now decided that this is no longer a two-dose vaccine, it is a three-dose vaccine."
While the booster rate nationwide is also a fraction of the vaccination rate – roughly 102 million people have a first booster dose, compared to 221 million who are fully vaccinated – the gap is particularly conspicuous in New York, which has one of the highest vaccination rates in the country. In New York state, roughly 77% of the population has been fully vaccinated, compared to 39% who have received a booster shot. In New York City, roughly 78% of the population is fully vaccinated, compared to 38% who have received an additional booster dose.
There are also geographic and racial disparities in booster rates, with a larger share of Manhattan residents getting the extra shot, and higher rates of white, Asian and Pacific Islander, and Native American residents in New York City getting extra doses, compared to Black and Latino residents.
The booster is currently only available to fully vaccinated people aged 12 years or older, while a second booster dose is available to those over 50 years old, as well as those 12 and older who are immunocompromised. In New York City, roughly 88% of adults (age 18 and older) are fully vaccinated, and 46% of adults have received a booster dose.
As New York experiences a rise in COVID-19 cases, some public health experts and elected officials said that the city should redouble efforts to increase booster uptake. "I think we have consistent data that tell us that overtime protection does wane," said Dr. Wafaa El-Sadr, a professor at the Columbia University Mailman School of Public Health, of the level of protection against infection and severe illness offered by COVID-19 vaccines. "I think that's what makes it so important that we continue to push hard for people who are eligible for a booster to get a booster dose."
The de Blasio administration credited vaccine mandates and the Key to NYC vaccine requirement to enter restaurants and other indoor venues with increasing New York City's vaccination rate last year. Mayor Eric Adams suspended the Key to NYC program in March. As cases rise and New York City inches closer to a "high" COVID-19 alert level, the city is urging, but not requiring, the wearing of masks indoors. New York City is already in a "medium" alert level – a stage that comes with recommendations to consider reimplementing the Key to NYC program and a mask mandate in schools. So far, the city has not given an indication that it will take those steps.
Varma suggested that one way to increase uptake of boosters in New York City is to reimplement the Key to NYC program with an added booster mandate. But given the Adams' administration's move to roll back that program, a move to beef it up now might not be likely. "That is a politically challenging position for the mayor and the governor right now," Varma said. "It's not something you can see that a lot of jurisdictions are moving towards. In fact, pretty much every jurisdiction around the country is moving away from mandates like that."
When vaccines became widely available last year, New York City rolled out not just mandates but cash incentives to get vaccinated, as well as targeted outreach to hard-hit neighborhoods to ensure equitable access and uptake of vaccines. According to the city's vaccine finder tool, the city is still running pop-up vaccination sites. 
When asked what the city is currently doing to boost booster rates, a spokesperson for the Department of Health said that the city has been clear in its messaging about the importance of vaccines and boosters. "There probably isn't a single New Yorker who hasn't heard us say, 'get vaccinated.' That message is true of first doses, second doses and boosters. But let's say it again, please, get vaccinated," spokesperson Patrick Gallahue wrote in an email. "NYC has run public service announcements across all forms of media and held thousands of educational events that provided information about boosters as well as the vaccines. We aim to continue communicating to New Yorkers the importance of getting vaccinated and boosting your protection when the time comes."
But some said that the city's messaging hasn't been strong enough over the past couple months. "I would like to see stronger messaging from the city to remind people that this is still a time for caution and to restart boosters which have essentially ground to a halt," Manhattan Borough President Mark Levine told City & State last month. "I'd like to see the city launch a major campaign to promote boosters, to incentivize boosters. For example, bringing back the $100 incentive and reaching out to people directly who got their primary vaccine series, but never got their booster."
At an April 1 press conference, New York City Health Commissioner Ashwin Vasan was asked about bringing back a cash incentive for booster shots. "I think we've seen incentives have a limited and strong but narrow effect. Time-limited effect," Vasan said. "I think now we're encouraging New Yorkers to make that choice. Go get boosted as soon as you're eligible."
In recent weeks, federal health officials have pointed to the importance of boosters. "It's really important that we try to get the half – or a little bit more than a half – of Americans who have only received two doses to get that third dose," Dr. Peter Marks, director of the Center for Biologics Evaluation and Research at the US Food and Drug Administration, said last week. "That may make a difference moving forward here, and it may particularly make a difference now that we're coming into yet another wave of COVID-19."
Though health experts don't have a single consensus about why so many people who are vaccinated have not taken that extra step of getting a booster, some ventured guesses about why that gap persists. A lack of booster mandates is one possible explanation, as is still widespread misinformation about vaccines, said Dr. Denis Nash, a professor of epidemiology at the City University of New York. "When you look across all of their information sources, most people are being exposed to some kind of misinformation or disinformation about vaccines and boosters. And I think that plays an important role," Nash said.
El-Sadr estimated that barriers to higher uptake of boosters likely exist both on the supply and demand sides of the equation. A lack of individual awareness about the importance of boosters – not just for immunocompromised and older people, but for everyone – might be contributing to a lack of demand. On the supply side, while doses remain widely available at pharmacies and other health centers, vaccination sites are not as ubiquitous as they were last year, when jabs were offered at pop-up sites in the subway or in large cultural institutions like the Museum of Natural History. 
Dr. Anna Bershteyn, an assistant professor of population health at NYU Grossman School of Medicine, said that the most important thing is still to reach the unvaccinated. New York City data shows that the unvaccinated still see far higher rates of cases, hospitalizations and deaths. Bershteyn noted that according to the city's data, case rates are actually slightly higher among people who are vaccinated and boosted, as opposed to those who are just vaccinated with no booster. Hospitalizations and deaths are roughly even among the vaccinated and boosted, and the just vaccinated and not boosted. Health experts warned not to overinterpret the city's data, however, as it doesn't include at-home tests and higher case rates among boosted people might reflect that people who are boosted are at higher risk of exposure, like health care workers. 
On Monday, along with a press release announcing that the city could enter the "high" alert level in the coming days, the Adams administration announced that it would be distributing an additional 16.5 million at-home test kits and 1 million high-quality masks at school, community organizations and cultural institutions across the city over the next month. 
Powered By
NEXT STORY: Draft congressional maps cause headaches for Democrats