Coronavirus
New 'highly contagious' omicron BA.2.12 and BA.2.12.1 subvariants detected in NY
Health officials announced the discoveries Wednesday, attributing them to rising case levels across the state.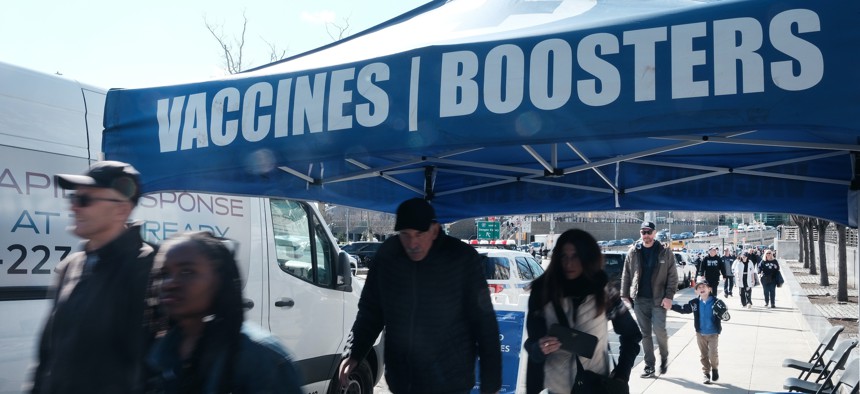 New sub-lineages of the omicron strain of COVID-19 that are estimated to be even more contagious than the BA.2 subvariant have been detected in New York state, Department of Health officials said Wednesday, attributing the discoveries to rising case levels.
BA.2.12 and BA.2.12.1 are sub-lineages of the omicron BA.2 subvariant, which now accounts for more than 80% of new infections in the state, the Department of Health said in a press release. The new subvariants are estimated to spread at an alarmingly faster rate – 23% to 27% – than BA.2, but do not appear to cause an increased level of severity in infections, officials said.
"We are alerting the public to two omicron subvariants, newly emerged and rapidly spreading in upstate New York, so New Yorkers can act swiftly," State Health Commissioner Mary Bassett said, urging more New Yorkers to get fully vaccinated and boosted, wear masks in indoor public spaces and seek treatment if they test positive. 
The subvariants were discovered by the state's public health lab in Albany, The Wadsworth Center, which has been conducting genetic sequencing on COVID-19 samples throughout the pandemic. 
The subvariants are spreading particularly fast in the Central New York region, where 90% of new cases in April, and 70% of new cases in March, were attributable to BA.2.12 and BA.2.12.1, officials said. In the Finger Lakes region, they make up 20% of new cases this month. 
Cases in Central New York have been more than double the state average for weeks, Syracuse.com reported. 
"This makes a lot of sense when you look at Central New York being really the first community in New York State – and really the country to some degree – that was impacted by this," Onondaga County Executive Ryan McMahon reportedly said in a Wednesday briefing. 
Neighboring Oswego County has the highest rate of COVID-19 cases in the state, with 68 per 100,000 people, nearly three times the state average, Syracuse.com reported. 
Statewide, the positivity rate stands at about 5.3% as of Tuesday, when 6,546 New Yorkers tested positive. In New York City, the 7-day average of confirmed positive cases stands at 1,993, according to city health department data updated Wednesday, an increase from the 28-day average of 1,413. However, the alert level citywide is currently "low."
"It's just a reminder that we're not out of the woods with regard to this virus, and people should continue to take precautions and to get fully vaccinated if they haven't completed their course," Kirsten St. George, a virologist for the state, told The New York Times, adding that the new subvariants have been detected in more than 40 other countries and 30-plus states.