Interviews & Profiles
Serving as NYC's doctor while meeting Eric Adams' expectations
Ashwin Vasan walks a fine line between sound public health policy and "getting stuff done."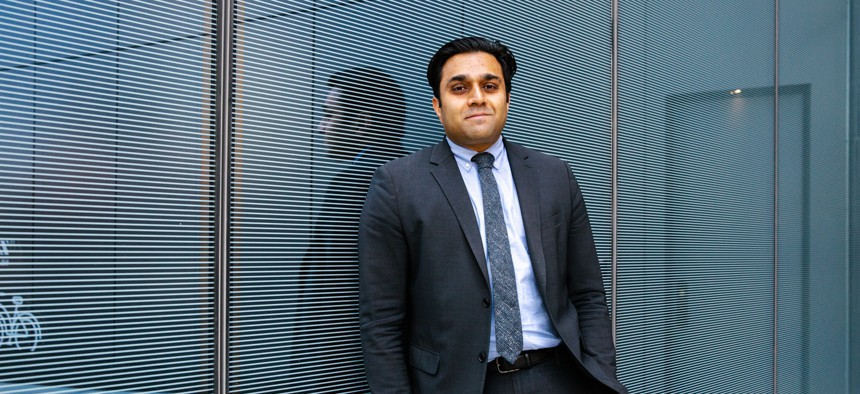 On April 18, flight attendants across the country announced over loudspeakers mid-flight that a federal mask mandate on planes and public transit had ended, prompting loud celebrations from some, quiet alarm from others, and a reminder for all that Americans are still divided on their views about the pandemic and the receding mandates that had been lauded as important tools for fighting the spread of the virus.
Roughly 36,000 feet below those cheers, New York City Department of Health and Mental Hygiene Commissioner Dr. Ashwin Vasan sat in a small, mostly empty conference room – vaccinated, boosted and masked – and described the challenge of leading America's largest city through the next phase of the pandemic.
In an interview with City & State, Vasan said New York was in a tricky place. In many ways, the city was on solid footing; 87% of all eligible New Yorkers have received at least one dose of a COVID-19 vaccine, boosters are widely available, and antiviral treatments are available for free, same-day delivery (with priority given to high-risk patients). But the pandemic has thrown curveballs before – the delta and omicron variants, to name a couple – and epidemiologists continually warn that health care systems must be ready for the possibility that new variants and subvariants could be more transmissible, evade existing vaccines and cause more instances of severe illness.
Dealing with those potential problems might be easier if all New Yorkers were on the same page about how to manage the changing risks. "We're still coming out of a very difficult period in New York's history," said Denis Nash, a professor of epidemiology at the City University of New York. "Many people are eager to move on. A lot of people have also been very traumatized and devastated by losses. And many people remain in fear because of what could happen."
Still, the new health commissioner spoke confidently about the city and his 6,000-person department facing that demanding task. "We've got more tools in our toolkit and more responses available to us, both as individuals as well as the city, than we've ever had," Vasan said.
Several health experts and lawmakers also expressed confidence in Vasan as a capable and qualified leader. Vasan officially stepped into the role in mid-March, but before that he had been working with former Commissioner Dr. Dave Chokshi during a transition period. Vasan's early career was spent in global health, taking him to Geneva, Uganda and Rwanda, among other places, where he worked on expanding access to HIV treatment. Starting in 2016, he spent a couple years at the city health department, leading an initiative to improve and expand primary care and social services to New Yorkers involved in the criminal justice system. And until January, Vasan led Fountain House, a mental health nonprofit that operates two "clubhouses" offering community, employment and education opportunities in the city. Vasan also remains a practicing physician.
But those experts and lawmakers didn't sugarcoat the difficulty of Vasan's job. "This is arguably the most complicated time to lead on COVID," said Manhattan Borough President Mark Levine, who chaired the City Council Health Committee during much of the pandemic. "In the midst of a full-blown crisis, it's easier to motivate the public and easier to message. Now that COVID has receded in many people's minds as a threat, it's harder to motivate the public."
A little over a month into the job, Vasan said he will focus on helping the city move forward in areas where it's safe – the city dropped a requirement to show vaccination proof at restaurants and other indoor venues just before he took over from Chokshi – while not leaving behind the communities hardest hit by the pandemic and those who remain at higher risk of getting very sick from COVID-19. Vasan acknowledged that those two goals were in tension, but didn't explain how he'll walk that tightrope. "I think we have to allow New Yorkers who can to move on with their lives, with the tools to keep themselves and others safe, which is why we're recommending every New Yorker mask," Vasan said. "Your choice to mask – it may mean nothing to you because you're healthy and young, but it protects others too."
How Vasan manages those competing goals will be best judged by how the city responds to future surges or worrisome new variants. New York City experienced an uptick in positive cases recently with the BA.2 subvariant of omicron, but experts have been encouraged by seeing that vaccines still offer strong protection from severe illness. So far, the city isn't jumping at reimplementing measures like mask mandates in schools that were dropped after the omicron wave started to subside earlier this year.
The city also now has a color-coded alert level system to guide officials on when to consider – though not require – reimplementing mask, proof-of-vaccine and other mandates. When asked under what circumstances he would recommend reimplementing those kinds of mandates, Vasan didn't offer any specifics. "Everything is on the table," he said. "We do have to be adaptable because the virus is always adapting." The toolbox of vaccines, testing and masking he said "puts us in a position to be able to tailor the response in a more specific way, rather than necessarily one-size-fits-all policy responses."
If there's hesitation on Vasan's part about reimplementing those kinds of mandates, he might not be alone. "We have laws against jaywalking, but people jaywalk everyday," said City Council Member Lynn Schulman, who chairs the Health Committee. "Early in the epidemic, when we had the mask mandates, it was easier. It's much harder now, even if you had a mandate, to get people to conform."
Up early with the mayor
Ultimately, the city's response to future spikes or new variants will be determined by Mayor Eric Adams, and Vasan is just one of many voices whispering in his ear. Vasan has one thing going for him – daily COVID-19 briefings with Adams to go over the data, latest trends and how to communicate the state of the pandemic to the public. "Every day, we start with the data, we start with the situational analysis, and that grounds our decision-making," Vasan said of their 8:30 a.m. meetings.
Adams' messaging about the pandemic has focused on moving forward as hospitalizations and deaths have declined. "It is time for us to enjoy our city again. All of these 'nos, nos, nos.' We've become a city of 'nos.' I want to become a city of excitement," Adams said in early March, while announcing the end of a requirement to show proof of vaccination at indoor venues like restaurants and theaters.
A few weeks later, Adams received criticisms for exempting New York-based professional athletes and performing artists from the COVID-19 vaccine mandate. Adams framed the decision as fixing a de Blasio-era rule that benched unvaccinated players on New York teams while allowing unvaccinated visiting athletes to play, as one example. But public health experts and elected officials, including City Council Speaker Adrienne Adams, said it set a worrisome precedent for unequally applying COVID-19 mandates. "I think vaccines have to remain the foundation of our way forward in confronting this pandemic," said Dr. Wafaa El-Sadr, a professor at the Columbia University Mailman School of Public Health. "This should apply to everybody, irrespective of what they do and who they are. I think it increases the confidence amongst the population overall that the rules apply to everyone, and also reiterates the value and the importance of getting vaccinated and boosted."
In an interview with City & State, Vasan spoke in lockstep with Adams' public health decisions, including the vaccine exemption for performers and artists. "The mayor took the decision to take a policy from the previous administration and change it to right a wrong, to redress something that wasn't working," Vasan said, when asked whether he agreed with the decision to exempt those groups. "He has to take in a lot of data to make decisions, and health is just one set of data he takes in to make those decisions."
The city's current messaging about the pandemic has left some wanting, however. "I would like to see stronger messaging from the city to remind people that this is still a time for caution," Levine said, adding that he'd like to see a campaign to incentivize and encourage COVID-19 booster shots, noting that only 37% of eligible New Yorkers have received a booster. Though Levine said the health department has an important role to play in delivering that message to the city, it ultimately has to come from the mayor. "When the mayor speaks, people listen in a way that really they don't to any other official in the city," he said.
Still, while it's early in Adams and Vasan's working relationship, health experts and lawmakers expressed confidence that Adams was listening to his top public health official and making decisions based on science. They hoped that Adams wouldn't stifle and undermine his own health department, as critics said then-Mayor Bill de Blasio did early in the pandemic. Dr. Oxiris Barbot, who led New York City through the beginning of the pandemic, resigned as health commissioner in August 2020, arguing that the department's health experts were marginalized in City Hall's decision-making and pandemic response. "The health commissioner, while he is a political appointee, has to be focused on rebuilding the independence and the role of the health department as one of the premier local health departments in the world, with some of the best subject matter experts in the world," said Nash, the CUNY professor.
Vasan has already had a preview of the resistance that can accompany public health decisions – and the importance of presenting a united message. In late March, Adams announced he would end the mask mandate for children under 5 years old, as long as cases remained low. While the city had already dropped the school mask mandate for older kids at that point, it remained in place for younger children who did not have access to an approved vaccine.
But Adams' announcement followed comments from Vasan days earlier that he viewed the mandate for young kids as "indefinite." "I would love nothing more than to send my son to day care without a mask," Vasan, who is a father of three young children, said at a March 18 press conference. "But as a scientist, and as a doctor, and an epidemiologist, I want to keep him safe."
Vasan later said he was on the same page as Adams about lifting the mandate as long as cases remained low, but the city ultimately decided to keep the mandate in place, citing rising cases and the new threat of the BA.2 subvariant. Vasan did not go into detail about whether he had a role in changing Adams' mind on the mandate but said the decision was an example of the city making choices informed by the latest data. "I don't think anyone would agree that smart public health policy would be lifting restrictions at a time of rapidly rising cases," Vasan said. "That's the position we're in. We're looking for the first opportunity to lift the restriction for under 5 children."
Battling the "second pandemic"
Even if New York City had completely eradicated the threat of COVID-19, Vasan would still have a challenging task on his hands. The responsibilities of the city health department are wide-ranging. Vasan listed expanding overdose prevention centers and improving preventive care to combat diseases like diabetes as just a few of his goals that were not exclusively related to COVID-19.
But Vasan put a particular focus on improving access to mental health care, referring to the lack of such access as a "second pandemic." "I see this in my daily life, the impact of isolation and school closures, on my children's well-being, but also on people who came into the pandemic with mental health challenges, people with serious mental illness and otherwise," Vasan said. "Whenever we hit a post-COVID era, we're going to be dealing with this for years to come."
Decades of underinvestment and a refusal to think of mental health as part of, and not separate to, public health, were just a few root causes identified by Vasan. While he said much of the responsibility for reform was with the state and federal government, there was a role for the city to play. "As far as where I think the city and the agency can do a lot of good is really focusing on youth," Vasan said. He declined to point to any specific programs that he would like to see implemented in city schools, but he mentioned identifying signs of trauma early on, supporting school nurses and improving screenings and long-term care delivered by the city's school-based health centers.
Vasan spearheaded an expanded focus on advocacy at Fountain House when he took over in 2019, according to Mary Crowley, who worked with him there as senior vice president and now serves as the nonprofit's interim president and CEO. The organization advocated nationwide to get Medicare to pay for community-based mental health support programs, like Fountain House's clubhouses. Fountain House is looking into launching a 501(c)(4) political advocacy arm.
At the city health department, where Vasan first worked from 2016 to 2019, he led and launched a new office now called the Bureau of Health Promotion for Justice-Involved Populations. Politico reported earlier this year that Vasan developed a reputation at the department for being a "bad boss," and dismissive, particularly to female colleagues, according to three staffers. Crowley said she never witnessed or experienced anything like that working with Vasan at Fountain House. "I have always sought to be a leader who shows patience and empathy," Vasan said in an emailed statement. "In this role I will work every day to model that kind of leadership."
Also, Vasan will be focusing on equity – a value that he said should be a foundation for the department, not a distinct goal. "We're not going to improve things for the entire city unless we take a specific focus also – not only, but also – on the communities that have historically been left behind," he said. "The pandemic has brought it to life in many ways." Many of the neighborhoods that saw the most COVID-19 cases per capita also had the lowest median incomes, including in the South Bronx, and northern and Southeast Queens.
The pandemic showed how the city could better serve those communities, he said, mentioning partnerships with community-based organizations in the neighborhoods hardest hit by COVID-19 to provide vaccine outreach, personal protective equipment and testing. "All of those are lessons learned," he said. "We're in a relatively privileged position in that, while we serve 8 million people, we're a relatively well resourced and robust public health department. Public health as a field writ large is starved of resources. The New York City Health Department has always been a leader and innovator in this space and defining new models of public health, innovation and delivery. And we're going to continue to do that and hopefully help bring the sector along as well."
Correction: An earlier version of this story incorrectly stated the number of "clubhouses" run by Fountain House. The story also said Fountain House was looking to launch a political arm this year, but the organization later clarified that it was no longer planning to launch the 501(c)(4) this year.
Powered By
NEXT STORY: This week's biggest Winners & Losers