Gun Control
SCOTUS could soon overturn New York's gun law. Here how the state could respond.
The Supreme Court has New York's gun license law in its crosshairs, and some legal experts said a rash of mass shootings isn't likely to sway the conservative majority.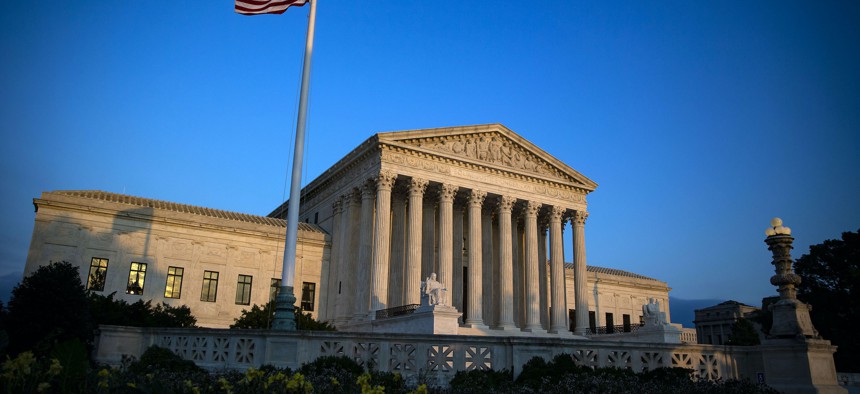 One day after a man in Texas gunned down 19 school children and two adults, a week and a half after 10 people were shot and killed in a grocery story in a Black neighborhood in Buffalo, and six weeks after New Yorkers' morning commute was interrupted by a mass shooting on the subway, New York City Mayor Eric Adams pleaded with the U.S. Supreme Court not to roll back one of the state's major gun control laws. "I'm hoping the Supreme Court re-deliberates, thinks differently," Adams said at a press conference on Wednesday, referring to the state law that maintains a strict standard for who can carry a concealed firearm in public.
But some legal experts said that even in the wake of these and other deadly shootings, it's likely that the Supreme Court's conservative-majority will claw back all or parts of the New York law, leading to more people walking around with concealed weapons. "We're now in an age in which the court is heavily polarized along party lines. Thirty years ago, this kind of event could have made a difference," said Scott Lemieux, a teaching professor of political science at the University of Washington, of Tuesday's mass shooting in Texas. "The reality is that there is pretty strong opposition among Republican elites to gun control. If Sandy Hook didn't change that, if the Orlando shooting didn't change that, it just seems unlikely that this is going to do it."
The case in question is New York State Rifle & Pistol Association v. Bruen, which the U.S. Supreme Court is expected to hand down a decision on by the end of June. At the center of the case is New York state's century-old law requiring that anyone wishing to carry a firearm in public must obtain a license to do so and demonstrate "proper cause" to carry the weapon. A court later defined "proper cause" as a heightened need for self-protection.
The case involves two Rensselaer County residents who applied for unrestricted licenses to carry handguns for self-defense, but who were only granted restricted licenses to carry them in specific settings, including hunting and target shooting. The residents, backed by the New York State Rifle and Pistol Association – an affiliate of the National Rifle Association – are seeking to overturn the "proper cause" requirement, arguing that it's unconstitutional under the Second and Fourteenth Amendments.
Questions from Supreme Court justices during oral arguments made in the case last November left some observers doubtful that New York's law would survive, at least in its current form. "It seems like there's a majority of the Supreme Court who is skeptical about the constitutionality of New York's restriction," said Eric Ruben, an assistant professor at Southern Methodist University's Dedman School of Law and a fellow at the Brennan Center for Justice.
Chief Justice John Roberts compared the Second Amendment – which the case will be decided on – to the protections in the First Amendment. "You don't have to say, when you're looking for a permit to speak on a street corner or whatever, that, you know, your speech is particularly important," Roberts said in November. "So why do you have to show in this case, convince somebody, that you're entitled to exercise your Second Amendment right?"
Though New York is preparing for an adverse ruling, legal experts said that there may be steps the state can take to maintain some restrictions on who can carry a weapon in public. It all depends on the specifics of the court's opinion. 
In a more narrow ruling, the court could strike down the "proper cause" standard, in which case state lawmakers would have to rewrite the licensing law. 
In a broader ruling, the court could declare any kind of licensing regime unconstitutional. Experts are hesitant to speculate about the ruling, but some are skeptical that it will be so broad. "I would be surprised if the court ruled that licensing regimes are per se unconstitutional," said Joseph Blocher, a professor at Duke Law School. "That would be an enormous change from both the tradition and even the current practice across the country."
Blocher said it's possible that short of declaring all licensing regimes unconstitutional, a majority could find that the state has too much discretion in issuing licenses, and rules that "may issue" regimes like New York's are unconstitutional. An alternative is what's called a "shall issue" permitting system, in which New York – and other states with similar licensing laws on the books – would have to issue licenses as long as applicants met a certain set of qualifications.
Depending on the scope of the ruling, there may be other options for restricting how and where guns are carried that New York and other affected states could pursue – even if the "proper cause" standard is struck down. 
During oral arguments in November, some of the justices expressed some receptiveness to the idea of banning concealed carry in certain sensitive settings, such as college campuses and populated settings like Times Square on New Year's Eve. "I'd expect a focus on trying to closely look at where the security needs are heightened, whether it's the subway or highly populated tourist areas in New York City, or other places, and to be clear about where the state is forbidding license holders to carry their guns," Ruben said, if it comes to that.
New York lawmakers are bracing for an adverse ruling. "I'm not expecting any great news from this Supreme Court," state Sen. Michael Gianaris told NY1 earlier this month. "We're not going to just sit back at a time of increasing gun violence and not react when the Supreme Court puts us in greater danger than we're already in. So you can rest assured that the legislature will move very quickly."
Meanwhile, other gun control measures are being discussed in the wake of Tuesday's mass school shooting and the Buffalo mass shooting that came before it. Gov. Kathy Hochul said Wednesday that she wants to raise the age to purchase AR-15-style assault rifles from 18 to 21 years old.