News & Politics
Another Staten Island secession task force bill, really?
New York City Council Member Joe Borelli wants to explore making the borough a city again after his last attempt failed.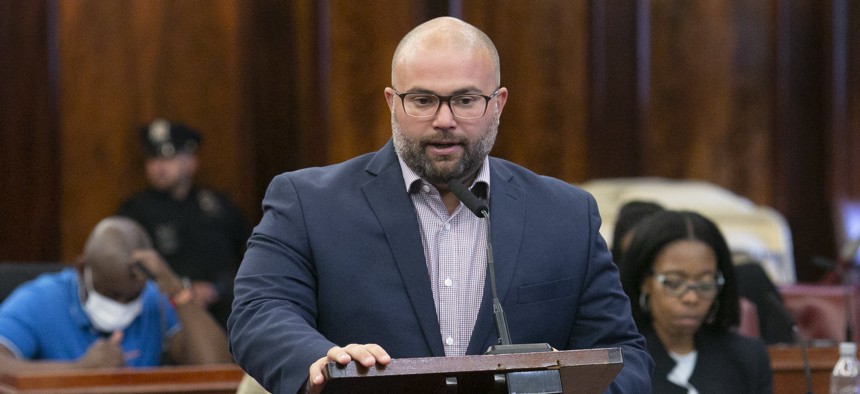 New York City Council Member Joe Borelli wants Staten Island to have another chance at seceding. Reactions, so far, seem to indicate he's going to need a lot of luck making the improbable a reality.
Borelli, who represents City Council District 51 encompassing Staten Island's South Shore, introduced a bill last month to create "a task force to study and report on the feasibility of an independent city of Staten Island." This is the second time the Republican minority leader has proposed such legislation after his first attempt in 2019 failed to move forward. 
This is also one of many times where representatives from the island have created bills or suggested the idea of the city's least populated borough becoming a city itself since New York City was consolidated in 1898. The closest Staten Island came to seceding was in 1993 when two-thirds of Staten Islanders voted for a nonbinding resolution to secede. However, the implementation was blocked by then-Assembly Speaker Sheldon Silver and the movement died off.
With the idea of Staten Island seceding stirring up again, the question is why now?
"The desire on the part of Staten Islanders who want to secede or at least explore it, I don't think has not subsided," Borelli said. "I'm an unabashed secessionist, and I think we will be better off on our own. The city is moving in a direction that a lot of Staten Islanders disagree with, and I think we would prefer to have a different style, perhaps a different size of government."
Borelli added that the past year was an example of how Staten Islanders think differently than the rest of the city. This included a lack of faith in the education system under then-schools Chancellor Richard Carranza on issues like having merit-based specialized high school entrance exams as well as eliminating gifted and talented programs. Higher taxes and expensive budgets are also playing a role, he said.
The council member is not alone. Assembly Member Michael Reilly, who represents the South Shore and parts of the Mid-Island and serves as the ranking minority member of the Assembly Cities Committee, said he thinks it is worth studying again.
"I think it keeps coming up because there's always that feeling of Staten Islanders (feeling) like the stepchild to New York City," Reilly told City & State. "And it always seemed that way, and I think that's what always puts this front and center where something about equity in this city … and oftentimes, Staten Island is left out. I think that's why the idea of seceding comes up. There's always the feeling that Staten Island is an afterthought."
But there are some who aren't too optimistic on secession, one of them being Staten Island Borough President Vito Fossella, who supported it back in 1993. While he's open to the idea of Staten Island "deciding its own destiny," the borough president pointed out that there's more to the story of how the city treats the borough and who really makes the decisions on tackling crime and economic issues.
"You see the mayor who wants to tackle crime in a more meaningful way," Fossella said. "And his hands are tied, the police department and others are tied because of what's happening at the state level. You almost get to the point of, 'Well, if we're going to secede let's think about seceding from New York state!'"
Fossella was referring to the recent state budget that dismayed New York City Mayor Eric Adams and police union leaders.
Fossella also said he believes that there is an ebb and flow over the idea of secession mainly because of the quality of life throughout New York City. He recalled that back in 1993, high crime and homelessness fueled the desire for secession, but that died down as the city became safer and Staten Islanders became more willing to venture into the other boroughs. But as Borelli has noted, crime is rising again and so is interest in secession.
But secession may not be a big enough issue for the city. According to Richard Flanagan, who teaches public policy at the College of Staten Island, in the early 1990s, then-Gov. Mario Cuomo courted Staten Island votes by indulging then-state Sen. John Marchi, known as "the Father of Secession," with support for secession so he would obtain votes for Cuomo from the island. When Rudy Giuliani ran for New York City mayor in 1993, he appealed to Staten Island voters without ever coming out against secession. With Giuliani later tackling crime during his time in office, the thought of secession faded. "All of these reasons are gone now," Flanagan said.
"There's really no hope of reviving a Republican fusion ticket anymore in New York City," he added, referring to Mike Bloomberg's mayoral run as an example. "I can't imagine a Republican fusion or right-center Democrat emerging who's dependent on Staten Island votes anymore. So now they really are forgotten, and it's unlikely (anyone) will ever move on forwarding a secession plan."
If Borelli's legislation for a task force on whether secession is feasible were to be formed, there is much to explore. Reilly said secessionists will have to look into how Staten Island would acquire resources for a police department, sanitation department and education department, along with getting employees to work in them. There's also the question of what happens to current city employees, who might then become employees of Staten Island? And what would happen to their city pensions and health insurance?
Reilly said he has concerns over who will run the task force and provide oversight. "If it's not done correctly, we could be set up for failure," he said. "I think if we have the right people looking at it … as long as there are people who are making decisions are well-intentioned and they take into account all the things that are necessary, it can be a smooth transition."
It also depends on what the state decides to do. Staten Island's secession plans remain up to the state, no matter what happens at city level, noted Joseph Viteritti, professor of public policy at Hunter College, who was the director of the charter commission in 1992. If there was another overwhelming vote for secession, the next steps would be decided by state legislation that would require support from the governor, who would then likely kick it back to the city, deferring to home rule.
"It is then in the hands of the City Council," Viteritti said. "The governor will ask for an opinion from the city."
When City & State reached out to Adams' office for a comment, press secretary Fabien Levy said in an emailed statement, "Mayor Adams is a five-borough mayor, not a four-borough mayor, and Staten Island is as much of New York City as any other borough."
A spokesperson for City Council Speaker Adrienne Adams, when asked about Borelli's legislation, responded, "Like all legislation, Council Member Borelli's bill is going through the process. We're currently reviewing."
Borelli remained confident that secession could happen for Staten Island and said he does not believe the ebbs and flows of the city should play a role in the movement. At the same time, he disagreed that Staten Island's complaints were unique and noted that other parts of the city, such as South Brooklyn and parts of Queens, shared the same sentiments on issues such as rising crime. He also has explored the economies of several U.S. cities, such as Miami and Atlanta, and international cities like London by looking at the budget documents from those cities. In a series of videos he posted on Twitter in May, he explained how if those cities were able to provide their services with less taxes than Staten Island pays now, then the borough can afford to be its own city.
Fossella echoed Viteritti over who really controls Staten Island's chances of becoming its own city, despite what Staten Islanders say they want.
"The people of Staten Island were misled in 1993 by the state officials," Fossella said. "Can (secession) happen? Yeah, depending on the dynamics, depending on the makeup of who's in the Assembly, who's in the Senate, who's the governor. You never know. I just feel we've seen this movie once before."