gun control
As gun laws change in New York, enforcement agencies expect chaos
Police in New York are seeing a surge in requests from gun owners for concealed carry permission following the Supreme Court ruling, but new laws from the state Legislature will likely complicate the process.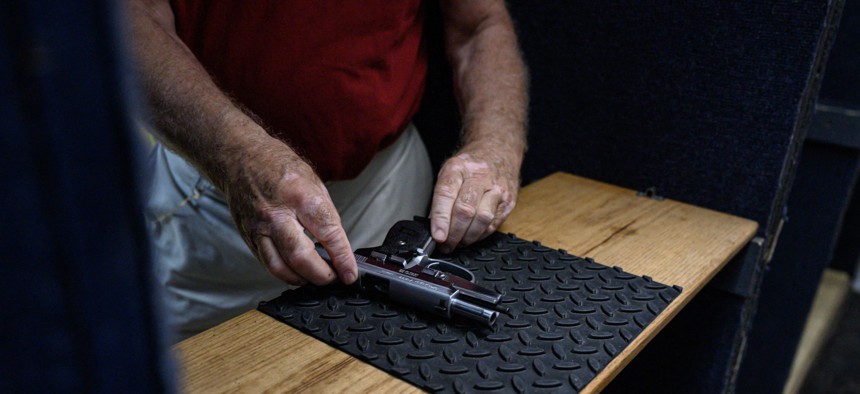 Lawmakers in Albany are expected to pass legislation as soon as Thursday afternoon that will retool New York's concealed carry restrictions following the Supreme Court's overturning of the existing law last week. Once the new guidelines are issued, confusion about how to implement them is likely to ensue. Already, agencies that issue the permits have seen an influx of application requests and inquiries following the pivotal ruling. 
"We've been giving out a lot more applications, but it takes time for people to complete them and bring them back to us," Suffolk County Sheriff Sgt. Paul Spinella said, noting the number of completed applications received has not increased in the past week, in part due to the lag time. 
Current gun owners who already have a lesser permit, such as one that allows for target shooting, are also seeking permission to begin carrying guns outside of their homes without applying for a new license.  
The Westchester County Police Department has received "a large number of Amendment Restriction Change requests in the days right after the Supreme Court ruling was issued," spokesperson Kieran O'Leary said, referring to requests from existing gun owners seeking authorization to carry a concealed weapon. Since the ruling was issued, the department's pistol license unit has received about 200 such requests, he said, compared to approximately five in a normal week. 
Gov. Kathy Hochul on Wednesday laid out some of the provisions that may be included in the bill lawmakers are scheduled to take up in Thursday's special session. They include barring concealed guns in certain "sensitive places," something the Supreme Court ruling will allow in the rewritten law.  Government buildings, health and medical facilities, places where children gather, day cares, parks and zoos, among other locations, could be among the restricted areas, Hochul said. New York City Council Speaker Adrienne Adams last week called on the Legislature to take the limitations a step further by declaring anywhere with 10,000 people per square mile a "sensitive place," along with any area within 1,000 feet of government buildings, bars, mass transit hubs and more.
The designations will likely be subject to "backlash" both political and legal, said Robert Spitzer, distinguished service professor of political science emeritus at SUNY Cortland who has authored five books on gun control. 
"There's going to be controversy surrounding the sensitive places delineation. (Lawmakers) are pushing that pretty much to the limits," he said. "There's no doubt there will be new litigation, I'm sure, challenging some elements of the sensitive places doctrine." 
Already, Republicans across the state seized on the pending legislation after Hochul revealed the details. "There is a special session in Albany today and the target of their new legislation is to restrict the 2nd Amendment rights of law-abiding New Yorkers who want to safely and securely carry a firearm for self-defensive purposes only. Albany is once again targeting the wrong population of society," Rep. Lee Zeldin, who is running to unseat Hochul in November, said in a statement. 
If the bill allows private businesses to decide whether they want to have guns on their premises, as Hochul said it might, that too, could generate a wave of lawsuits, Spitzer said. Hochul's proposal to include a training requirement is another "notable" provision, he said, as the state does not currently have a single uniform training standard. 
Once the guidelines are issued, Spitzer said he expects a chaotic implementation process – confusion that largely stems from the ruling itself, he said.
"There's no doubt there's going to be a lot of questions, because things like that have not been addressed precisely in the past, and because of the inelegant way the court decision was written in terms of what criteria will be used to determine whether a gun law is constitutional or not," Spitzer said.