Policy
Supporters of noncitizen voting vow to appeal state Supreme Court ruling
After a Staten Island judge ruled that the New York City law violated the state Constitution, advocates remain hopeful.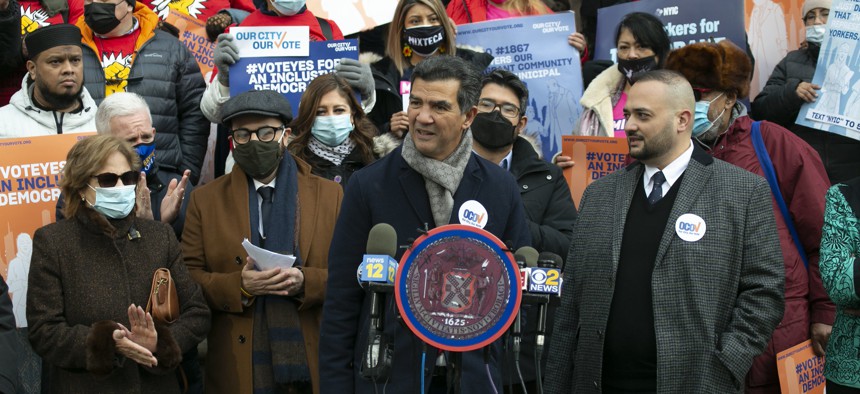 A day after a state judge overturned a law that would have allowed over 800,000 noncitizens to vote in New York City elections, supporters are gearing up to appeal the ruling. 
The historic voting rights law would have significantly expanded the city's voting population, giving immigrants with permanent residency or legal work authorization – many of whom have lived, worked and paid taxes in the city for years – the ability to vote in municipal races. But while immigrant advocates and many Democratic lawmakers lauded the New York City Council's December passage of the measure as a win over a decade in the making, leaders have also acknowledged its road to implementation would never be without challenges.
On Monday, Richmond County Supreme Court Justice Ralph J. Porzio struck down the noncitizen voting law, also known as Local Law 11, ruling that it conflicted with the state constitution and state law that only eligible citizens can cast ballots. His decision was issued in response to a lawsuit brought forward by a group of primarily Republican lawmakers, including Staten Island Borough President Vito Fossela, Staten Island Council Member Joe Borelli, Rep. Nicole Malliotakis and state Republican Party Chair Nick Langworthy. 
In his June 27 ruling, Porzio echoed many of the group's arguments that the state constitution "expressly states" that citizens meeting ages and residency requirements can register and vote in elections.  
"There is no statutory ability for the city of New York to issue inconsistent laws permitting noncitizens to vote and exceed the authority granted to it by the New York State Constitution," Porzio wrote. Giving noncitizens a right to vote, he added, would require a referendum to change the state constitution. 
Supporters of the law argue that while the state Constitution does state "every citizen shall be entitled to vote," it never explicitly says only citizens can do so. 
As the law was not set to go into effect until the beginning of 2023, the ruling has no effect on Tuesday's primary election. Still, supporters of Local Law 11 are already expressing plans to appeal the decision to the state's top court, the Court of Appeals.
Leaders from New York Immigration Coalition, which will be involved in the appeal, say the judge's ruling wasn't a surprise given that it was filed in one of the few Republican leaning counties in the city. 
Theodore Moore, vice president of policy at New York Immigration Coalition, said supporters anticipated it would be overturned and have made plans for how they will fight back. 
"The reason we think we are going to be successful in the appeal is that we are hoping that the appeal will be based solely on the actual merits of the policy instead of the politics," he said. 
But efforts to appeal the ruling are likely to face an uphill battle. 
Borelli, one of the lawsuit plaintiffs and the minority leader of the New York City Council, said he's unconcerned by an appeal challenge because there's little room for interpretation in the portion of the law that says who can vote. 
"It's hard to argue that the basic definitions of what's written in the law – both in the state constitution and in state election law – are not clear," he said. "That's why multiple administrations, Democrats, independents, the law department and previous speakers have all said this is illegal." 
Borelli said it's not just Republicans who oppose Local Law 11. 
"(Local Law 11) disenfranchises a lot of citizen immigrant groups who have worked hard to get elected officials representing their community into offices, be it the Assembly, council or Borough Hall, ect," Borelli said.
Democrat Laurie Cumbo voted against the bill, saying she wanted to protect the power of Black voters.  
But City Council Immigration Committee Chair Shahana Hanif and Council Speaker Adrienne Adams said the bill was passed specifically to enfranchise immigrants, many of whom are Black and Brown New Yorkers. 
"By providing city residents with a voice in their local government representation, we provide them with an equal stake in the long-term success of our city," they said in a statement. "Now more than ever, when our rights are being threatened, we need more civic and community engagement, not less." 
James Gardner, a professor at University at Buffalo's School of Law, said he doesn't see anything in the court's ruling that is likely to jump out as a red flag to the appeals court.
He called it a "fairly straightforward opinion" and said the momentum is in favor of the plaintiffs at this point as going up on appeal is always an uphill battle when a lower court has already issued an opposing ruling. Still, Gardner stopped short of making any final predictions. 
While New York City is the largest city to vote in favor of granting noncitizens the right to vote, there is some precedence for its decision. Noncitizens were allowed to vote in school board elections until school boards were abolished in the early 2000s. There's also a number of jurisdictions around the world where noncitizens are allowed to vote, mostly in local elections, Gardner said. 
Moore said he and other supporters see a connection between the strike down of this law and country-wide voter suppression efforts. "This is really in connection to a party strategy. That is clear. They must limit access to the ballot box and to power and decision-making abilities for them to have any claim of maintaining power in the country."