Heard Around Town
Another bill to ban horse carriages gets introduced in the new City Council
Council Member Bob Holden and NYCLASS are teaming up on the latest attempt to keep the beasts of burden out of Central Park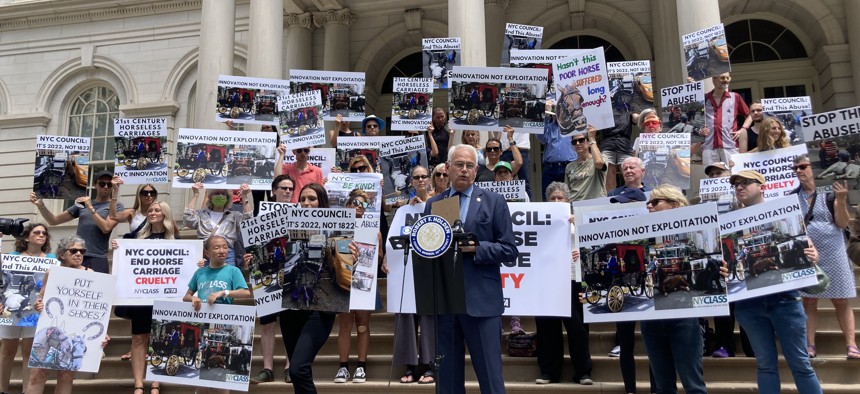 The New York City Council is grabbing the legislative reins once again in an attempt to get horse carriages banned in Central Park. In the saddle is Council Member Robert Holden who joined New Yorkers for Clean, Liveable and Safe Streets – better known as NYCLASS – and their animal welfare allies outside City Hall Thursday afternoon to introduce a bill that would replace horse-drawn carriages with electric ones by 2024. The drivers of these carriages would be given priority in the issuing of licenses to drive these new horseless carriages. And Holden said the measure would go a long way in combating the "miserable existence" of the horses at the helm. 
As he spoke, the hot sun glinted off the dozens of signs held by the supporters fanning out behind the podium. Some displayed a photo of a horse slumped in the street or tethered to an overturned carriage with the words "innovation not exploitation." Another, buoyed by a drawing of a horseshoe, read "Put yourself in their shoes!" 
"This is 2022, not 1822. To have a horse in this kind of weather pull thousands of pounds with blinders on," Holden said, gesturing at the sky. "For what? For some tourists' enjoyment, that we certainly have the technology now to make it better – to not impact a poor horse." 
Int. 573-2022, which has nine sponsors so far from across the political spectrum, is the latest attempt to ban the horses. Former Mayor Bill de Blasio for one was one of the loudest voices, pushing hard to ban the carriages in Central Park – a promise he never delivered on. City Council Speaker Adrienne Adams declined to comment on the bill Thursday, saying it would go through the legislative process. Mayor Eric Adams' campaign told Gothamist last year that he doesn't support banning carriage horses, but "is open to discussing the issue." NYCLASS is betting on it – they specifically denied Adams' Republican opponent Curtis Sliwa an endorsement in 2021, hoping to maintain a good relationship with the now-mayor.  
Critics of efforts to ban their use – including Transport Workers Union Local 100, which represents horse carriage drivers in the city – argue that the horses are well taken care of and an important part of the drivers' ability to earn a living wage.