New York City
Will horse carriages decide the next mayoral election, too?
After de Blasio's ban crashed, advocates my try again in 2021.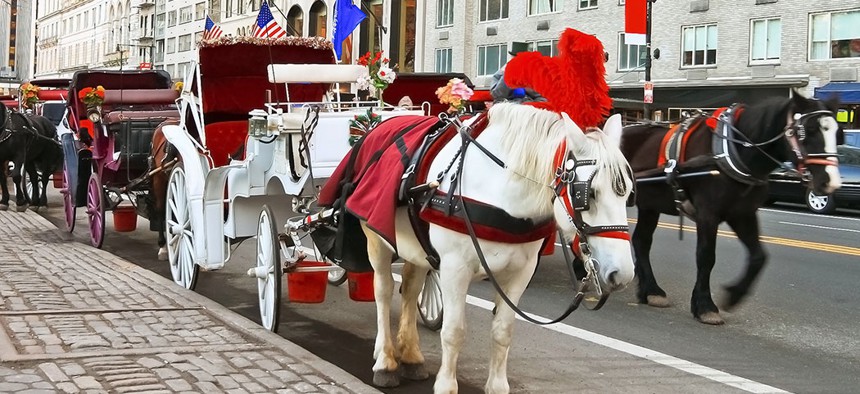 In the 2013 New York City mayoral race, Bill de Blasio was trailing the pack when he made a campaign promise to ban the horse carriages in Central Park on "day one." De Blasio's pledge brought in support from the animal welfare group New Yorkers for Clean, Livable and Safe Streets, or NYCLASS, whose aggressive attack ads against Christine Quinn were widely believed to help de Blasio overtake the early front-runner and secure the Democratic nomination.
Halfway through his second term in office, however, de Blasio hasn't delivered. He did seek a range of restrictions on the horse carriage industry, most of which fell short, succeeding only in limiting pickups to inside the park. And with de Blasio now running for president and dealing with more pressing local issues, advocates have sought other incremental changes to protect horses while shifting their focus to other animal welfare issues, such as proposed citywide bans on foie gras and fur sales.
De Blasio last year directed the city Department of Transportation to issue a rule that requires all horse carriage pickup stations to be moved into the park, in order to protect the horses from car traffic. There's also a City Council bill pending that would prevent the carriage horses from working when the heat index reaches or exceeds 90 degrees. 
But after making a ban on horse carriages a central part of his 2013 campaign, de Blasio didn't move quickly. Animal welfare activist Donny Moss, who wants to ban horse carriages entirely in midtown Manhattan, thinks de Blasio would've succeeded if he had acted immediately. "I'm disappointed that he waited until it became politically infeasible to fulfill his promise," Moss told City & State. It wasn't until December 2014, nearly a year after he took office, that de Blasio introduced legislation in the City Council that would have reduced the number of licenses for carriage horses and moved the stables into Central Park. But this bill floundered and never came up for a vote. "They had the most powerful elected official in New York City stating that, 'Hey, watch me do this on day one,'" Moss said. "And then he didn't do it. And then the opposition mobilized."
In 2016, de Blasio tried to put a deal together with the carriage industry, which would've significantly reduced the number of carriages and moved all horses inside of Central Park. But due to pushback from park conservationists, the Transport Workers Union, the Teamsters and others, the City Council canceled its scheduled vote on the deal. Then, in 2017, NYCLASS announced that it would no longer pursue the elimination of carriage horses from Central Park and would try to protect the animals through other means.
"He had a bill in the City Council that he fought pretty hard for. It didn't end up happening," NYCLASS spokesman Chris Coffey said of de Blasio. "But that wasn't his fault. That was the City Council."
Last year, the mayor used his executive powers to move all horse carriage pickup stations inside of Central Park, a rule that started being enforced in February. The new pickup locations are spread around the perimeter of the park, positioned close to highly trafficked exits. This is a big change, considering carriage drivers have been picking up fares on Central Park South for years. De Blasio's rule, however, doesn't move the stables inside of the park, and horses will still be allowed to walk on city streets.
While some advocates grumble that little has been done to improve conditions for the horses, the new rule "was a big victory for the horses and for activists," Edita Birnkrant, the executive director of NYCLASS, told City & State. "It's definitely a big improvement for the horses, to not have to be standing and maneuvering in all of that heavy traffic 10 hours a day."
While NYCLASS is no longer pursuing a ban on carriage horses, it is invested in passing a series of measures to protect the four-legged animals. "Like temperature control, an end to third-party slaughter, guaranteed retirement after 10 years and bigger stall size. Those are the things that we're focused on," Coffey said.
Building on the momentum of de Blasio's decision to move horse pickups inside the park, the heat index bill was discussed at a City Council hearing on June 18 and currently has 19 co-sponsors, shy of the 26 votes needed for a majority in the 51-member council.
Allie Feldman Taylor, the director of NYCLASS before founding another organization, Voters for Animals Rights, in 2016, said that the shift in focus has helped the movement find success on other matters, including banning cat declawing and elephants in circuses, and building support for New York City's proposed bans on fur sales and foie gras.
"For a long time, (the) carriage horse (issue) was taking up most of the oxygen – and it's an incredibly important issue and this community is never going to stop fighting until carriage horses are banned," she said. "But through our energy and seeing how much society had grown in their compassion to animals, I knew that we could get a lot done by turning our attention away from the horses and starting to work on other issues."
Yet there's still a chance that a full ban could gallop back into the spotlight – especially if Quinn, who was trampled by animal welfare activists in 2013, follows through on a rumored comeback bid for City Hall in 2021.
NYCLASS played an important role in sinking Quinn's 2013 candidacy, said political consultant George Arzt. "There's no doubt that it had a big impact," Arzt said. "Because they have so much money behind them, it was a very potent force in the election."
Much of the organization's money has come from Stephen Nislick, a real estate executive. It was also reported that Nislick's interest in banning horse carriages might have been motivated more by his desire to build affordable housing on prime real estate currently occupied by the stables on West 38th Street than to protect the animals, although Nislick denied the allegation.
Mike Morey, Quinn's former communications director and a managing director of SKDKnickerbocker, said the money that flowed into NYCLASS' independent expenditure committee in 2013 was "certainly instrumental in knocking her down." But Morey contends that if Quinn had been anti-horse carriage, de Blasio allies would've just found another issue to raise money on. "I'm not so sure that de Blasio backers wouldn't have found another venue by which to drop off cash to go after her on the IE side," Morey told City & State. "The only relevance that NYCLASS would have (in 2021) in terms of being an issue is whether it just allows itself to once again become a repository for campaign cash to attack a front-runner – and back whoever their preferred candidate is in the race."
Regardless, NYCLASS could still play a key role in 2021. "I think it will be repeated," Arzt said. "Nislick has a lot of money. And I think that where there's money and the ability to spend it, they're going to spend it." 
For her part, NYCLASS' Birnkrant said she hopes Quinn's views on horse carriages have changed. "We can only hope that if she reenters public service, she will have learned the importance of fighting for animals," Birnkrant said. If Quinn has met this standard, NYCLASS would be happy to work with her in the future, she added. "But if she hasn't, we won't work with her."