New York City
Eric Adams wants New York to learn to live with COVID. The city scrapped its guide map for how to do that.
New York City said it is reevaluating its color-coded COVID alert system, even as the city has seen a rise in cases and the BA.5 variant taking hold.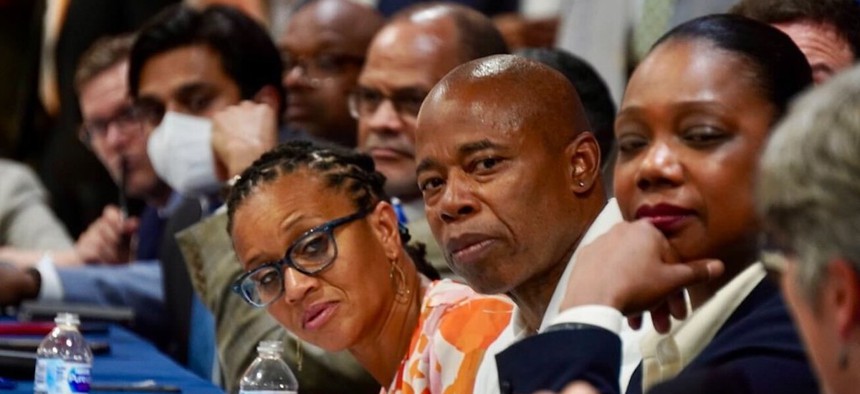 Last week, the New York City Department of Health removed its color-coded COVID-19 alert system from its website, leaving a notice of plans to reevaluate the system. This week, the seven-day positivity rate in New York City crossed 14%, as the highly transmissible BA.5 omicron variant accounts for an increasing share of the city's reported COVID-19 cases. 
Scrapping the alert system – which detailed guidance for when the city should implement measures like mask and vaccine mandates and expand testing based on the current risk level – struck some as odd, especially as cases start to rise again. 
But when asked about the rise in cases on Wednesday, the mayor returned to his oft-repeated rhetoric about the city's need to move forward – while using new tools to fight COVID-19, including increasing access to at-home tests and antiviral drugs for those who test positive. "These variants are going to come," Adams said. "I've said this before, and I'm going to say it again: We have to learn to live with COVID." After Gothamist reported this week that the number of Health + Hospitals testing sites has been reduced, Health Commissioner Ashwin Vasan pointed to what the city is focusing on now, including the expansion of at-home testing and the new "Test to Treat" program which provides antivirals directly at participating mobile testing sites to people who test positive. "We have MORE testing resources than ever and we want New Yorkers to take advantage of them," Vasan said in a tweet.
Some suggested that the mayor's mandate to learn to live with COVID-19 – something New Yorkers have been doing for almost two-and-a-half years – will be difficult without clear communication about the current risk level and the protective measures that should be taken according to that risk. "We are increasingly being asked by elected officials and political leaders to make our own informed decisions about what to do with COVID," said Dr. Denis Nash, a professor of epidemiology at the City University of New York. "To take away those systems that can inform us or refuse to improve them does a disservice." 
The city's color-coded alert system was introduced in March, after Adams first started to roll back some pandemic health precautions put in place under former Mayor Bill de Blasio, including the "Key to NYC" program which required people to show proof of vaccination before entering indoor venues like theaters, restaurants and gyms. Council Member Keith Powers was among those calling at the time for the introduction of a set of clear benchmarks for when those kinds of measures should be reimplemented during a surge. "The COVID alert system was a helpful way for New Yorkers to understand COVID rates," Powers said in a statement on Thursday. "As we determine ways to keep our city safe in a COVID world, we should keep these tools to ensure that everyone across all five boroughs understand the risk."
While the alert system recommended specific actions for New York City to take in different alert levels, Adams didn't act on all of those recommendations. Under the medium alert level, the system recommended that the city consider reinstating the Key to NYC vaccine program. Under the high level, which the city reached in May, it recommended implementing a mask mandate for all indoor public spaces. Adams hasn't reimplemented either of those policies. (Late last month, the city moved back down to the medium alert level.) Still, Nash said that just having an alert system – even if the city doesn't follow the guidance outlined in it – is helpful to keep New Yorkers informed about COVID-19 and changes in risk levels.
The city's alert system was based on the Centers for Disease Control and Protection's matrix for COVID-19 community levels, which is based on new COVID-19 hospital admissions per 100,000 in the past 7 days, the percent of staffed inpatient beds occupied by COVID-19 patients, and total new COVID-19 cases per 100,000 in the past 7 days. Nash and other health experts have criticized it for relying too heavily on hospitalization data. "There's a lot that can happen with COVID transmission before there's a signal in hospitalizations," Nash said. 
And it may be the case that the city is simply working on improving the current alert system to address criticisms like that one, but the city has given no details about what, if anything, is in the works. The health department's website now says that it is "reevaluating" the system and advises visitors to check for updates in the coming weeks. Adams said on Thursday that the color-coded system was "fighting an old war." "We're not going to hold onto something that's an old weapon merely because we had it," he said. "We're going to create new weapons to fight this new war." 
Neither Adams nor a spokesperson for City Hall elaborated on what those new weapons would look like. "As we stated when we announced the system, we will periodically reevaluate our alert level system to ensure we are providing New Yorkers with the best information possible to make the decisions that are right for them. What we have seen recently is bouncing between alert levels, which doesn't provide clear or useful information to New Yorkers, and that is why we proactively announced this change at a press conference last week and took questions from reporters on this matter," a City Hall spokesperson wrote in an email. "All of the COVID-19 indicators continue to be updated on the Health Department's website and we will continue to communicate our recommendations clearly." Though the positivity rate has increased in New York City, hospitalizations and deaths have been trending down.
Council Member Lynn Schulman, who chairs the council's Health Committee, also said she was told by the health department that the system is undergoing improvements. "I have been advised that the current COVID alert system was not permanently removed, and is being reviewed to enhance its accuracy," she said in a statement. "Regardless of transmission levels, the Health Department needs to make sure New Yorkers are made aware of what they need to do, especially as cases increase," she said.
The health department's website currently notes that there are high transmission levels of COVID-19 throughout the city and provides some clear recommendations for what actions individuals can take to protect themselves. The notice says that New Yorkers should stay up-to-date on vaccinations, test before and after travel, gatherings or after being exposed to someone who tested positive, stay home if sick, and perhaps most notably, wear a high-quality mask in all public indoor settings and around crowds outside.
While buzzing around town championing the city's recovery, Adams – and many other city officials – can often be seen indoors or around crowds outdoors without a face mask. A spokesperson declined to comment on Adams' mask-wearing, but referred to previous comments from the health department and mayor about how individuals should evaluate their own risks and wear a mask in crowded indoor spaces where the vaccination status of those around them is unknown.
While the mayor's method of living with COVID-19 seems to go against his own health department's guidance, some are still asking what Adams thinks living with COVID-19 should look like. "I'd like to hear the mayor expand on that," Nash said. "If that's a euphemism for 'get over COVID and stop worrying about risks,' I think that's a real problem."
Powered By
NEXT STORY: How New York's highest court has veered right