New York State
Hochul signs climate bills, but advocates want more
As time runs out to meet the state's climate goals, activists say both the governor and lawmakers can act with more urgency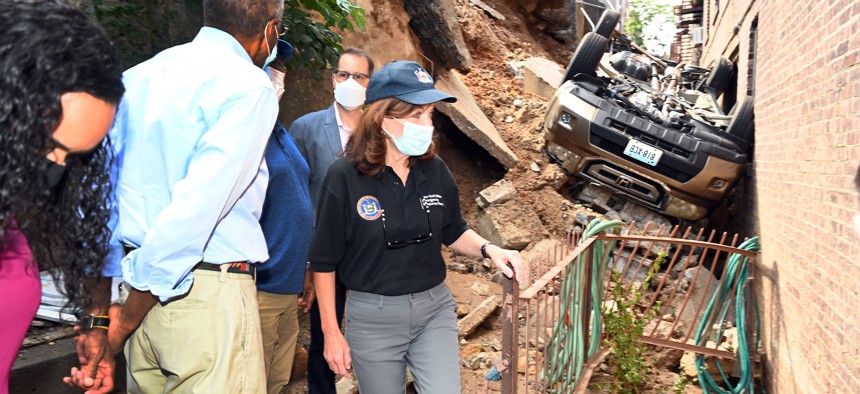 Just days after she took office, Gov. Kathy Hochul found herself responding to a climate disaster as the remnants of a deadly hurricane ripped through New York City. At the time, she pledged bold action to increase coastal resiliency and combat climate change during her time in office. On Tuesday, Hochul signed into law legislation meant to help lower carbon emissions from buildings, a crucial step toward meeting New York's environmental goals. 
Despite the fanfare the bill received, however, the governor still has not indicated her position on a moratorium on cryptocurrency mining, a major priority among climate activists. Nor has she offered support for other priorities like a polluters tax, expanding municipal renewable energy production and banning gas hookups in new buildings. The state Legislature too left climate and environmental advocates largely disappointed, and they say that both lawmakers and the governor must step up if they want the state to achieve the benchmarks set up in the 2019 Climate Leadership and Community Protection Act. 
Before they broke for the year, lawmakers in Albany did act on a few climate-related bills, including the one Hochul signed on Tuesday that sets new efficiency standards for buildings. The governor said that the bill signings served in part as a message to the U.S. Supreme Court, which issued a decision last week rolling back federal oversight of power plant carbon emissions. "This is New York," Hochul said. "Do what you want, we'll do everything we can to protect our lives, our families, our bodies and our planet's future." She praised the state's continued leadership in the climate arena, including the commitment to reduce greenhouse gas emissions by 85% by 2050, as well as a $4.2 billion bond act to help fund green projects. 
Still, Hochul has not yet acted on another piece of legislation that lawmakers approved after a contentious negotiation process, a bill that would create a two-year moratorium on cryptocurrency mining pending environmental impact statements. Speaking to reporters following her bill signings on Tuesday, she once again would not offer her position, instead saying that her office is continuing to review the language. "There's a lot of information to digest about this, and we're being very thoughtful," Hochul said. 
The governor's lack of explicit support for that bill, as well as others that lawmakers didn't pass like the Build Public Renewables Act and the All Electric Buildings Act, has left some advocates disappointed. "We think that this a common sense and easy climate win for the governor here," Liz Moran, New York policy advocate for Earthjustice, told City & State. She said overall, Hochul has "put forward some meaningful policies," but would like to see her "more aggressively pursue them." Moran pointed to the governor's inclusion of part of the All Electric Buildings Act, which would ban gas hookups in new buildings, in her executive budget. But when it fell out of the budget, Moran said the commitment did not seem as clear. 
This does not fall on just the governor, though. The state Legislature has also failed to act on a number of different priority bills for climate advocates, like the Build Public Renewables Act, which would expand New York Power Authority's ability to generate renewable energy. It passed in the state Senate, but died in the Assembly. "We agree with the goals of the Build Public Renewables Act," Assembly Speaker Carl Heastie said in a June statement. "The final version of the bill… had support in our conference, but not enough to move forward at this point." He set a July 28 date for a hearing on the legislation, but Moran said that lawmakers must move quickly on this and other climate bills. "Really, we can't afford to wait," she said. 
Julie Tighe, president of the New York League of Conservation Voters, praised the governor's actions on Tuesday, as well as her commitment to climate goals since she took office. "The governor, from the beginning, she came in right on the heels of a storm," Tighe told City & State. "And she has been talking about clean energy for many, many, many years before this." She said that the state has still not done enough to crack down on emissions in the transportation sector, a particular point of disappointment with lawmakers this year, but added that it was "not for lack of leadership on (Hochul's) part." And though climate change has taken a back seat in recent weeks to concerns over guns and abortion rights, the high-profile Supreme Court decisions that mobilized New York – and the governor – on those issues can offer a similar rallying cry to activists. Already, the court has rolled back the power of the Environmental Protection Agency. Given Hochul's success coalescing around the abortion and gun rulings, she could once again have the opportunity to do the same with climate as she heads into the general election.