Politics
Lawmakers to Hochul: Expand public renewable power
Over 50 state legislators sent a letter to the governor asking she include legislation to expand NYPA's operations in her budget.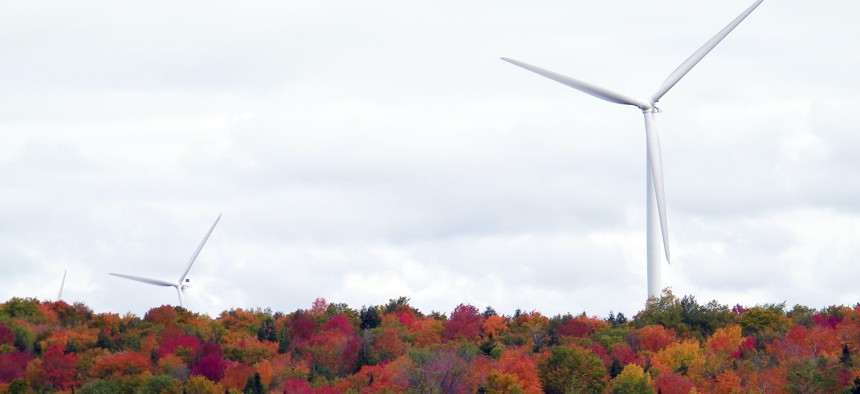 As Gov. Kathy Hochul prepares for her first full year as the state's chief executive, lawmakers are calling on her to back up her rhetoric on climate change with action in her state budget. In a letter shared exclusively with City & State, Assembly Member Robert Carroll and 54 other state legislators asked that Hochul include the New York Build Public Renewables Act in her agenda for 2022 in order to help the state meet its ambitious climate goals. 
Under the proposed legislation, the state would allow the New York Power Authority to greatly expand its renewable capabilities by removing the six-facility limit the public authority has on owning large-scale generation facilities. Additionally, the bill would require NYPA to build out only renewable energy while phasing out all non-renewable facilities. "We have to pass BPRA this year – anything less will repeat the failures of past energy policies that have put promises over action and have put New York on a path toward disaster," the letter reads.
The state in 2019 passed the landmark Climate Leadership and Community Protection Act, enshrining a number of climate goals into law, like reducing New York's carbon emissions 85% by 2050 and 100% carbon free electricity by 2040. However, in the years since, climate activists have expressed disappointment with the state Legislature for not passing followup legislation to ensure the state reaches the various benchmarks.
The closest goal is less than a decade away, increasing New York's share of electricity from renewable sources to 70%. Right now, the state gets about 30% of its electricity from such sources, but the vast majority is from hydroelectric and nuclear power, neither of which many environmental advocates want to expand. Solar and wind make up only about 6% of the state's energy production. 
Bill sponsor and lead letter writer Carroll said that the only way the state can meet its climate goals laid out in the Climate Leadership and Community Protection Act is to ramp up production from New York's own public utility. "The private markets, they may pay for some wind farms off of Long Island, they may pay for some solar farms in certain places," Carroll told City & State. "But they're not going to go to every corner of the state and spend the money and the capital to connect small renewable energy projects… to the grid, so that we actually meet these goals." He argued that since NYPA is not profit driven, it could accomplish this – if the state allowed the authority to expand. 
Along with permitting NYPA to own and operate more large-scale renewable generation facilities, the New York Build Public Renewables Act would also allow the authority to connect into the grid and sell renewable energy directly to customers. Additionally, it would require all properties state or municipally owned, leased or controlled, to get their power from NYPA by 2025.
The legislation, first introduced in April this year, has support from environmental advocates in the state who similarly want to see a commitment from Hochul. "If she supports The Build Public Renewables Acts and puts it in the budget, that would be a huge sign for the climate movement, that she's listening to us, and that she's really committed to the people of New York," said Lee Ziesche, community engagement coordinator at Sane Energy Project, which supports New York State transitioning to 100% community-controlled renewable energy. She described herself not as confident, but "the most hopeful I've been in a really long time" that the governor will take the necessary actions to address climate change in the state. 
Although Hochul has not taken a public position on the legislation, she has made climate change a key part of her early days in office. Not long after stepping into the role, the state got ravaged by the remnants of Hurricane Ida, a deadly reminder of the very real effects of climate change. And her administration has already taken steps praised by environmental activists by blocking upgrades to two gas power plants in Astoria, Queens, and Newburgh. However, she has avoided taking hard stances on prominent climate change bills like this one and the Climate Community Investment Act, which would place a carbon tax on big polluters.
The New York Build Public Renewables Act would not fully democratize power generation in New York. But it's part of a larger debate around public power and municipalization of New York's electric grid. Calls for that change have grown in recent years in the wake of high-profile mistakes by private utility companies in the state as well as skyrocketing prices. Though Carroll distanced the current demand from the much broader goal of total municipal power, an idea he supports and sponsors legislation on, Ziesche said that passage of the renewables act would constitute a first step towards that goal while providing much-needed clean energy. "It sets us up for, a little bit of the bigger fight of the second power bill," she said.
In concluding its plea to Hochul, the letter from lawmakers referenced one of New York's most famous governors who could be said to have started this entire conversation. "President Franklin Delano Roosevelt created NYPA as Governor of New York, which helped to inspire his New Deal as President," it reads. "We ask you to include the Build Public Renewables Act in the budget to fulfill the promise of the CLCPA and cement New York's status as the Green New Deal model for President Biden."