NYPA head says no thanks to building public renewables
The CEO of the state's public energy authority said he doesn't agree with legislation that would require it to build more renewable power plants.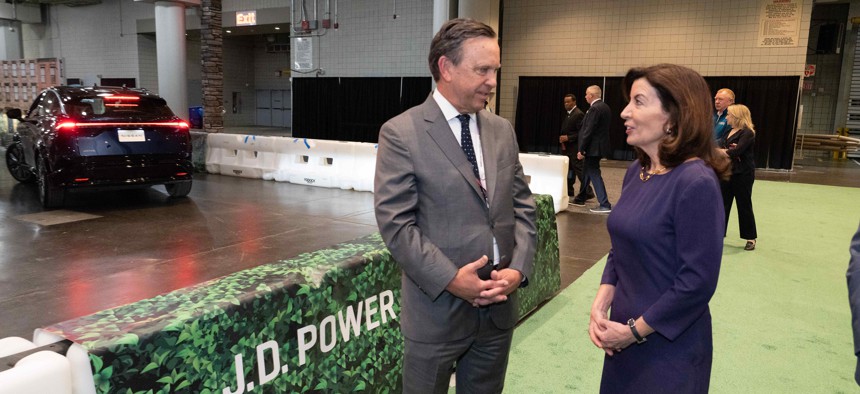 The Build Public Renewables Act, a bill that would empower the New York Power Authority to build more renewable energy generating power plants, gained a new opponent at an Assembly hearing on the Legislation: the New York Power Authority itself. And testimony from its interim CEO has led to calls from environmental activists for the state Senate to reject his nomination to fill the role permanently. 
Justin Driscoll, the temporary head of NYPA, was one of several state agency and authority heads who testified before members of the Assembly Thursday. The topic: the Build Public Renewables Act, which came close to approval at the end of this year's legislative session. A priority among climate advocates because they say it would increase the state's renewable energy generation to help it meet its climate goals, it passed in the state Senate and appeared poised for approval in the Assembly as activists reported that they had enough votes. But the bill never came to the floor before lawmakers went home for the year. Following backlash for the lack of action, Assembly Speaker Carl Heastie announced the July hearing to consider the future of the bill. 
The hearing attracted numerous stakeholders, ranging from environmental activists to professors to representatives for utility companies. When it came time for Driscoll to offer the opinions of the NYPA, the agency at the heart of the debate, he stood in opposition to the legislation. He called the mandates included as part of the bill, such as what NYPA can charge for power and directing the authority to undertake new renewable energy projects, "unworkable." Driscoll added that the legislation does not provide new funding for NYPA for necessary steps to meet the mandates, like job training and increased hiring. "We also do not believe that NYPA as a developer of these projects is needed," he said. Driscoll's overall testimony largely echoed sentiments of other state officials who testified before him. 
Climate activists met Driscoll's testimony with immediate backlash online. "This is against the testimony of nation leading experts (in the) last panel," the Public Power NY coalition tweeted, referring to the hearing panel before Driscoll's, which included professors from Brooklyn College, University of South Carolina and University of California, Berkeley. The coalition also said that the state Senate should not confirm Driscoll as the permanent head of NYPA after Hochul nominated him for the position this week. 
Climate activists have at least one ally so far in the state Senate. State Sen. Julia Salazar said in a tweet that she would vote against Driscoll's nomination. "The NY State Senate voted to pass the BPRA this session because we know how crucial it is for climate action in New York," Salazar wrote. "We cannot then turn around and vote to confirm a NYPA CEO who isn't up to the task, which is why I wouldn't be able to support Justin Driscoll's nomination."