Education
Summer Rising gets off to a stronger start, but still with some bumps
While there have been some logistical issues hampering staffing and transportation, providers say this year's rollout has made significant strides over last.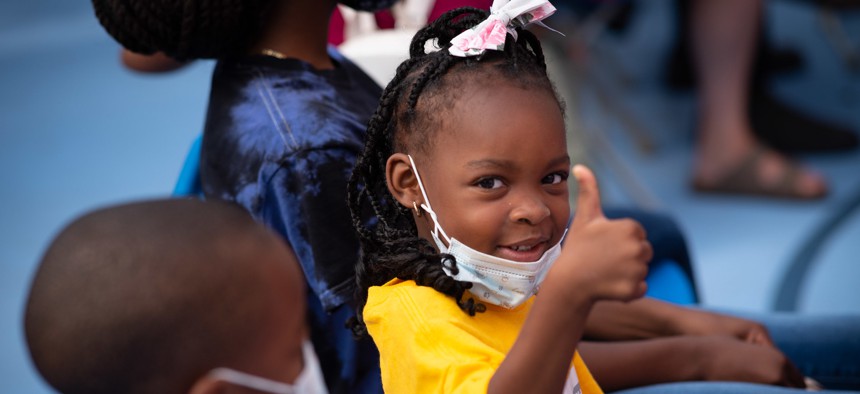 For New Yorkers most likely to select a juice box as their drink of choice, it just might be the hottest seat of the summer: the city's free summer school program which kicked off last week for the thousands of students who snagged slots. 
Demand for the program has been so high, nearly every elementary school site filled up within nearly a week of applications opening in April. When programming kicked off last Tuesday, no seats remained for K-5 students. 
Introduced last summer as a way to ease the transition back to full in-person learning, "Summer Rising" has been praised by many for the relief it's brought families following a vastly challenging two years. Local and city leaders alike have lauded the educators and community based organizations running the program for providing K-8 students with academics and afternoon enrichment activities like field trips, sports and art projects. 
Still, it's been an ambitious undertaking. Not only did the city expand the number of seats this summer from 98,000 to 110,000, Mayor Eric Adams also added hours and vowed to prioritize students with disabilities and those living in temporary housing. And while Summer Rising providers say this year's rollout has made significant strides from the last, the first week was hampered by some of the same logistical issues like staffing and transportation. 
"By and large things are going better than last year. Last year was really rough, especially at program startups so it was a low bar," said Nora Moran, director of policy and advocacy at United Neighborhood Houses. The group has partner organizations leading the afternoon enrichment portion of Summer Rising activities at about 160 programs this summer. 
Moran said there have been some issues with recruiting enough staff at some of the sites, which she largely attributed to higher competing wages, but nothing that rises to the level of last year when the Department of Education sent an announcement to most families saying their kids could show up at any site even if they were waitlisted. The Department of Education also says its working closely with providers to resolve any staffing issues that arise. On the academic portion of the day, there are over 4,000 educators working at sites. 
"That was the root of a lot of challenges last year," Moran said. "You can't just materialize staff out of thin air on day one because you have an extra 50 kids show up. That was not the case this year, it was much more strict in terms of you have to enroll, you have to be enrolled by a certain time and that was that." 
There may still be some opportunities for waitlisted students to join – a Department of Education spokesperson said students whose families are unresponsive and don't show up could be unenrolled this week. Parents are encouraged to continue reaching out to sites to see if seats become available. A map of sites can be found here. 
"We are excited to kick off the first week of Summer Rising and look forward to a fun, enriching summer for all enrolled students this year," Jenna Lyle, the department's associate press secretary said in a statement. "We are committed to making this year's Summer Rising program, the largest summer program in New York City history, successful for all participating students and staff." 
As for students with disabilities and those living in temporary housing, transportation remains one of the biggest barriers, according to Randi Levine, policy director at Advocates for Children of New York . 
Last year, bussing was only offered at the close of the day's academic portion, which meant many of these students were left out of the afternoon enrichment activities as they wouldn't have a way home if they stayed until 6 p.m. This summer, the department of education is offering eligible families two ridesharing options for students who stay until 6 p.m., with the caveat that an authorized adult must be available to use the service to pick their child up. Paraprofessionals and nurses are also not allowed to travel with the child. 
"Students who have special education classes for the summer are assigned a site and often that site is far away from where they live," Levine said. "It can be very difficult for a parent to have to travel to the site and take their child home even with the availability of rideshare. Certainly it does work for some parents, but not for others." 
Still, she said she's been heartened to see other strides the department has taken in increasing the program's accessibility. About 70 different Summer Rising sites are being co-located with students from District 75, which serves students with significant needs, meaning they'll also be able to participate in afternoon enrichment activities. 
Standing outside of Lower East Side school The Island School Friday morning, Mayor Adams reiterated that Summer Rising will combat students' "summer decline" in socialization and opportunity – especially in wake of a pandemic that spurred learning loss and limited social interaction. 
"We're going to give our children a full year of education," Adams said. "Our children dealt with remote learning. They dealt with isolation … Imagine having two years that you are not experiencing what it is to be a child… If it impacted adults, it traumatized children. And we are going to give them an overdrive of having that interaction and love that they deserve in a structured environment."