New York City
New York City electeds say conditions at Rikers are improving despite 12 deaths this year
Officials made yet another visit to the troubled jail complex this year amid threats of a federal takeover, noting it's unlikely to close as planned by 2027.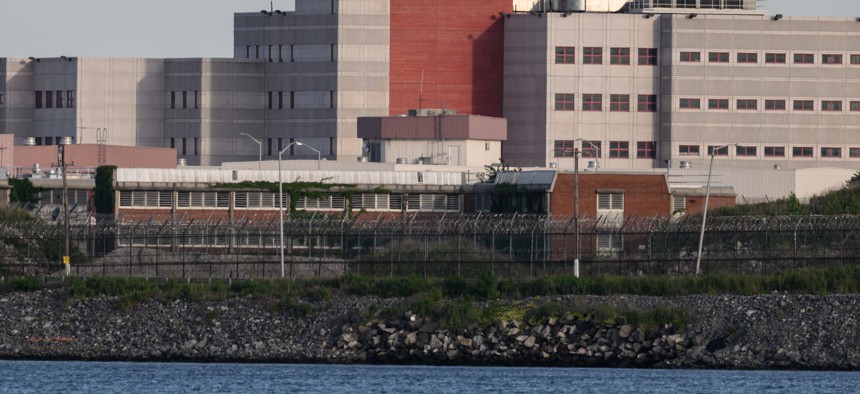 New York City elected officials made yet another visit to Rikers Island on Monday, where they said they observed slightly improved conditions at the troubled jail complex, despite a staggering 12 inmate deaths this year.
"The first thing I do want to mention is when I came here a year ago, it was simply atrocious. It looked like a jail that was on the brink of simple disaster. So I do want to say while I think it's still not the safest place to be for anyone who's housed or works there, I do want to say it is demonstrably better than when we were here a year ago," Public Advocate Jumaane Williams said at a press conference following the impromptu visit with City Comptroller Brad Lander and Council Member Carlina Rivera.
Williams also said there have been some improvements regarding the use of solitary confinement, correction officers being overworked and prolonged stays in the jail's intake center. But he expressed continued concerns about a lack of proper medical care for inmates. "We did see a number of people who were complaining about not being able to get their medication," he said. 
Rivera also announced plans to hold a hearing as early as next month on legislation she introduced in June that would ban solitary confinement – something the council has repeatedly tried and failed to do.
"What we saw in terms of certain individuals in having very, very small spaces – that to me does not define true rehabilitation," she said, echoing Williams' sentiment about "some improvements . . . However, I am not sure the city has full control of this facility and what we need to do to improve conditions."
Lander, meanwhile, noted that he observed progress regarding staffing issues and processing times in the intake center, where inmates had been languishing for days at a time in crowded spaces without access to bathrooms earlier this summer.
"Compared to when I was here a year ago, oh my goodness the intake at that moment . . . people were there days and days sleeping on the floor, in the showers, now we understand from the most part people are being processed within the 24 hours," Lander said, while highlighting ongoing problems with the use of solitary confinement. 
"We spoke to one gentleman who's been 24 hours in a holding cell . . . with no bed or cot and no blanket. He's been determined to need a mental observation unit. There are no mental observation units available right now," he said.
Lander also said the city is not on track to close the island jail complex by the initial 2027 deadline. "We are not on the timeline to close Rikers in 2027 either in the trajectory of the number of people being held awaiting trial or in the speed with which the new facilities are being built," he said.
The visit marked at least the fourth time city officials have traveled to the jail complex this year amid threats of a federal takeover. 
Adams visited Rikers in July alongside Department of Correction Commissioner Louis Molina and announced plans to form a program that "brings together detainees and correction officers in conversation to connect and build meaningful relationships," AM New York reported.
Later that month, Council Members Tiffany Cabán and Sandy Nurse made an impromptu visit to Rikers Island and reported speaking to inmates who had been in the intake center without air conditioning for more than four days in some cases. After Cabán and Nurse, along with Council Members Alexa Avilés and Shahana Hanif, visited Rikers in January, Cabán expressed concerns about the continued use of solitary confinement and unsanitary conditions in the intake facility.
Sarena Townsend, the Department of Correction watchdog who was fired shortly after Adams took office, accused electeds on Monday of using the visits as public relations stunts. 
"Do they want to rely on sanitized tours or the actual incidents of death, injuries and overdoses when describing conditions on Rikers?" she tweeted, while promoting a petition in favor of a federal takeover – something Williams, Rivera and Lander have not taken a position on.
Adams, speaking at an unrelated press conference following the council members' visit, repeated his concerns about a full ban on solitary confinement due to concerns about how it could endanger correction officers. 
"If (Rivera) wants to ban these things, the question I need everyone to ask, which no one seems to ask that's critiqued jail: people who are repeatedly dangerous. Over 80% of the inmates who are in punitive segregation are from attacking other inmates," Adams said. 
Adams also expressed doubt that the city could lower the jail population in order to move people out of Rikers and into borough-based jails. 
"Anyone who commits a crime, a dangerous crime, once you reach a certain number, then those who commit a dangerous crime, they no longer have to be arrested? I mean, is that what people are saying? Someone has to start answering these questions before we make these policies," he said.
Additional reporting by Jeff Coltin.
Powered By
NEXT STORY: New York City's real estate subsidy program is dead. What should a revived version look like?