New York City
NYC schools chancellor talks about preparing students for the real world
At City & State's Education Summit, David Banks laid out the legacy he hopes to leave behind in the country's largest school system.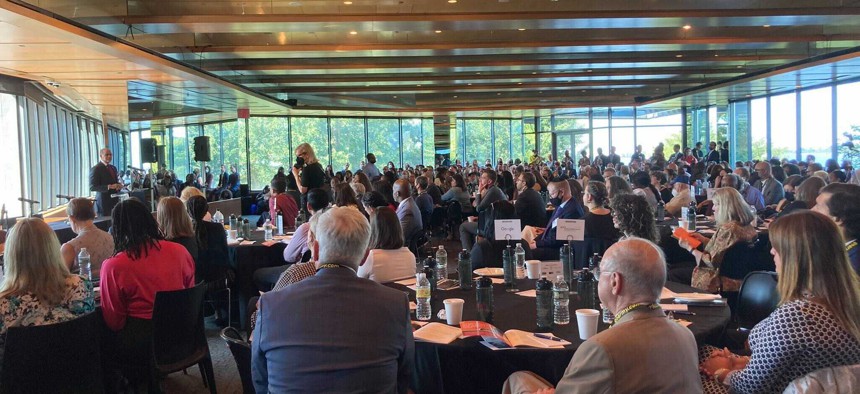 New York City schools Chancellor David Banks vowed that under his tenure students will leave the system with a "sense of possibility" for the careers they want to have and the tools they'll need to get there.
"We do a lot of schooling, but not necessarily educating, and certainly not making it clear for all of our young people about why we do this every day," Banks said at City & State's 2022 Education Summit. "As I've spoken to parents and teachers and students all across the city, we have framed what we think is our mission for this administration: And that is ultimately that every one of our students will graduate on a pathway to a rewarding career, long-term economic security and to be a force for change in their communities."
Banks, who oversees the system of nearly 1.1 million students, underscored these points before a packed room of educators, elected officials, advocacy organizations, business leaders and other stakeholders Thursday morning.
He urged attendees to grapple with the true reasons for school, saying educators and parents have a duty to help children deepen their connection to what they learn and clarify that they aren't in school to be compliant or complete assignments.
"I want young people to have a greater sense of possibility for themselves when they go through this K-12 system," Banks said. "If you come into our schools in kindergarten and stay clear through 12th grade, we've spent close to $350,000 per student. The question that you should all be asking is, what's the return on investment? What are the kinds of young people that we ought to be producing? What should we expect as we hand them that diploma and we offer up a hearty congratulations?"
Post-secondary planning
New York City Mayor Eric Adams' appointment of Banks was expected almost since before he won the primary. At the time, Banks was perhaps best known as the founding principal of Eagle Academy for Young Men – a network of public schools catered for low-income Black and Latino boys, but he'd worked in a variety of other positions within schools throughout his career.
Six months into his tenure as chancellor of the country's largest school system, he has overseen a tumultuous school budget process, faced enrollment declines, rolled out two first-of-their-kind virtual academies and urged the state to extend mayoral control of schools.
Banks emphasized that leaders in the education space must create an environment where students graduate with a strong post-secondary plan regardless of whether they decide to go to college – where they'll leave school with the tools and skills they need to get off "mommy and daddy's payroll." This, he said, was the department's "North Star" and a driving theme in the years to come as the city channels resources and its energy into the Student Pathways to Economic Security initiative.
New York City public schools have faced unprecedented levels of chronic absenteeism and plunging enrollment numbers in wake of the COVID-19 pandemic. Banks attributed this in part to the fact that schools weren't speaking to students' passions or connecting them to real world opportunities, adding that the city is building new high school pathways aligned with jobs in health care, tech and education. This will be done through mentoring and partnerships with businesses to provide students with paid internships and apprenticeships.
"There are all kinds of opportunities for them that they would work really hard for in school if they knew," Banks said. "We're not playing at school ladies and gentlemen. School should have a real purpose, and we ought to develop every single day toward that purpose."
Catching up on literacy
The chancellor also offered a rebuke of what he described as the city's failure to ensure every child had a solid literacy foundation.
Now, all elementary schools are now required to adopt a phonics-based reading program for the coming school year. Around 210 secondary schools and 200 elementary schools with especially low literacy rates will have coaches embedded in their schools to implement the curriculum, according to Banks. Officials will also train educators across the city to identify students with dyslexia and learn how to better teach them – an initiative Adams has spoken about in length since it was announced in May.
"The amount of students that are dyslexic that have gone undiagnosed for years, we've just continued to move them through the system," Banks said. "They don't just disappear – they wind up filling the ranks at Rikers Island and other places. … We either pay now or we will pay later but we will pay. I'm suggesting that we will pay less if we do it the right way on the early side of this."