Health Care
32BJ Health Fund conference tackles uncontrolled hospital pricing
The fall event gathered legislators, national experts and healthcare leaders.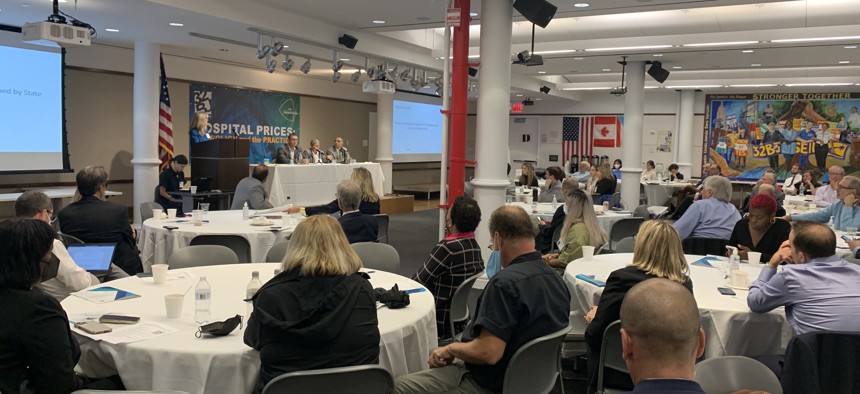 Sponsored Content
32BJ Health Fund held its fall conference to address the challenges of increased hospital pricing and brought to light data-backed solutions endorsed by legislators and national policy experts. 
The event, titled ""Hospital Prices: the Policy and the Practical," included key speakers Kyle Bragg, president of the 32BJ SEIU Union, Cora Opsahl, director of the 32BJ Health Fund and Dave Chase, founder and co-leader of Health Rosetta, with nonprofit leaders, policy experts and legislators in attendance. 
32BJ Health Fund is a multiemployer fund that serves over 200,000 union members and their families, jointly governed by both the union and its employers representing over 5,000 employers who contribute to the fund. With members in over 11 different states, the Health Fund represents the needs of essential workers who include, property maintenance workers, security officers, window cleaners, building engineers, school and food service workers, and most recently airport workers who have been included to the 32BJ SEIU union.
"We really look at the fund as our responsibility to ensure our members have high quality benefits at an affordable cost," said Opsahl. "We have no premium sharing and no deductibles for in-network care, which means 100% of the health benefits are paid for by the employers. We believe it's the responsibility of the health fund to ensure the affordability of the benefit and not on the backs of our members." 
Opsahl highlighted the distressing impacts of increased hospital pricing, stating that hospital services have grown over 80% since 2009 in comparison to drug prices which have grown slightly less than 30%. "Since 2004, healthcare has risen from 17% of total compensation to 37% of total compensation. And during that same time period, wages have gone up 54%, but health care costs have increased a whopping 230%. To put that into a real amount – over the past 10 years, our members could have had $5,000 more in annual wages, had healthcare spending risen at just the same rate as inflation," Opsahl said.
To increase hospital accountability and counteract uncontrolled pricing, Opsahl proposes the use of new data collection tools such as RAND, NASHP and Turquoise, to highlight wasteful hospital spending practices and help identify potential savings. 
"The data is at the core of what we do. We receive all of our claims data and we leverage that data for our benefit and plan design decisions. It includes how we're spending our health care dollars, what is the cost of the funds for our plan design changes and the basis for where we go in the future," she said.
Opsahl further stressed the importance of state and municipality intervention to systematically address high hospital prices and hospital behavior. 
Chase, who delivered the keynote speech, highlighted successful examples in states such as Florida, Alaska and Montana with successful hospital pricing intervention to emphasize the reestablishment of "health sovereignty" among communities. 
"It's very clear, there is a better way. We have seen it succeed in every part of the country, rural and urban settings with small and large employers in the public and private sector. It's just a matter of will, but it's absolutely doable," said Chase. "The first piece of it is mindset, the second step is to optimize planning and structure." 
Chase emphasized the importance of codifying accurate data and navigating through federal regulating frameworks such as ERISA, to identify hidden costs and inefficiencies: 
"We found that over 95% of the plant owners, the employers, the unions never hired an ERISA attorney, which is the regulating framework. They don't look at the agreements. That is actually what codifies a trillion and a half dollars in waste. That is why the worst result that we have is a 20% absolute reduction in spending. We swept those contracts and the abuse that is making those contractors beyond would be unacceptable in any other realm." 
While the COVID-19 pandemic brought an onslaught of demand for increased hospitalization, with some communities faring worse than others due to lack of available medical resources, Chase insisted on changing conventional perspectives on traditional hospitalization, by opting for open source hospitalization.
"I would challenge you to look at every hospitalization as a failure. There is administrative bloat, and there is overtreatment and inappropriate care. There are some exceptions, but 60% of hospitalizations are preventable, if you go far enough, upstream by 90%. And there needs to be radical transparency and either bill opportunities. There [is progress] when people outsource the care, yet the current norms prevent a lot of this from happening," said Chase.
Among conference attendees at 32BJ's Manhattan headquarters, state Sen. Jessica Ramos, whose district includes 32BJ union members, pointed out the flaws in hospital pricing. 
"This room is filled with national policy experts and people who can really help us as legislators do our best to overhaul a system that isn't working," she said. "I'm hoping that we arrive at some solution oriented strategies which always helps inform our work as legislators." 
State Sen. Gustavo Rivera, chairman of the Committee on Health, also in attendance, proposed a move to a single-payer system to address rising hospital prices and overall medical fees. "Pushing towards a single payer system would actually help resolve many if not all of the issues that we're talking about. Because another thing that we did not mention was insurance. And that's also something that we certainly need to talk about." 
Legislators at the conference appeared poised to act on predatory hospital pricing. New York City Council Member Julie Menin along with Council Member Lynn Schulman said they had introduced a new legislative package which would lead to the creation of an Office of hospital Accountability. 
"The [office of hospital accountability] would mandate that the hospitals have to disclose their pricing, there would be comparison charts, there would be grades as to how transparent these hospitals are, there would be reporting mechanisms going to the state attorney general who can then do enforcement actions," said Menin. 
As New York City spends nearly $9.5 billion on health care costs, a figure amounting to 10% of the city's $1 billion budget, Menin urges that the current spending practices are unsustainable: 
"When you think about other industries, do people not get any pricing information, or send patients into hospitals at their most vulnerable time with absolutely no information about what they're going to be charged, it's unconscionable, and this legislative package would end that practice."