Criminal justice
Advocates and electeds call for an end to solitary confinement as City Council discusses a bill to curtail the controversial practice
So far, no policy decisions have made progress in stopping jail officials from isolating incarcerated people.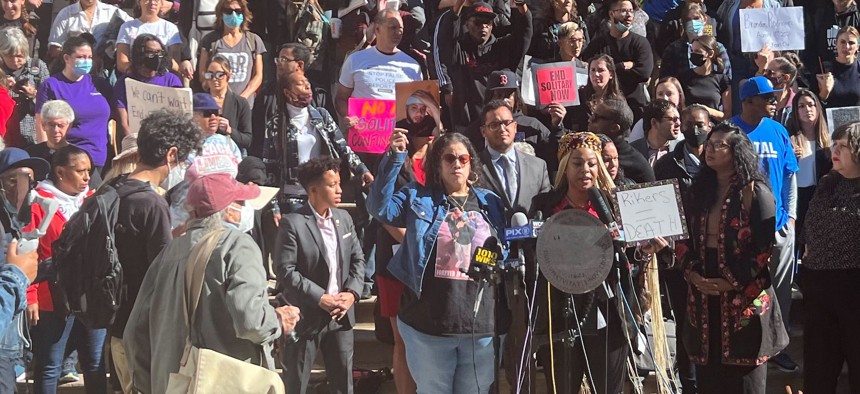 Protesters held dueling rallies outside New York City Hall Wednesday morning on solitary confinement, ahead of the City Council hearing on a bill that would change how the controversial practice is executed. 
Int. 549 would still allow correction officers to separate incarcerated people from the general population, but with certain changes. People in jails may be separated during sleeping hours but must have a minimum of 14 hours out of cell time and access to group programming activities. The bill also clarifies the definition of "out-of-cell", which is an area away from a cell, in a group setting and a shared space without physical barriers. For emergency deescalation situations, there is a four-hour limit and two hours for administration.
Criminal justice reform advocates stood on the City Hall steps, charging that solitary confinement should be banned completely as it is a detriment to mental health. "I want everyone to know that solitary confinement is absolute torture. Whenever anyone asks me what does solitary mean, I tell them torture, that's the only word I can use… When you put people in solitary confinement, you're not only killing them physically, people are dying mentally, emotionally, spiritually and religiously," said Candie, a solitary confinement survivor attending the protests who declined to give her last name. 
New York City Public Advocate Jumaane Williams, Assembly Member Emily Gallagher, and City Council Members Tiffany Cabán, Crystal Hudson, Shekar Krishnan, Shaun Abreu and Shahana Hanif joined the rally alongside VOCAL-NY and the #HALTsolitary confinement campaign to show their support for the passage of the bill.
"I am so proud to be in a City Council that overwhelmingly supports ending solitary confinement. We are the majority. We are going to end solitary confinement … I remember today and every day Layleen Polanco, Brandon Rodriguez, Elijah Muhammad, Kalief Browder and every single one lost to solitary confinement," Hanif said, recalling the names of people who died in city jails, after serving jail time in isolation. 
But at the same time criminal justice reform advocates were rallying for the bill, correction officers unions and conservative lawmakers held their own protest, advocating against the bill, and in favor of solitary confinement – known officially in New York City as punitive segregation.  
"Officers are beat up every single day at Rikers Island. There's not a day that passes where there's not at least 10 assaults, sometimes 20, on Rikers Island," said Patrick Ferraiuolo, president of the Correction Captains' Association."We need to change our mentality, cause if we don't change it, I got news for you: You're going to become the victim also, and I pray not." 
The bill is expected to pass in some form, but a timeline is not clear. While New York City Mayor Eric Adams generally opposes putting additional limits on punitive segregation in city jails, the bill has a veto-proof majority of 37 sponsors, meaning the council could pass it over the mayor's objections. Such a maneuver may not be necessary, if a compromise is reached, but City Council Speaker Adrienne Adams, who is a co-sponsor of the bill, has made her support clear. "New York City is better than solitary confinement," she said earlier this month, as part of a longer statement, "and the Council intends to pass a law to restrict this practice." 
Government bodies in New York at different levels have tried to regulate the use of solitary confinement in recent years. The Humane Alternatives to Long-Term Solitary Confinement, or HALT Act, was signed by former Gov. Andrew Cuomo in 2021 and banned "segregated confinement" for more than 15 consecutive days and more than 20 nonconsecutive days. However, Gothamist reported that it was not being enforced for hundreds of incarcerated people who were placed in solitary. 
In 2020, former New York City Mayor Bill de Blasio vowed to end solitary confinement after the death of Layleen Polanco, a 27-year-old transgender woman, who was detained under the practice. The city Board of Correction followed up with new rules for solitary confinement dubbed the Risk Management Accountability System. Former City Council Speaker Corey Johnson in 2021 called for a full end to solitary confinement, but there was no vote on the measure before the Council's last meeting that year.
This City Council seems poised to take action. After Mayor Adams talked last December about the importance of solitary confinement to ensure safety for both incarcerated people and correction officers, 29 of 51 incoming Council members signed an open letter calling on Adams to "reverse the pro-solitary position" he announced days earlier.