Policy
How New York City's right-to-shelter law works
New York City Mayor Eric Adams wants to reassess the entire homeless shelters system.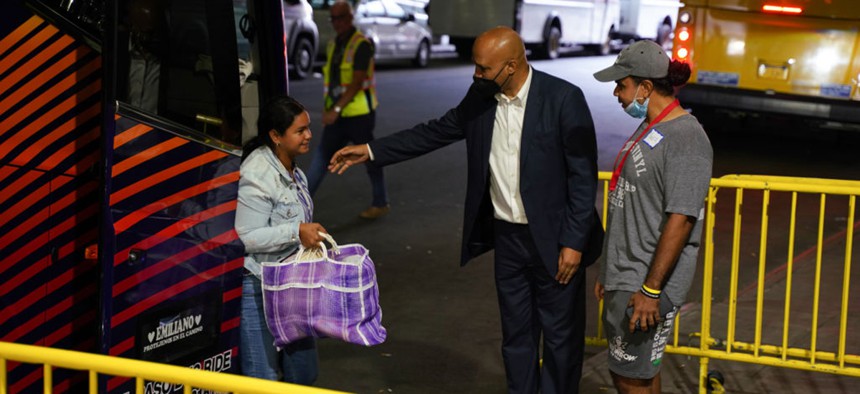 New York City Mayor Eric Adams on Wednesday raised eyebrows when he seemed to suggest that the city's decades-old "right to shelter" law needed to be reassessed amid an influx of asylum-seekers into the city's homeless shelter system.
"In this new and unforeseen reality, where we expect thousands more to arrive every week going forward, the city's system is nearing its breaking point," Adams said in a statement. "As a result, the city's prior practices, which never contemplated the busing of thousands of people into New York City, must be reassessed."
Adams' spokesperson, Fabien Levy, later clarified that the mayor was not suggesting that the law itself needed to be reassessed, but rather the whole system should be reevaluated.
The mayor's comments came after The Legal Aid Society and Coalition for the Homeless reported Tuesday that 60 men were denied shelter placements overnight after arriving at the intake facility for single men, which the groups called "a serious breach of law and a court order."
When asked about Adams' subsequent comments on Wednesday, Legal Aid Society attorney Kathryn Kliff said the organization was "concerned" about the statement and was "glad to hear" Levy's clarification. She expressed confidence that the administration was working to find solutions to the ongoing influx of migrants. She also noted that an unprecedented number of migrants arrived here this week, including seven buses on Monday and five Tuesday morning, compared to two to three buses on an average day since Texas Gov. Greg Abbott began sending migrants here earlier this summer.
"The city has already taken steps to address the immediate need for beds, and as far as we know, there have been no additional violations since Monday," Kliff said. "They switched one of the intake sites that was for women to men, so they gained a couple hundred assessment beds that way. Obviously, there's concern because there are still large numbers of people coming into the system."
Abbott said he was sending people to New York specifically because the city is one of a few municipalities with a right-to-shelter mandate.
The law stemmed from a lawsuit brought by Coalition for the Homeless in 1979 on behalf of a homeless man, Robert Callahan, and all homeless men in the city, arguing that it had a duty to provide shelter according to the New York State Constitution, which declared that "the aid, care and support of the needy are public concerns and shall be provided by the state and by such of its subdivisions." The decree set up basic requirements for sheltering single men, and appointed the coalition to monitor the city's compliance. The case was a precursor to lawsuits brought in 1982 and 1983 that extended the right to women and families with children, respectively.
The rulings have served as the legal basis in a multitude of lawsuits against the city to protect the rights of homeless people against rule changes proposed by the city. In 2011, for example, Coalition for the Homeless and The Legal Aid Society filed legal action against then-Mayor Mike Bloomberg's administration for proposed eligibility requirements that would effectively deny shelter to homeless adults with a history of mental and physical illnesses, among other disqualifiers.
Kliff explained that the eligibility process for determining whether an individual or family should be permanently placed in the shelter system differed. Families with children must undergo an "intensive eligibility process" in which they must prove they have nowhere else to live. Single adults also undergo a screening period to assess which shelter they should be placed in to meet their specific needs, but the eligibility criteria are less restrictive.
Kliff said that because the Adams' administration did not have a policy that systematically denied homeless people shelter who need it, her group had no basis to bring legal action.
"At this point we have not seen any additional violations, and a judge is not going to order anything if there is not a current problem," she said. "We will continue to monitor, but we have not seen any violations of the family system since July, and since Monday, they have placed everybody coming in."