New York City
NYC overhauls controversial schools admissions process for middle schools, selective high schools
Schools Chancellor David Banks said the controversial process was replaced with one that rewards the highest academic achievers, as well as increases transparency and fairness.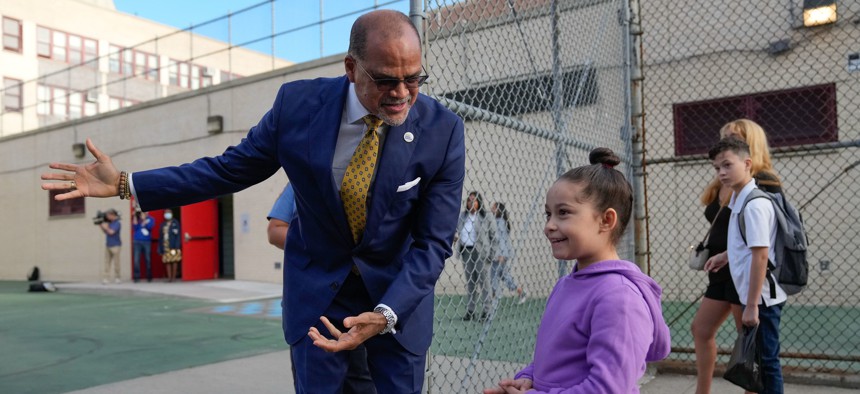 Mere weeks before applications for middle and high schools open up to students, New York City Schools Chancellor David Banks announced Thursday that the city is changing its controversial admissions process in an attempt to reward the highest academic achievers and increase transparency and fairness beginning in the 2023-2024 enrollment cycle.
The move will end the random lottery currently in place for New York City middle schools that was enacted by the prior administration in 2020 – a policy pushed by former Mayor Bill de Blasio and his administration to increase racial and economic diversity at the city's top public schools during the pandemic. Now, community school districts will once again have the power to dictate how admissions unfurl at the middle schools within their boundaries, meaning they can go back to screening prospective students solely based on grades, test scores, attendance and other academic metrics if they wish. Superintendents will be expected to collaborate with community members to determine what criteria to use, though the city said the number of academically screened schools allowed will be limited.
About 100 of New York City's most selective high schools, which widened the number of eligible applicants in 2020 by eliminating district-based admissions but didn't drop the admissions screening process altogether, will now pivot to fully prioritizing the highest academic performing students based on a five category scale. The process of basing selections off of Specialized High Schools Admission Test results at the city's most specialized high schools remains unchanged. 
New York City's school district – the largest in the country – has long been criticized by advocates for being one of the most segregated in the nation despite the city's sweeping racial and economic diversity. According to The New York Times, the district has screened more children for admissions than any other in the country. As a result, Black, Latino and low-income students have been historically underrepresented in the city's most selective middle and high schools. This was a big reason behind why de Blasio's administration enacted the changes in 2020, however, the lottery system has sparked intense debate in the years since, garnering criticism from families who argued that the process excluded their children from opportunities they'd earned.
Many Asian American families have pushed this point in particular and just a few days ago, state Sen. John Liu urged Banks in a letter to scrap the lottery-based application system and instead return to an admissions system that "considers academic performance so as to not penalize the students who have pursued excellence." 
"The effort to randomize high school admissions outraged many families, driving many out of the system, into private or parochial schools, or moving out of the city entirely," he wrote. "Many (Asian American and Pacific Islander) families in particular have voiced concerns that the city's lottery system further marginalized our too often overlooked community."
New York City Mayor Eric Adams has repeatedly criticized New York City schools for historically leaving Black, Latino and low-income students out of important programming and "betraying" them by not helping them reach key academic metrics. But instead of eliminating selective programming he's worked to create additional opportunities for those students who've been left out, such as adding seats to elementary school's gifted and talented programs (de Blasio had pledged to eliminate the program).
In line with this philosophy, the city also announced plans to open three new schools by fall 2024 which will center on "accelerated learning," giving students in the South Bronx, Southeast Queens and Ocean Hill-Brownsville access to specialized programs without having to travel to other parts of the city.
During a Thursday press conference, Banks described the changes as something that will increase access for communities who've been locked out of screened schools while rewarding students who put hard work into academics. He said the decision also comes in wake of a sweeping six month process in which city officials met with students, parents, principals, school counselors, advocacy groups and Community Education Councils to discuss how to best transform middle and high school admissions.
"Six months ago, I promised that we would reform our enrollment and admissions policies and expand access to quality schools," Banks said in a statement. "Today, I present changes that take steps toward streamlining our policies, promoting transparency, and making it easier for families to find the right school for their child." 
Under the new policy, eighth graders scoring in the top 15% of their school or citywide – whichever cutoff is lower – will have first access to a slate of screened high schools that don't boast their own school-based assessment as long as they have an average GPA of 90 or above. Those who fall in a second group – students with an average of at least an 80 falling in the highest 30% – will be considered for available seats next, and so on and so forth for a total of five different groups. 
Some officials, including New York City Comptroller Brad Lander, expressed concerns that lifting the pause on academic screeners for middle schools won't actually help bolster diversity in schools. 
"Sorting children into pathways that have immense power to determine their futures, based on their grades when they are eight- or nine-years-old, is inconsistent with a vision for a city where everyone has an equal opportunity to thrive," he said in a statement. "Restoring middle-school screens will reinforce segregation in our schools. It elevates the notion that some children deserve "good schools" while the vast majority do not."
High school applications will open on Oct. 12 with middle school following a few weeks later on Oct. 26 – earlier than the year prior. Admission decisions will also be released much earlier in March and April respectively.