Ask the Experts
Will Eric Adams' Gifted & Talented expansion address inequity in the program?
Experts weigh in on Adams' plan to expand the controversial program.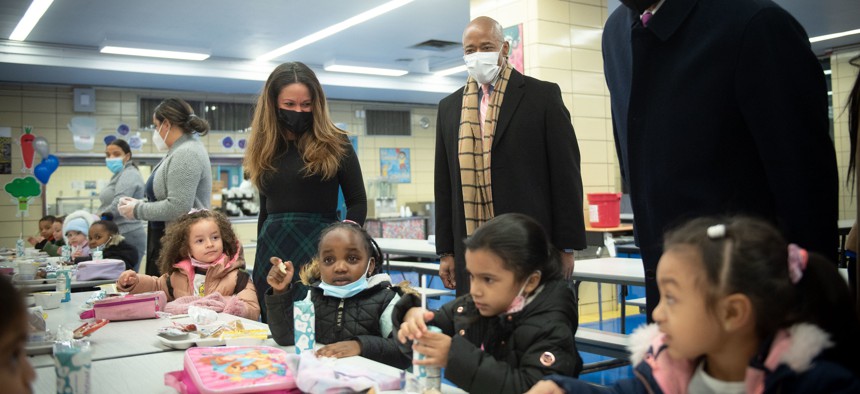 When New York City Mayor Eric Adams announced an expansion of the city's Gifted and Talented program for elementary school kids on Thursday, it didn't exactly come as a surprise. Adams has been clear about his intention to keep and expand the program since the campaign trail, even as then-Mayor Bill de Blasio planned to phase it out. 
Still, it elicited divided opinions, including from education advocates who argue that the program's inequities – Black and Hispanic kids are among those underrepresented in gifted programs – require a much greater overhaul than Adams has presented.
Adams, alongside Schools Chancellor David Banks, announced that the accelerated learning program would expand to add another 100 seats in kindergarten to include entry points in all school districts. It will also create an entry point for third-grade students, with 1,000 seats to start. "For the first time, there will be a Gifted and Talented Program in every school district in New York City," Adams said on Thursday. 
The program will also make permanent universal screening for pre-K students based on teacher recommendations, rather than an entrance exam. "This way, a diverse group of young New Yorkers, all students with the potential to thrive under accelerated learning, will be identified and invited to apply, and have access to this opportunity," Banks said of the universal screening program for pre-K students.
In early responses to the announcement, some lawmakers and advocates praised the expansion. "I'm excited by the announcement of the expansion of Gifted and Talented in all school districts," New York City Council Member Rita Joseph, who chairs the committee on education, said in a statement shared by City Hall. "Moving forward, we must place a special emphasis on ensuring that all students, regardless of socioeconomic status or familial wealth, are able to benefit from the program."
City & State reached out to experts and advocates to weigh in on the expansion, including Allison Roda, an assistant professor at Molloy College; Halley Potter, a senior fellow at the Century Foundation, a progressive think tank; and Jacquelyn Martell, state director for Democrats for Education Reform.
Responses have been edited for length and clarity.
Is Adams right to keep the Gifted and Talented program in place, or should the city be phasing it out, as de Blasio aimed to do?
Allison Roda: For years, I have recommended that the city phase out the current separate Gifted & Talented model and replace it with a gifted-for-all approach. In my research, I asked New York City parents to define what it means to be gifted. Most parents, even the parents whose children were in the G&T program, did not believe children in the G&T program are truly gifted. They believed students labeled G&T were smart or bright and attributed the gifted label as a reflection of their family's advantaged backgrounds, ability to get prepped for the test, and knowledge of how to navigate the G&T admissions system. Giftedness is a social construction. It is a label given to some students and not to others based on some constructed definition of what gifted is in a certain time and place. Critics and supporters of gifted education agree on this premise. In New York City, the gifted label is socially constructed. There is no set curriculum. 
What's wrong with the current G&T programming are the messages that students internalize because of their G&T or General Education labels. What's wrong is the resource hoarding in the G&T programs. What's wrong is the future advantages that G&T students receive.
Halley Potter: We need enrichment opportunities for all students. The pandemic has left many students and families struggling, and research suggests that academic acceleration is a much more effective strategy than remediation for catching students up. The city needs to fundamentally rethink how gifted education is delivered, moving to a "gifted-for-all" model of providing enrichment in integrated, mixed-ability classrooms with flexible student groupings, individual supports, teacher training, and dedicated curriculum. We need to get rid of separate – and segregated – classes. Less than than 10% of districts nationwide use separate schools and classrooms for elementary gifted programs – and for good reason. This approach goes against the research on best practices for accelerated teaching and learning.
Jacquelyn Martell: While the idea of increasing access to the Gifted and Talented program is laudable, in practice, they have largely served as gatekeepers to opportunity for students from low-income backgrounds and students of color – despite multiple prior attempts to reform the program. The proposed expansions by Mayor Adams are no different. The Gifted and Talented program will do little to address the many factors that lead to inequitable opportunities for students unless it is combined with a holistic approach to address resource inequity in the early years and those embedded throughout our K-12 education system. Instead of providing a few students with a rigorous curriculum, all students should have access to accelerated learning opportunities, along with the differentiated supports, that allow every child to reach their fullest potential.
Given the fact that the program is staying in place, will the expansion improve equitable access to the program?
Allison Roda: No, adding 1,100 gifted seats to the already segregated and unequal system won't likely improve equitable access. Preschool teachers and 2nd grade teachers will screen and recommend students for the program, which is highly subjective. Adding more seats won't change the "scarcity mindset" that the chancellor cited as the reason for the expansion or the fact that less than 5% of elementary school students overall will get access to the program. What is most concerning is that without clear diversity goals, there's no reassurance that these additional seats will reach a more diverse set of students than the current program enrolls, which has about 70% white and Asian G&T students compared to the overall school system that is approximately 70% Black and Latinx.
Gifted programs have been strategically used to attract certain families into the public system. In recent decades, it has been used to attract white and Asian families into racially diverse schools, as a response to gentrification. It's viewed as a perk for advantaged families who want to flee their zoned school. The current chancellor has said that he wants to use G&T to stop the flow of students leaving for private and parochial schools during the pandemic. What he should be doing is listening to the majority of Black and Brown parents whose children are not in G&T, who would likely support a re-envisioned approach to teaching and learning that values all students' strengths, not just a select few.
Halley Potter: These changes to G&T offer marginal improvements at best and are not likely to substantively change a fundamentally broken system that is based on separate schools and classrooms for identified students. Adding 1,000 seats to the program will still mean that less than 5% of elementary school students overall have access and that most families who apply to the program still won't get in. Furthermore, there's no plan in place to ensure that these additional seats will reach a more diverse population of students. The bottom line is that as long as NYC is using a model rooted in separating students, G&T is likely to be a driver of racial and socioeconomic segregation. 
Jacquelyn Martell: The current expansions outlined by Chancellor Banks and Mayor Adams include teacher recommendations and multiple chances to enroll – an approach that mirrors what we saw during the early years of the Bloomberg administration. There is significant evidence of the role that teacher bias can play in limiting access and opportunities for students of color, English Learners, and students from low-income backgrounds if it is not addressed with anti-bias training and investments in diversifying the teaching pipeline. Additionally, as schools recover from the pandemic, we know students of color and those from underserved communities have fallen even farther behind. Focus should be placed on accelerating learning for students with the greatest needs, not placing some students – likely those who had greater access to resources –  ahead of them.
What else should the city be doing to address racial and socioeconomic segregation in schools?
Allison Roda: Part of the problem is that school segregation is maintained by school choice policy. School choice breeds competition and a scarcity mindset among parents. Some parents learn to game the system to their advantage, while others are left out. Schools can screen students for admissions using tests or other measures that reflect socioeconomics, or competitive lotteries can leave little chance for acceptance into highly selective options. Private transportation to choice schools, paying for tutors and admission consultants, etc., are used by parents to gain a competitive advantage. Yet, there is potential for school integration despite school choice, e.g. by opting into the Diversity in Admissions program that uses set asides to diversify enrollments, changing school boundary lines to include more diverse students, district-wide magnet schools that draw students from the entire district. New York City has a diverse coalition of advocates working on the common vision of the 5 R's of Real Integration, which includes Race & Enrollment, Resources, Relationships, Restorative Justice, and Representation of School Faculty. This is the path the current administration should take, and it's not reflected in their policy choices thus far.
Halley Potter: While the city's G&T program is an egregious example of segregation in the city's schools, it is just a small piece of a much larger problem. The city needs to implement more equitable enrollment policies across the board, extending and making permanent changes to reduce academic or behavioral screening criteria in middle and high school admissions and introducing weighted lotteries or admissions priorities for multilingual learners, students with disabilities, students in temporary housing, and students who are economically disadvantaged. The city should also fund more community-driven integration processes, like the diversity plan created to improve integration in District 15's middle schools. And the city should expand the number of seats in high-quality, diverse-by-design schools, expanding and replicating successful models.
Jacquelyn Martell: To make real and lasting shifts in racial equity for New York students, policy leaders must prioritize diversifying the teacher pipeline. City leaders must act to ensure that students are learning from educators who look like them and who understand their lived experiences. Additionally, the city should expand access to Advanced Courses (e.g., AP, IB) that historically under-enroll students of color, English Learners, and students from low-income backgrounds. These changes would represent evidenced-based steps toward inclusion and diversification, not separation and segregation.