Campaigns & Elections
After the first debate, the mayor's race is still, unsurprisingly, Eric Adams' to lose.
Candidates were pressed on Gifted and Talented programs, vaccine mandates and criminal justice while Republican Curtis Sliwa attempted to take just a bit of the spotlight.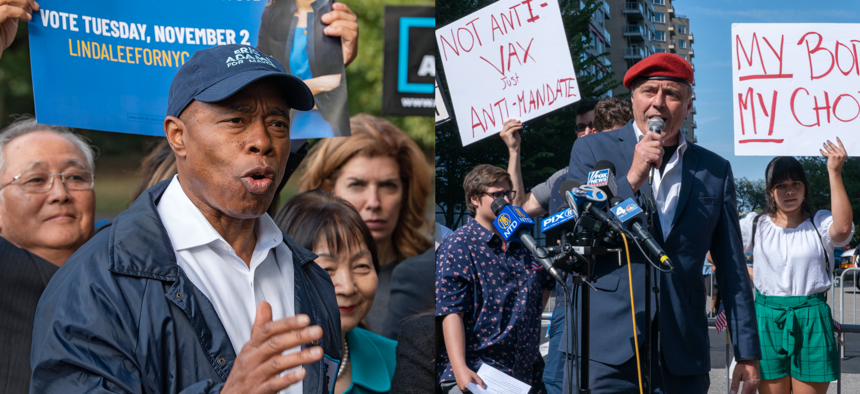 No one was putting money on Republican Curtis Sliwa heading into the first New York City mayoral debate on Wednesday night. As Democratic political strategist Chris Coffey put it to the New York Post earlier in the day, "He needs Eric Adams to drop dead on the stage, and I'm not even sure that would work." 
But Adams not only survived the speedy debate; he coasted through it, doling out in some instances specific policy plans, and in others non-answers to moderators. At the end of the day, it's still the Democratic Brooklyn borough president's race to lose.
Because Adams is as good as guaranteed to win the election, Wednesday's debate offered a chance for a team of moderators to pin him down on how his likely administration will tackle some of the most challenging issues being handed down from Mayor Bill de Blasio's tenure. On the question of mandating the COVID-19 vaccine for city workers – a policy de Blasio announced on Wednesday – Adams said he supported the move. He'd potentially go further, mandating the vaccine for all students once it's approved for younger kids. It's one of just a few issues on which Sliwa staked out the opposite position, opposing the COVID-19 vaccine mandates entirely. 
Adams in recent weeks also broke with de Blasio's plan to end the city's controversial Gifted & Talented program. Addressing a question on the topic on Wednesday, Adams and Sliwa both said the program should be expanded. One thing that seems likely to change under an Adams administration is the screening test for four-year-olds. "I don't believe a four-year-old taking the exam should determine the rest of their school experience. That is unacceptable," Adams said on Wednesday. 
Adams and Sliwa were united in their calls for immediate reforms at Rikers Island. Conditions at the jails complex have been described as brutal and dysfunctional. The majority of the 14 deaths in city jails this year occurred there. Adams reiterated on Wednesday his support for the plan to close Rikers and build new borough-based jails, but said that more thought needed to go into where those jails will be built. As for what the city can do to immediately address the crisis, Adams said that improving conditions for corrections officers and speeding up bottlenecks in court that keep inmates there longer are both crucial. In answering the question about how he will address the Rikers crisis, Sliwa said that he will increase the number of corrections officers and divide inmates up so that members of the same gangs aren't together. "That's what allows them to run Rikers Island and I can say that, because I've been on Rikers Island," Sliwa said.
Those and other of Sliwa's comments at Wednesday's debate – while at times provocative – will ultimately not count for much. The Republican candidate's long odds in the race can't be overstated. Registered Democrats overwhelmingly outnumber Republicans in New York City, and a moderate candidate like Adams shoots down any hope Sliwa had of picking off Democrats unhappy with their party's leftward trajectory. A Republican hasn't occupied Grace Mansion since before Michael Bloomberg registered as an independent in 2007. Still, Sliwa – an eccentric, law-and-order obsessed Never Trumper – is running an aggressive campaign that aims to revive the wing of the Republican Party that disdains the former president. In Wednesday's debate, he leaned heavily on criticism of de Blasio, whose policies he attempted to link to Adams.  
As of Oct. 1, Sliwa had spent over $2.5 million and has another $1.7 million on hand. His public schedule is packed with press conferences, while Adams has been keeping an unusually low profile. Adams has spent over $12.2 million throughout the election, with another $7.5 million on hand. Adams, a former cop, state senator and now Brooklyn Borough president, won the crowded Democratic primary in June, beating out candidates further to the left. Public safety is a central campaign issue for Adams – as it is for Sliwa, founder of the unarmed, crime-fighting vigilante group Guardian Angels.
Sliwa's decades with the Guardian Angels was, unsurprisingly, a topic of discussion at Wednesday's debate. The Republican candidate has admitted to fabricating stories about being attacked and kidnapped. (He was, however, shot five times in the early '90s, which he pointed out several times during the debate.) But on public safety in general, both Sliwa and Adams are broadly supportive of law enforcement. Sliwa said that he would add 3,000 cops to the NYPD. Adams said that he would "have the backs of police officers," but added that officers who didn't "understand the nobility of public protection" would not serve in his department.  
While Sliwa attempted to turn attention away from his record of fabricating stories with the Guardian Angels whenever it was brought up, he wasn't the only one who declined to give straight answers on Wednesday. Adams declined to answer who he would vote for for governor in 2022 as speculation about a growing field of candidates to challenge incumbent Gov. Kathy Hochul builds. And when asked about the taxi medallion debt crisis – some began a hunger strike to call for greater debt relief on Wednesday – Adams didn't address the city's current debt relief plan but said he wants taxi drivers to have access to the same platforms that Uber drivers use. 
But despite giving a number of unspecific answers, Adams managed to keep his cool on Wednesday, primarily sticking to policy questions as Sliwa grew more animated. One answer, however, frustrated both Sliwa and some viewers alike. Asked about how many nights he spends at his Brooklyn brownstone – a topic getting at the controversy about his residency – Adams declined to give a specific answer. "That's my primary residence," Adams said. "I don't jot down the days I'm there, but that's where I lay my head."
Wednesday's debate was hosted by WNBC-TV, Telemundo 47, Politico, the Citizens Budget Commission and the New York Urban League. Adams and Sliwa will face off for a second debate on Tuesday, Oct. 26., one week from Election Day. Early voting starts Oct. 23.
Powered By
NEXT STORY: Carlina Rivera's time to recapture speaker momentum