New York City Council
Outdoor dining plan still set to allow roadway seating, council confirms
A City Council bill that would make the Open Restaurants program permanent still includes provisions for roadway seating – though it's unclear what those set-ups would look like.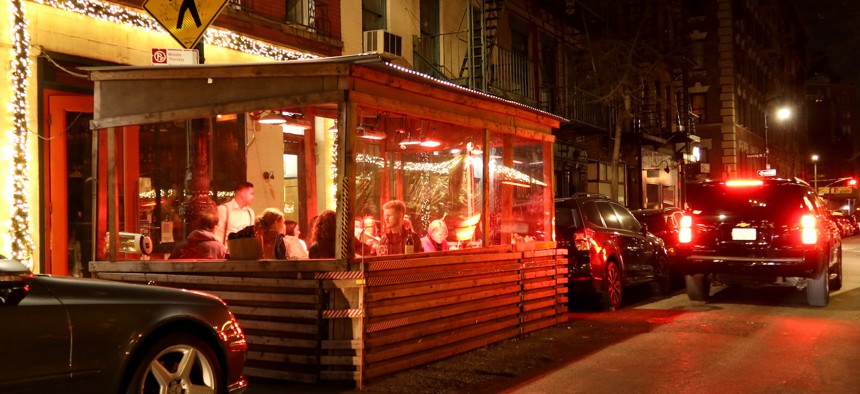 New York City Council Speaker Adrienne Adams caused a small stir on Wednesday, stating that she thinks a permanent version of the city's Open Restaurants program should focus on sidewalk cafes, not curbside "streeteries." "Outdoor dining, in my perspective, should be sidewalk. Sidewalk structures. Instead of the structures that we have in the streets now," Adams said during a breakfast event hosted by the good government group Citizens Union.
Following backlash from restaurant industry and open streets advocates who want to see curbside dining continue, the speaker's office said that Adams was stating her opinion and that outdoor dining on streets will still be allowed in some fashion under a bill that would make permanent Open Restaurants, the temporary program set up during the height of the COVID-19 pandemic. "The speaker indicated that she was giving her own perspective at this morning's breakfast," a spokesperson said in a statement to City & State. "The outdoor dining bill is still being worked on through the legislative process, and it continues to allow outdoor dining on streets at certain times while regulating permanent structures."
The speaker's office did not elaborate on the "certain times" when outdoor dining on streets would be allowed, or what regulations for permanent structures would look like. The bill in question was first introduced by Council Member Marjorie Velázquez in February, and is still in the process of being updated with a new version. Velázquez did not respond to a request for comment on what the bill currently says about roadway dining.
The earlier version of the bill allowed for roadway dining, which explains some of the surprise at Adams' comments on Wednesday that suggested she wanted to see roadway dining limited altogether in the permanent program. "The street extensions, again, were designed to be temporary, to make sure that we did not lose our businesses," Adams said. "The structures that are in the streets, that are taking up bike lanes and parking spaces and other things that may or may not be popular to some, but were never intended to be permanent structures, we need to take a look at reining those in."
The desire to have the new permanent program rein in the dining sheds that restaurants have set up in the streets – and which are allowed under the city's temporary Open Restaurants program established in 2020 – hasn't exactly been a secret. Velázquez told City & State earlier this month that the council is trying to figure out how to phase out those sheds in the permanent program. And Julie Schipper, the director of the current temporary Open Restaurants program, previously said that they don't see sheds as part of the permanent program. 
But both Schipper and Velázquez have said that they envision replacing sheds with other kinds of seating in the roadway. "We're talking about standardization more so of chairs and tables, and traffic-blocking (items) like planters," Velázquez told City & State earlier this month. This kind of set-up – resembling sidewalk cafes but placed in the roadway – is already in use by some eateries across the city under the temporary Open Restaurants program.
Following Adams' comments Wednesday morning, representatives of the restaurant industry and advocates for the repurposing of city streets for something other than parking spaces and motorists were quick to push back on the idea of a permanent outdoor dining program that focused only on sidewalk seating and limited roadway or curbside seating. "Roadway seating has been in the bill since it was first introduced and is part of the current conversations related to the development of permanent outdoor dining," Andrew Rigie, executive director of the New York City Hospitality Alliance, wrote in an email. "It shouldn't be a question of whether or not there will be streeteries, but how to do it correctly for its long-term sustainability, versus the current program standards that were stood up quickly and evolved in response to an massive economic and health crisis."
"Our sidewalks are already crowded and moving outdoor dining exclusively onto the sidewalk would take away even more space from pedestrians, the lifeblood of our city," added Sara Lind, policy director at Open Plans, a nonprofit that advocates for repurposing streets. "It's incredibly disappointing to hear the speaker cater to the whims of a few angry parkers instead of leading with a vision that benefits all New Yorkers."
Mayor Eric Adams' administration, which is supportive of making outdoor dining permanent, also wants to see restaurants be able to extend seating options into the street. "Mayor Adams supports a full, equitable, permanent Open Restaurants program that all New Yorkers can be proud of," City Hall spokesperson Charles Lutvak said in a statement. "That means resuscitating local restaurants all across the city post-pandemic with seating on the sidewalk and in the roadway, protecting the 100,000 jobs this program saved during the pandemic, and reimagining street space to better serve all New Yorkers, while putting critical health and sanitation guardrails in place under the Department of Transportation."
The administration has had a few points of contention with the City Council over what the permanent program should look like, however. As City & State previously reported, the administration wants to see the Department of Transportation put in charge of the program, while the council wants the Department of Consumer and Worker Protection to run it. Prior to the temporary Open Restaurants program that started in 2020, DCWP managed licensing for the much smaller sidewalk cafe program.
But disagreement between the mayor's office and the City Council is common. The speaker made that clear in her responses to some other questions at the Citizens Union event. She was asked her thoughts about Mayor Adams' Program to Eliminate the Gap, or PEG, requiring 3% cuts to each city agency's operating budget. "What am I hoping to see out of the mayor's PEG plan? I'm hoping for them to retract it," she said, before a half-hearted "just kidding." The city is facing an economic quandary, she said, and while she understands the need to be frugal, she hopes to see more of a plan to the cuts. "Because what we can't do is jeopardize coming out of this thing stronger by reducing headcount in places where we need headcount the most. So I really am hoping that there is a plan behind the PEG."
Adams also proved herself to be consistent in her dislike of temporary structures on the street. Asked by CNN analyst John Avlon, who moderated the event, about reducing the amount of scaffolding around highrises, Adams got animated, calling sidewalk sheds "eyesores." 
"We have a beautiful city. A city that is beautifully landmarked that needs more landmarking. A place that tourists love to come to and take pictures of," Adams said. "And then you've got monstrosities like this that totally ruin your photos."
She understands the need for scaffolding and for buildings to be in good repair, but the structures can't stay up for years and years. "We want the world to see our beautiful buildings."