New York City
NYC leaders are behind permanent outdoor dining. So what's the hold up?
Pending litigation and ironing out the finer details of the program may be slowing down the creation of a legislative framework.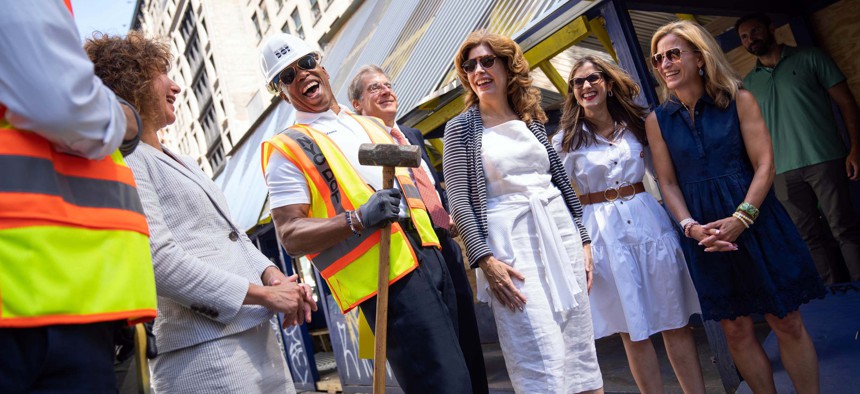 Last month, New York City Mayor Eric Adams took a sledgehammer to an abandoned outdoor dining shed in Manhattan. The move was a demonstration of how the city will handle deserted structures as well as an opportunity to announce in no uncertain terms that the administration was fully behind making the Open Restaurants program permanent.
In order to make that happen, however, Adams and the City Council will have to use much finer instruments.
New York City's Open Restaurants program has operated on a temporary basis since 2020, under an continually renewed emergency executive order citing the need to keep restaurants and bars operating while allowing safe social distancing during the COVID-19 pandemic. While Gov. Kathy Hochul is letting the statewide COVID-19 state of emergency expire, the Adams administration said its temporary program will keep running until a permanent program is in place. "The expiration of the Governor's emergency order will not affect the Open Restaurants program or any other emergency executive order issued by the city," a City Hall spokesperson wrote in an email.
The New York City Department of Transportation – which the Adams administration would like to see put in charge of the permanent Open Restaurants program – has outlined a target date of 2023 for implementing the program, including an application period beginning later this year. But with less than four months left in the year, the process of determining what that permanent program will look like is still ongoing. And while the City Council is working on updating a bill that would create a permanent program, the Adams administration contended that ongoing litigation against the city over outdoor dining was standing in the way.
The City Council took a first step to making citywide outdoor dining permanent earlier this year by approving a zoning amendment that expanded where sidewalk cafés were allowed. (Prior to the pandemic, restaurants in the outer boroughs had largely been excluded from being able to operate sidewalk cafés.) Assuming that the council passes legislation creating a framework for a permanent outdoor dining program – and the mayor signs it – the city agency tasked with running the program would then be expected to determine some of its finer details – like the specifics of how applications will work or the specific designs of sidewalk cafés – in the rulemaking process. It's also possible, however, that the council legislation will outline some of these questions, leaving less for the agency to determine. 
But at an August press conference on outdoor dining sheds, Adams and his deputy mayor for operations, Meera Joshi, pointed to litigation against the city over outdoor dining as the main roadblock for making progress on that permanent program. "There is a small minority that has filed litigation trying to stall that program," Joshi said. "Unfortunately, that has put a paralysis on our plans to create a permanent program."
There have been several lawsuits over outdoor dining since the program got up and running, many of them cited complaints about excessive noise, trash and rodents that opponents said have been exacerbated by the program, and outdoor dining sheds in particular. One recent suit argued that the city shouldn't be able to renew the temporary program on the basis of a public health emergency considering it has done away with many other pandemic-era initiatives like mask mandates and vaccine requirements.
But the lawsuit that the Adams administration said was actually impeding progress on making open restaurants permanent argued that the city erred in finding that the program wouldn't have a significant enough environmental impact to warrant an extensive environmental review. That kind of review, known as an Environmental Impact Statement, could take months.
In March, a state Supreme Court judge ruled against the city in that suit, finding that a more extensive environmental study was necessary. The city is in the process of appealing that decision.
But despite the legal challenges, the City Council is working on updating a bill introduced by Council Member Marjorie Velázquez in February that would make the Open Restaurants program permanent. Council leaders were not concerned that the ongoing litigation would pose an impediment to passing the legislation, but neither the council speaker's office nor City Hall provided an explanation on the difference in opinion between the mayor and council.
Asked about the ongoing litigation, Velázquez said it doesn't stop the council from drafting legislation. "You have to let the courts play out the way they are," she said.
According to one council source, the legislation to make outdoor dining permanent could be ready as soon as next week. Velázquez was more conservative in her estimate for when to expect an updated bill, however, telling City & State not to expect that legislation this month, and she noted that there was still a lot of feedback to gather on what the program should look like, including from other council members. "It was almost a 10-hour hearing," Velázquez said, referencing a February hearing on the issue. "Everybody has got something to say about it."
A number of issues are still up for discussion, including the details of how outdoor dining setups in the road (as opposed to on sidewalks) will work as well as the licensing and fee structure. In the first version of Velázquez's bill, restaurants would pay $1,050 for a license to operate a sidewalk or roadway café, and a $525 renewal fee.
Velázquez said she wants to explore ways to make outdoor dining as streamlined and affordable as possible, including considering a variable fee structure in which restaurants in more dense areas face a slightly higher fee. Creating an accessible application process is a priority for not just Velázquez but the restaurant industry too. "We want to cut the bureaucracy, cut the red tape, and cut the costs. So it's not cost prohibitive and geographically restrictive, like it was pre-pandemic," said Andrew Rigie, executive director of the New York City Hospitality Alliance.
As for the outdoor dining sheds that have garnered some fierce opposition, Velázquez said the council was trying to figure out how to phase those out in the permanent program. "I think the biggest concern for a lot of folks has been what we call those sheds," she said, when asked what kind of feedback she's getting from other council members. "We're talking about standardization more so of chairs and tables, and traffic-blocking (items) like planters," she added, describing what might replace the sheds.
Although both the council and the Adams administration support the concept of permanent Open Restaurants, there's some disagreement about how it should work. One issue is determining which agency should be tasked with implementing and running the permanent program. While the Adams administration wants the Department of Transportation to run the program, the council is looking to cede that authority to the Department of Consumer and Worker Protection.
Rigie stressed the importance of moving this program forward regardless, noting that restaurants need clarity on what kinds of outdoor dining structures and materials will be permitted in the permanent program – and therefore, which to continue investing in. Still, he said he understands the delays. "It's better for it to take a little bit longer and get it right, than rush it and get it wrong," he said.